Are you a home chef trying to feed your family organic meals…without burning a hole in your wallet? What if I gave you a tool to make 10 Freezer-Friendly Organic Dinners (4 servings each!) for $102…that you can have in the freezer in less than 1 hour, hands on time?
Let me introduce you to my new organics meal plan…
Hey hi my fellow home chef who is trying to feed their family healthy (and possibly organic!) meals!
I've heard time and time again that eating organic is just too expensive. I've been asked over and over and over "how to eat organic on a budget." My answer is always the same…follow all the same 'rules' for saving on conventional food and you'll save on organic food too. You'll be paying more, but you can still 'play the game' and save money too. But know that you "base prices" will be higher, so you'll be paying more than you would for conventional food.
To be honest, I've always struggled and wrestled with the idea of eating partly-to-mostly organic, but in the end…I "squeeze in whatever organic ingredients" I can fit into my budget each month.
Until…
I started shopping at Costco and discovered that many of their organic ingredients are very reasonably priced…even competitive with conventional foods at the regular grocery store. So over time, I started including more of their organic ingredients into our budget. And of course, into our dinner meals as well.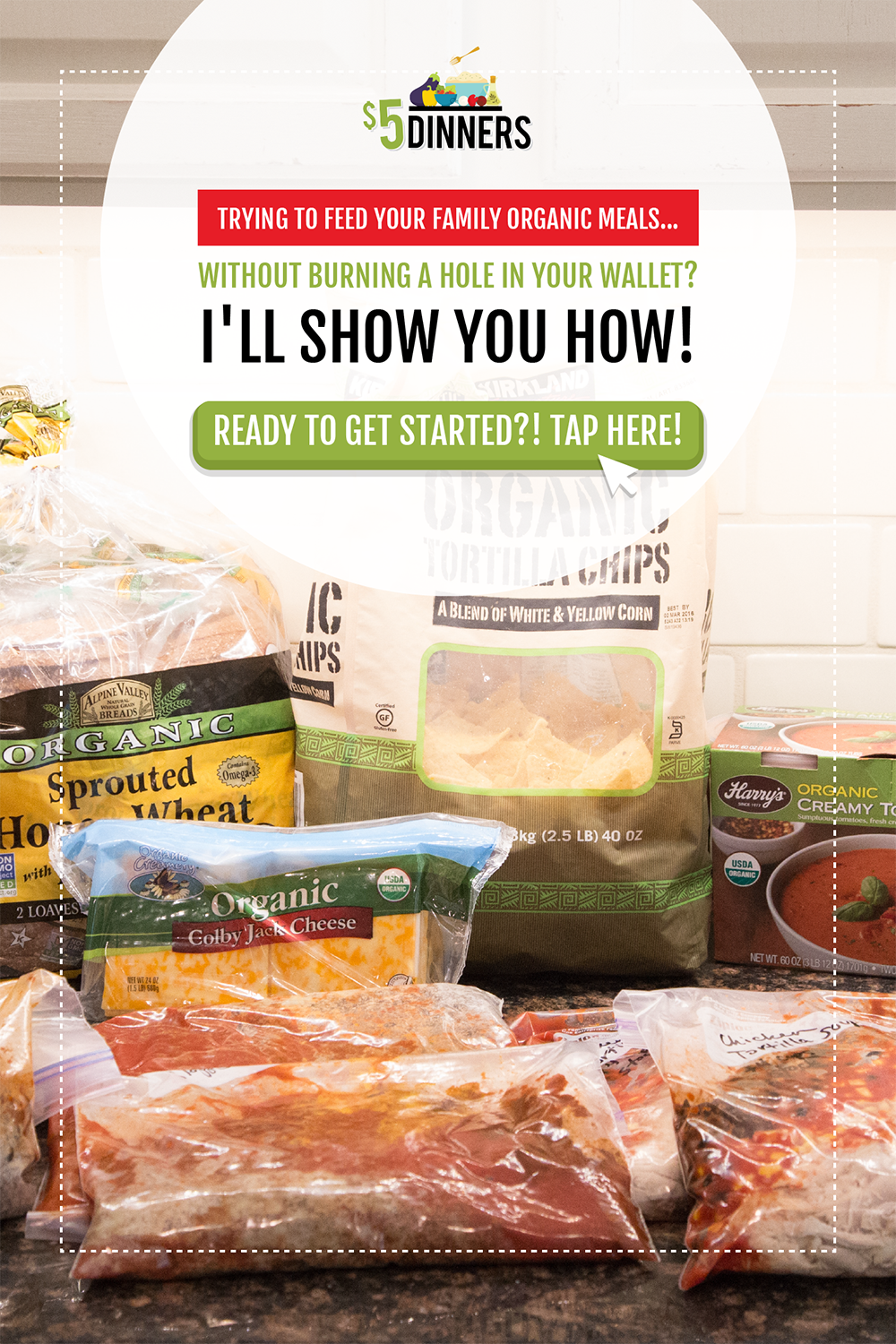 About the Meal Plans Using Organic Ingredients from Costco
Y'all know that I love to 'mix and match' the bulk ingredients from Costco into delicious and amazing freezer cooking meal plans…and I've done it again for you…this time using all organic ingredients, sold at Costco.
I don't want organic meals to be too expensive for you.
I want you to be able to afford to eat better and more healthfully.
I know you should feel confident knowing that you're feeding your family great food.
I made this amazing resource and organics meal plan for you…to help your family enjoy organic meals without burning a hole in your budget.
Yes, it's that simple. You'll feel amazing knowing that you have 10 organic dinners stashed in the freezer and you can don't have to worry about your organic meal being too expensive, or getting dinner on the table…
Let me tell you a little more about this meal plan and tool for making organic meals on a budget…
In this brand new organic ingredient meal plan, you'll find 2 chicken recipes, 2 ground beef recipes, 1 vegetarian recipe. The meats and cheese make up over half of the total budget for the ingredients, and I've strategically used the different meats paired with other more inexpensive organic ingredients that Costco sells.
With this organic ingredient meal plan, you will receive the
Warehouse Store Shopping List – one shopping list for the warehouse store (this list can be easily adapted for any grocery store!)
Complete recipes list – recipes for all meals included(including 2 bonus homemade spice recipes!),
Assembly prep instructions – outline of how to get everything prepared for the assembly of the meals.
Assembly instructions – complete step-by-step listing of how to put all the meals together so you don't waste a minute of time in the kitchen.
Assembly video instructions – video of Erin putting all the meals together so you can watch the video of the assembly process so you don't feel alone in your efforts!
Printable labels – included for 4 freezer-friendly recipes.
It took me LESS THAN 1 HOUR of prep time to get everything into the freezer!
Please note that the Basic Package only comes with the complete recipes and warehouse store shopping list.
Organics Meal Plan – Recipe List
Each recipe in this plan is DOUBLED. The 5 recipes make up 10 meals.
Each recipe is portioned to serve 4 adults. Larger families or families with bottomless pits (also known as teenage boys!) can double up and use 2 bags for 1 meal!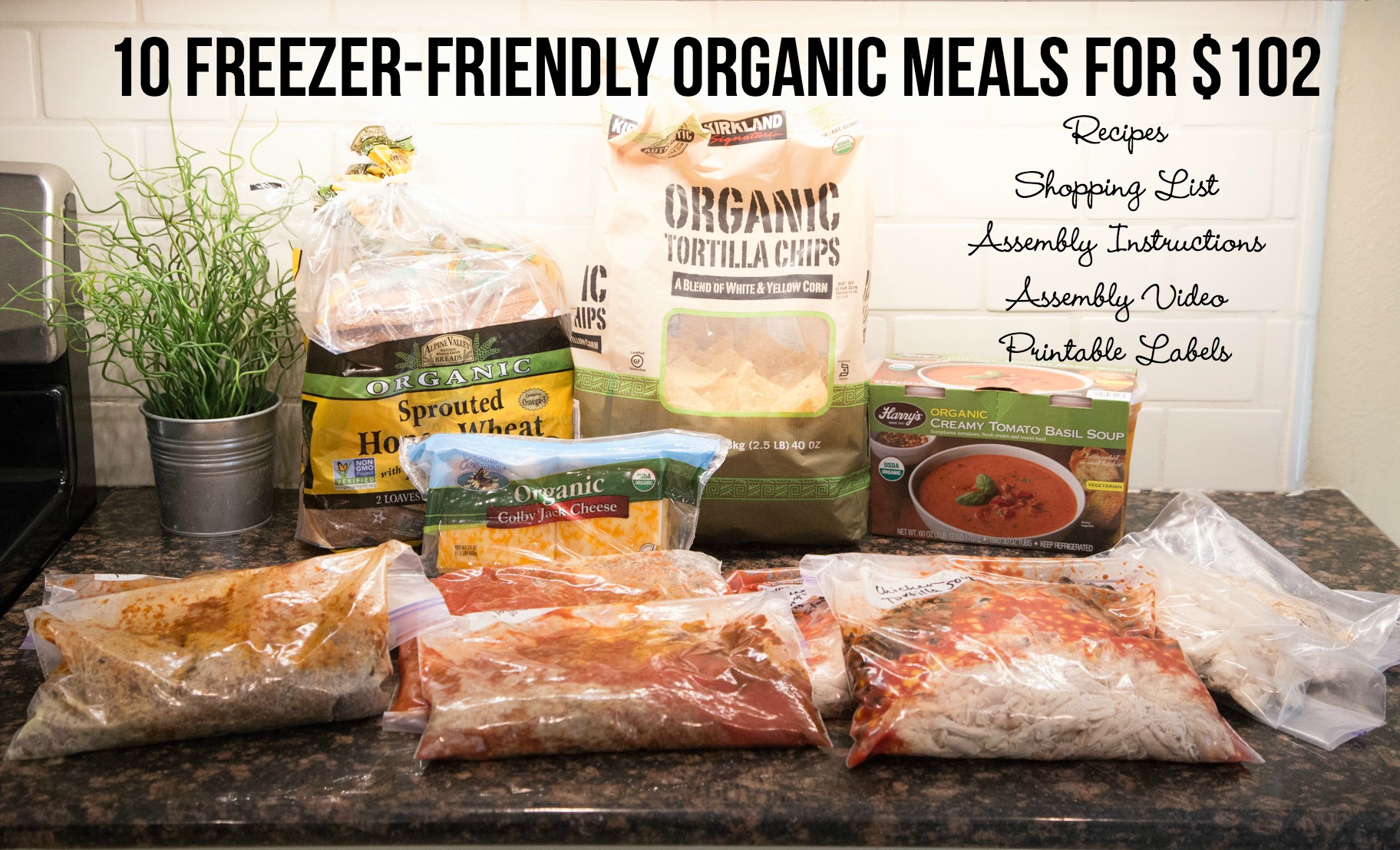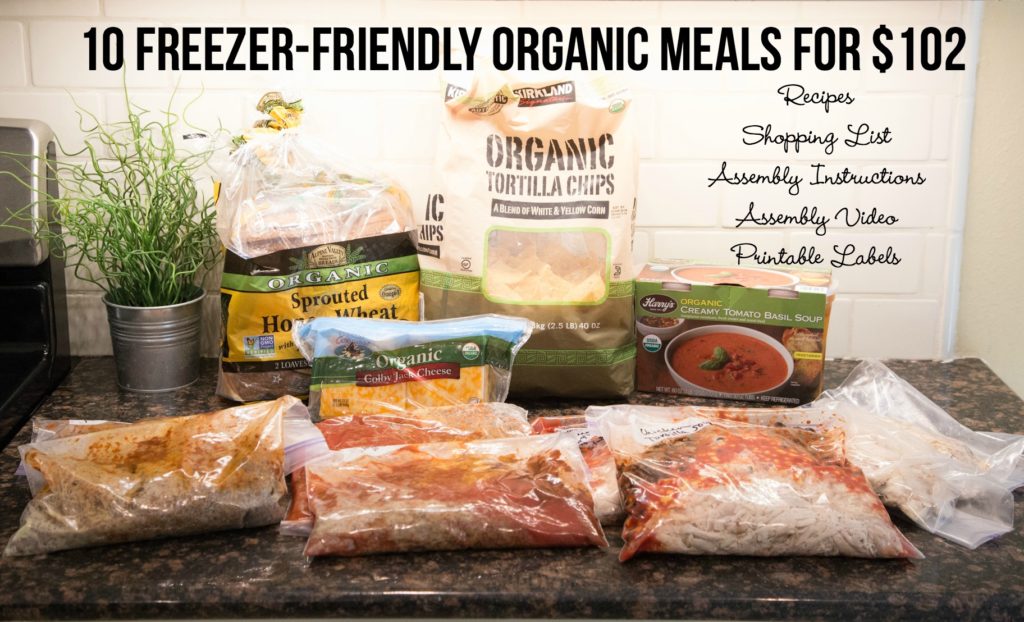 (2) Chicken Tortilla Soup
(2) Chicken Taco Salad
(2) Beef and Black Bean Nachos
(2) Sloppy-Cheesy Joe Sandwiches
(2) Grilled Cheese and Tomato Soup
I've also included suggested complementary side dish ideas on the recipes and shopping list!
Can I get a YUM…kid friendly, family friendly, delicious comfort food for the fall!!!
Don't love the recipes on this list?! You can use our super cool apps that will allow you to create your own Costco plans?!? Click to learn more!

Organics Meal Plan – Ingredients
The total for all the ingredients after the leftovers $102!
Two Very Important Notes about the Organics Meal Plan
I mentioned this above, but in case you missed it. You can absolutely use this shopping list at any grocery store. The prices will be different, but the shopping list can be used at any store.
And…if you can't afford to eat organic meals, you can definitely use this shopping list and meal plan with conventional ingredients and stock 10 meals into your freezer in an hour!!!
It's time to grab your organic ingredient meal plan and get your freezer loaded with delicious organic meals…and then you can boast about not spending way too much on your organic ingredients!
Simplify & Save on Organic Meals…
Let me make the experience of preparing these meals simpler and easier….I've done all the work for you, you just have to follow along and get your meals into the freezer!
This first week that this organic ingredient meal plan is available, I'm throwing in 2 free bonus printables for you – my Costco Organic Ingredient Price List & Tips to Save on Organic Food.
And don't forget to check out all the other meal plans in the online Shop. Once you've chosen all the ones you need to make life in the kitchen easier, you can checkout and get all the printable at once!
NOTE: Once your purchase is complete, you will automatically receive an email with the links to download your meal plans. The links will be sent to the email you used during the checkout process or to the Paypal email address you used to pay. Please download these files directly to your computer within 72 hours, then you can add to your e-reader/phone/tablet. If you have issues with the download, PLEASE EMAIL ME! I'll be able to help you out!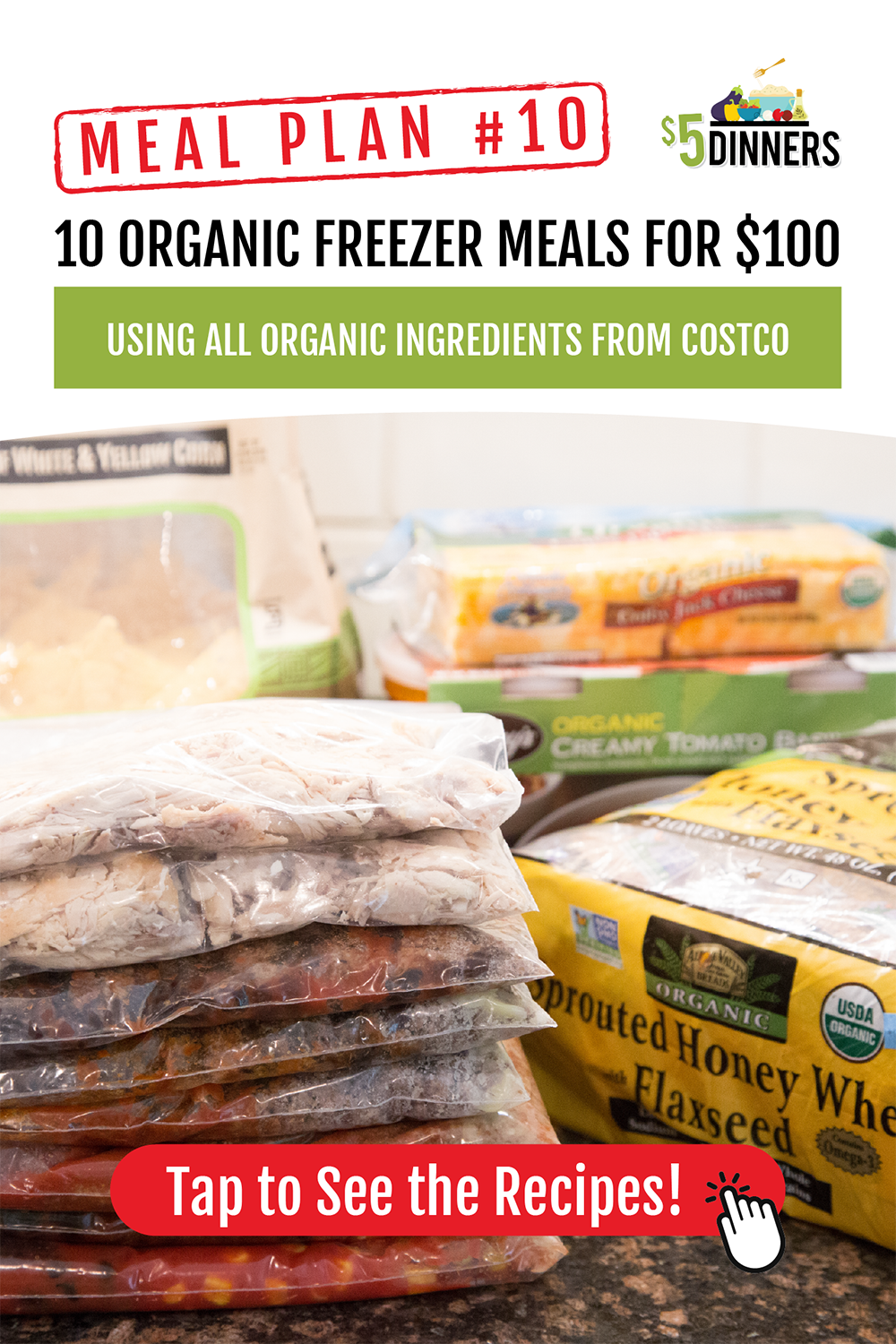 DISCLAIMER:
I have no formal relationship with Costco and am not paid by them to share these plans. I created these plans to help myself (and you!) spend less money on organic ingredients sold at Costco, while using up all the bulk ingredients without them going to waste. Hope they help your family as much as they help our family!