Omgoodness, I love homemade burger patties!
There's so many different flavor combos you could come up with and these Moroccan burgers are YUM-next-level-YUM!
The patties are made with grated onion, fresh parsley and some other spices to give them a hint of Morocco. Then, they are topped with caramelized onions.
Yes, they are worth the wait!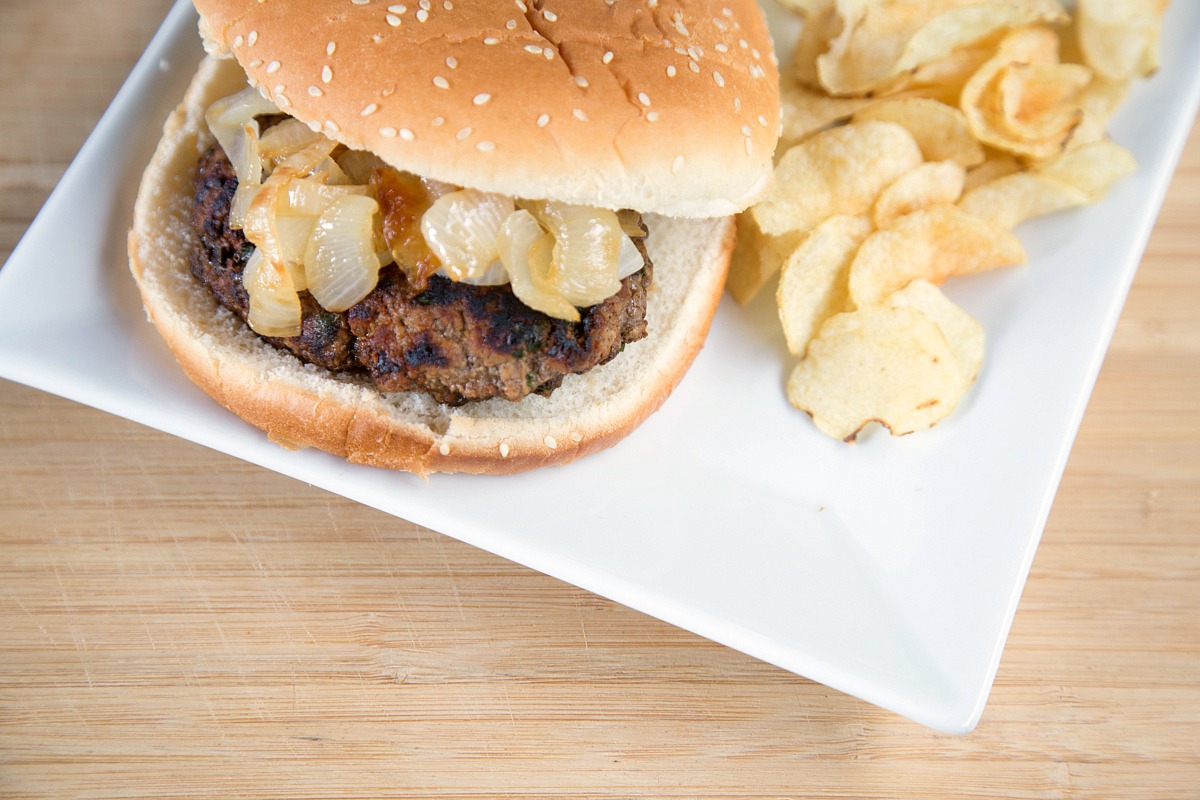 Start caramelizing the onions in a small skillet when you start the grill. By the time the grill heats up and the burgers cook, the onions will be ready.
And you're taste buds will want to leap for joy as you devour this burger 😉
The flavor of these burgers is absolutely worth the extra time and effort!
Ingredients
1

lb.

ground beef

1/2

small

white onion, grated

1

tsp

minced garlic

4

tsp

chopped parsley

2

tsp

paprika

2

tsp

ground cumin

1

tsp

salt

4

hamburger buns

2

small

white onions

1

tsp

white sugar

1

tsp

olive oil

Chips, as side dish

Fresh veggies, as side dish
Instructions
Preheat the grill.

Grate 1/2 white onion.

Combine the ground beef and grated onion with the minced garlic, parsley, paprika, cumin and salt in a medium mixing bowl. Form into 4 patties.

Place the patties on the grill tray or veggie basket. See note about ways to keep patties together when grilling. Grill for 5 to 6 minutes per side, or until internal temperature should reach 165 F.

While the burgers are cooking, caramelize the2 other onions in a small skillet. Slice the onions into half-moons, then add the olive oil and sugar to skillet and saute the onion slices over low heat for 20 - 30 minutes. Stir every few minutes.

Prepare fresh veggies.

Serve Moroccan Burgers with caramelized onions and a side of chips and veggies.

Special Notes: If you dont have a tray for your grill, put the patties in the freezer for 30 minutes to help them firm up and hold together better when grilling. Or you could grill them from partially frozen. Alternative cooking method: wrap the patties tightly in foil and place them in a 350 F oven for about 5 10 minutes until the desired temperature is reached.