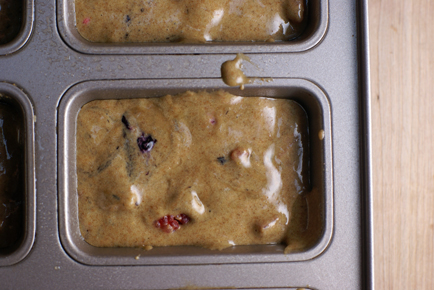 Every have one of those…"Oh, I just have to stop what I'm doing and make this…now"…moments?!  That totally happened to me this weekend. I stopped what I was doing (rather, procrastinated on what I was supposed to be doing) and made these little goodies.  Best part is the recipe makes plenty…enough to eat and freeze!
Here's what happened before I had that moment.  I had just grabbed Sandy Coughlin's new book, Reluctant Entertainer, and I was hoping to find a recipe to try this month.  Wouldn't you know that I flipped to her "Best Strawberry Bread" recipe…and wouldn't you know that my mom left for us half full boxes of raspberries, strawberries, and blackberries.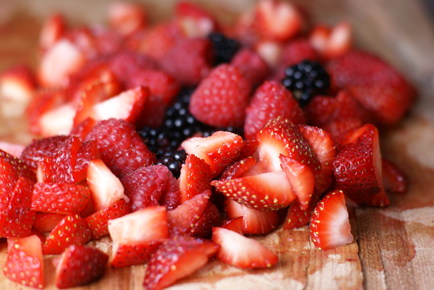 How 'bout that.
Mixed Berry Bread it is!!!
I made a few adaptations to Sandy's recipe…because I wanted to use whole wheat flour, and I also wanted to try it with part-sucanat, part sugar.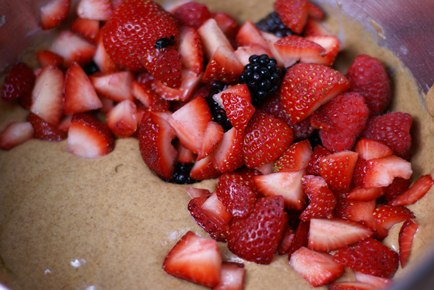 Tasty. That is all.
And now for the rest of this week's Batch Cooking Plan…
Mixed Berry Bread (recipe below) – done!
Chicken Enchilada Chili – Double up for lunch or to freeze
Chorizo and Black Bean Soup – Double up for lunch or to freeze
And I leave you with the Mixed Berry Bread.
Mixed Berry Bread

Adapted from Best Strawberry Bread in The Reluctant Entertainer by Sandy Coughlin

Ingredients

4 eggs
1 cup brown sugar
1 cup sucanat (substitute 1 cup white sugar)
1 cup vegetable or canola oil
1 tsp vanilla

 

(or use homemade vanilla extract!)
1 tsp almond extract
2 Tbsp milk
3 cups whole wheat flour (If use all-purpose flour, omit the milk)
1 tsp baking soda
1 tsp ground cinnamon
1 tsp salt
2 1/2 cups mixed berries, strawberries, raspberries, blackberries

Directions

Preheat oven to 350 F and grease 2 large loaf pans, or 1 large loaf pan and 8 mini-loaf tin.
In a large mixing bowl or stand mixer, add all the wet ingredients and stir for a minute or until well blended.
Add the dry ingredients and continue mixing batter until smooth.
Turn off and fold in the berries. Pour batter into the greased pans.
Bake in the preheated oven for 35-40 minutes (mini-loaves) or 55-60 minutes for large loaves.
Let cool slightly before slicing and serving.
Disclaimer: As an Amazon Associate, I earn commissions on qualifying purchases. Reviews, opinions are my own.