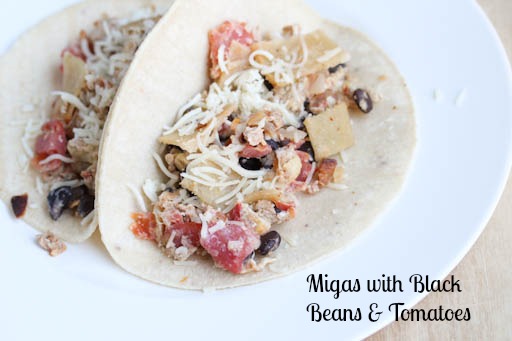 Not long ago, I had lunch with some friends in Austin at Torchey's Tacos. (If you're in Austin, Houston or Dallas, you must give these guys a try. And I might start a petition that they get a truck set up in San Antonio asap.) Ever since, all I can think about making for breakfast is breakfast tacos. And lunch tacos. And dinner tacos. I think I might need an intervention. Migas are a kind of taco that I've never shared before here on $5 Dinners, and given my recent tacos obsession, the time has come for Migas.
So, what in the world is a Migas?
(Please forgive the singular-plural thing that happened there. Just work with me here.)
Migas come from Spain/Portugal and are a traditional "next day" meal using leftover bread. It's popular Tex-Mex cousin/twin contain leftover corn tortillas, cut up in strips, fried up and mixed in with the eggs, tomatoes and chilies. Then wrapped in another tortilla and served alongside refried beans.
When I make Migas, I use corn tortillas for the "shell"…because I just have a brain block on the concept of wrapping a flour tortilla around a delicious egg mixture that contains crunchy corn tortillas. Flour with corn…just can't do it. Corn with corn…perfection. I also leave out the hot peppers, because I know the kids would take 1 bite, drop their tongue out of their mouth panting that it was too spicy. But I'm going to include a jalapeño pepper (or hot pepper of your choice) in the recipe. Because they really should be included. Add it or don't…depending on your tongue's liking to spicy foods.
(My fellow south Texans ~ Hatch chilies will be in stores all over south Texas soon…would be amazing cooked into your next Migas meal.)
A few other ideas that could replace the black beans too: 2 cups cooked chorizo sausage, 2 cups cooked and crumbled breakfast sausage (about 1/2 lb.) or crumbled bacon.
Now that we've got the what and the how I like it's out of the way, let's get to the recipe…
Ingredients
3-4

Tbsp

oil for frying ($.10)

4 corn tortillas ($.25)

1

small

onion, chopped ($.20)

1

small

jalapeo pepper, seeded and chopped ($.50)

1 15 oz. can diced tomatoes, drained well ($.59)

1 15 oz. black beans, rinsed and drained ($.79)(Or learn how to cook your own beans here.)

8 eggs, whisked ($.80)

1

Tbsp

homemade taco seasoning ($.05)

8 corn tortillas ($.50)

Salt and pepper to taste

Shredded Monterey Jack cheese, garnish ($.50)

1 15 oz. can refried beans ($.79)(Or make your own refried beans in the slow cooker here.)
Instructions
In a small skillet, heat the oil. Add the corn tortillas, one at a time, to the oil and cook them on each side for about 2-3 minutes, or until turn darker brown and get crispy. Remove and stack on cutting board. Run the pizza cutter through them to cut into strips or chunks. Set aside.

In a large skillet, add the chopped onion, pepper, tomatoes and black beans. Saute together for 2-3 minutes, then add the eggs. Scramble with the veggies and beans. Once the eggs have cooked, toss in the fried tortilla strips. Spoon the mixture onto corn (or flour) tortillas. Quickly sprinkle with cheese, so it will melt from the heat of the eggs.

Warm the refried beans.

Serve Migas with Black Beans and Tomatoes with warm refried beans.