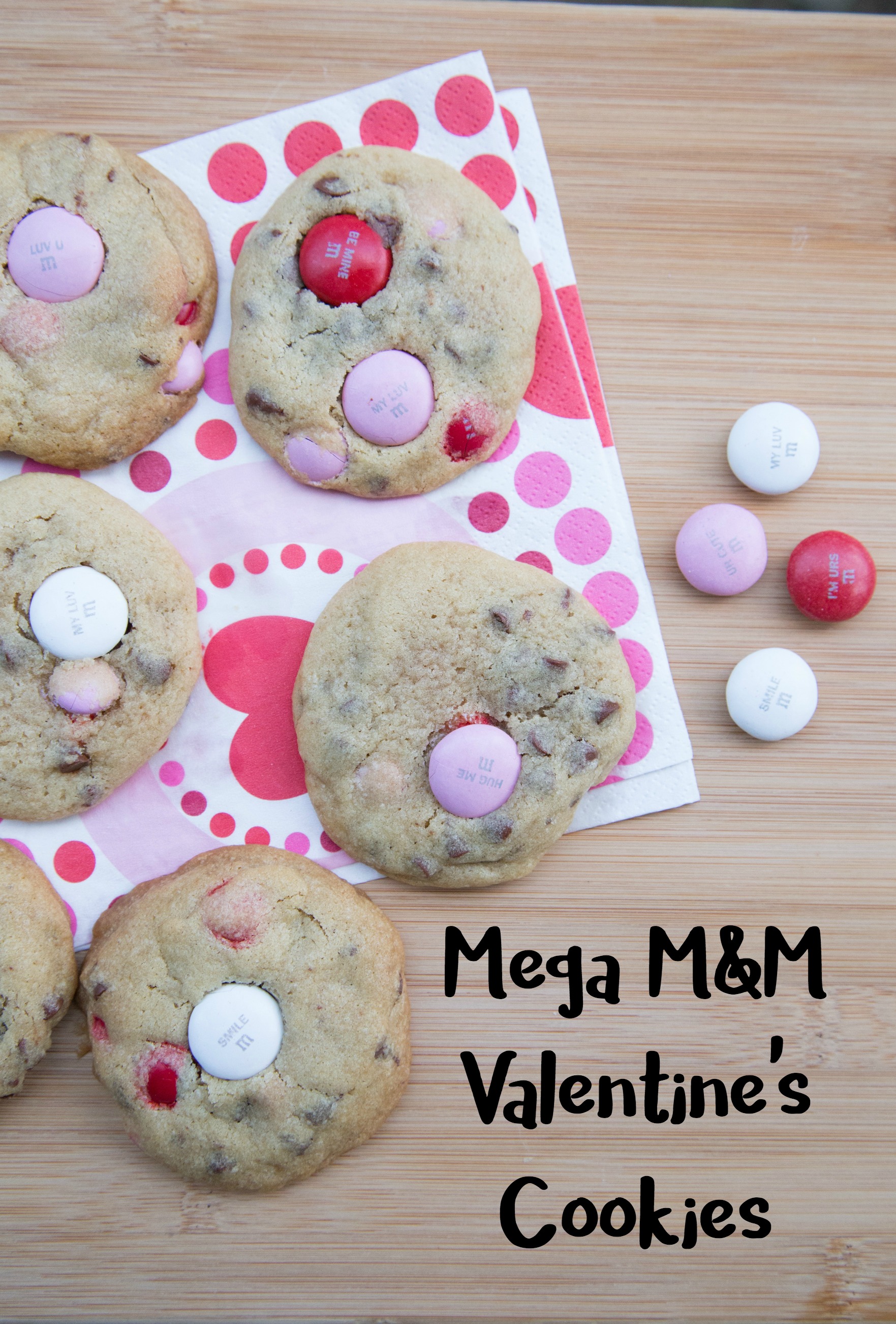 Do you ever see those cute little treats and snacks and love-ly ideas for V-Day on Pinterest and think…there's no way in the world that's gonna happen!?! But that's adorbs.
I get it…I'm that Pinterest wannabe mom. But I love being silly and clever with food too.
I'm just not that great at cleverly (or steadily) decorating cookies.
But…I can make a mean chocolate chip cookie. And I can add M&Ms to the batter, no big deal.
So when I saw these "mega M&Ms" with the little V-Day messages on them…I thought, 'now, there's a simple snack idea I can get behind…and that I have time to make for classrooms full of kids…and the neighborhood gang.'
This is a basic chocolate chip cookie. With mini chocolate chips and regular M&Ms baked into the dough. And then the V-Day messages mega M&Ms 'nestled on top.'
Yes…I said nestled….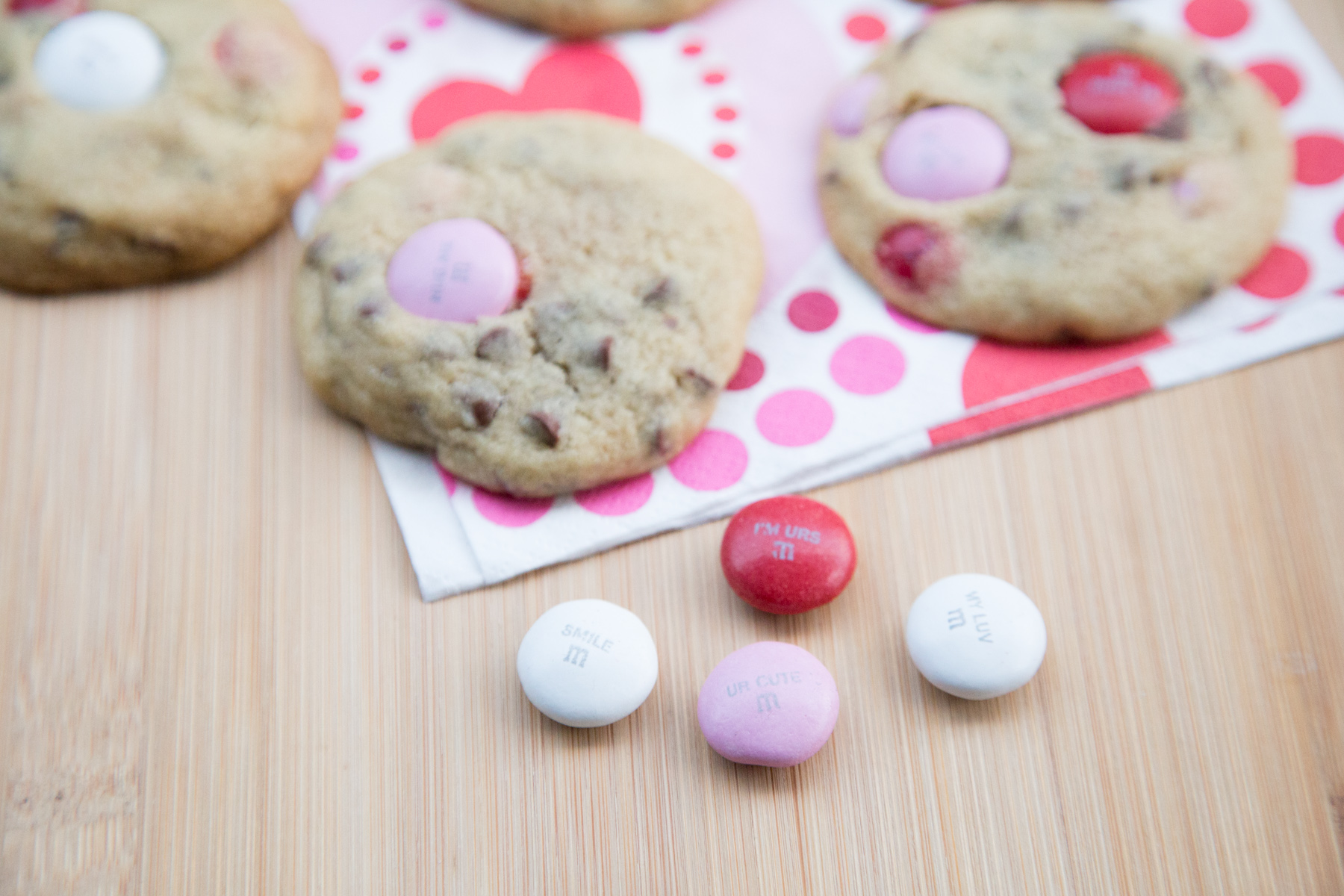 I tried baking them into the cookie. That was a disaster.
I tried freezing them before adding them to the batter. Another disaster.
I tried chilling the dough with the regular and mega M&Ms inside. More disaster.
(Meanwhile, the boys and I were happy to eat up all the disaster cookies.)
(And I should define disaster…they were just fine to eat, but the coloring from the M&Ms bled and leaked all over the cookies.)
So I resorted to wrapping the regular M&Ms with the cookie dough, then baking them. And just as they came out of the oven – before they cool and collapse – I would nestle 1 or 2 of the mega M&Ms into the baked cookie, with the cute message on display for whichever kiddo would be devouring each cookie.
All this to say…save yourself the disasters and just do it this way. (Or repeat my disaster and have a great excuse to make and eat a ton of cookies! 😛 )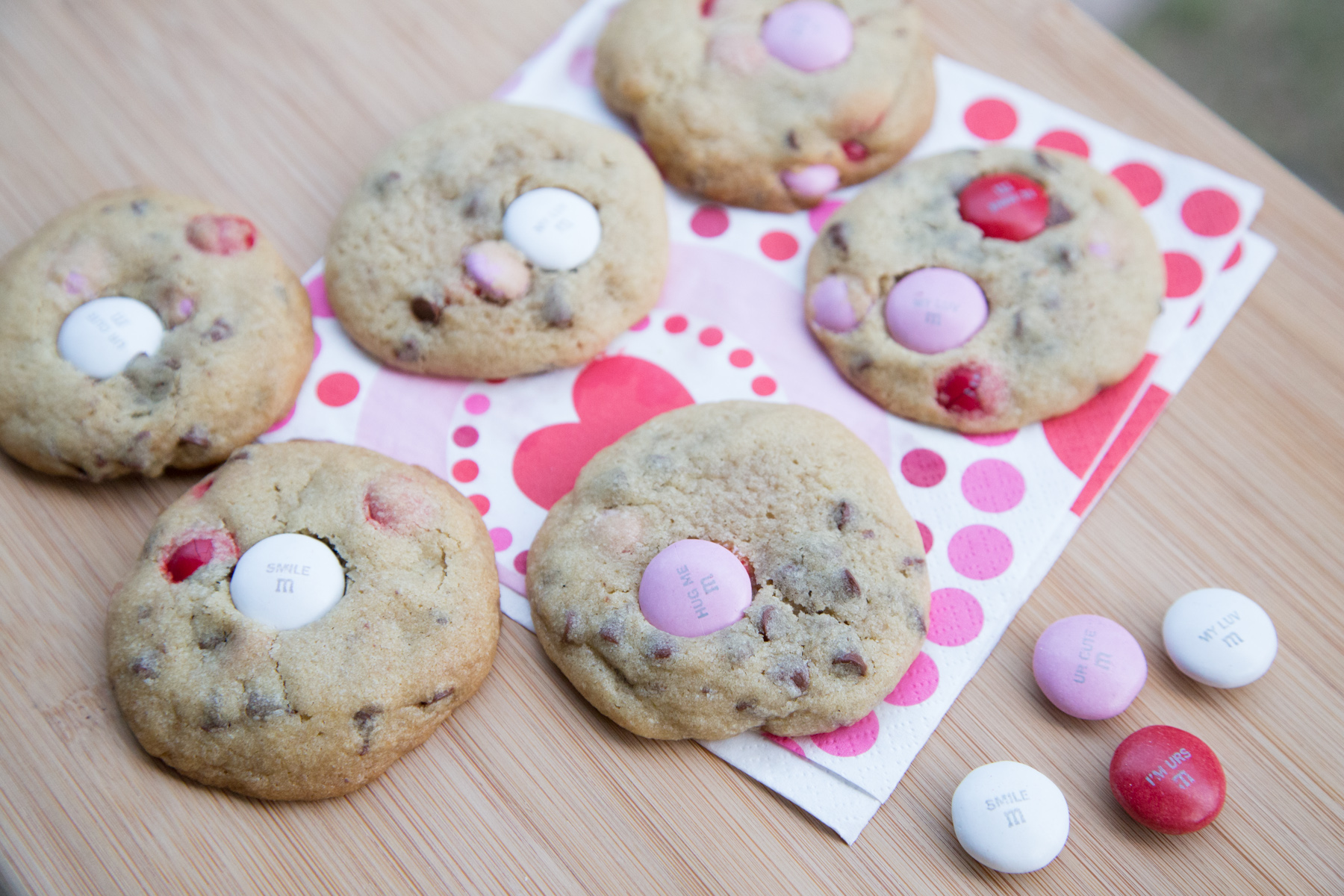 Your turn…these are such a perfect snack for the un-Pinterest, non-Pinterest, ain't got time for super clever snacks Mom! 😉
Show your MEGA love with these MEGA cookies!
Ingredients
2

sticks

butter, softened

3/4

cup

white sugar

3/4

cup

packed brown sugar

1

tsp

vanilla

2

eggs

2 1/2

cups

all-purpose flour

1

tsp

baking soda

1

tsp

salt

1

cup

mini chocolate chips

1

cup

red, pink, white M&Ms

1

bag

mega M&Ms
Instructions
Preheat oven to 350 F.

In a stand mixer, cream the butter and sugar. Mix in the vanilla and eggs. Add the flour, baking soda and salt and mix until dough forms. (Ideally, you'll refrigerate the dough for at least 2 hours!)

Mix in the mini chocolate chips and regular M&Ms. Drop by Tbsp onto baking sheets.

Bake for 10-11 minutes, or until golden around the edge and soft in the middle. Remove from oven and nestle 1 or 2mega M&Ms into each cookie, before they cool down.

Let cook for 5-10 minutes before serving.

Serve Mega M&M Valentine's Cookies.