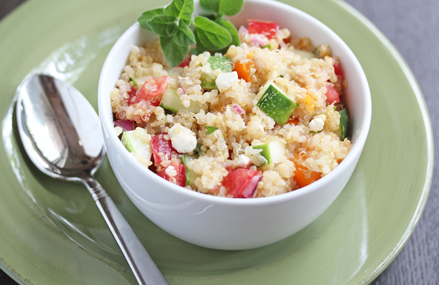 It's we're on a bit of a quinoa roll these days! I have a number of recipes on One Dish Dinners using quinoa (with another coming next week!), Lisa shared her Cilantro-Lime Quinoa last week and we've made a number of different quinoa recipes here on $5 Dinners!
If you haven't heard of quinoa (keen-wa), it's a gluten free grain from Peru that is gaining popularity quickly here in the US. It tastes like rice, sorta. It has a texture like….well, I dunno. It has it's own texture.
The only thing I wished I'd had on hand were olives…kalamata, black or green…any would be a lovely addition to this meal!
This Mediterranean Quinoa would make a lovely vegetarian meal, a nice side dish alongside some grilled chicken, or a non-vegetarian meal with diced chicken mixed in. Enjoy it as you wish…
Ingredients
1 3/4 cup quinoa ($1.50)

1/4

cup

lemon juice ($.15)

2 garlic cloves, crushed ($.05)

1

cup

finely chopped red onion ($.40)

1 cucumber (free from a church friend's garden!)

3

medium

sized tomatoes, diced (free from the garden)

Fresh oregano and parsley, chopped (free from the garden)

4 ounces Feta cheese ($1.50) Used recent $1 coupon on $3 sale price, used 3/4 of the Feta for these
Instructions
Add 4 cups hot water to large saucepan, bring to boil. Once boiling, add the quinoa, stir, return to boiling, cover, reduce eat with let cook for about 15 minutes over low heat. It is cooked with the little circles separate from the grain.

In a mixing bowl, add the lemon juice, garlic cloves, chopped cucumber, chopped tomatoes, couple leaves of fresh chopped parsley and oregano.

When the quinoa is cooked, remove it from the heat and let it cool for about 10 minutes. Toss with the other vegetables in the mixing bowl. Sprinkle the Feta cheese into the quinoa and toss lightly.

Serve Mediterranean Quinoa, as is. With grilled chicken on the side. Or grilled chicken cubes mixed in.