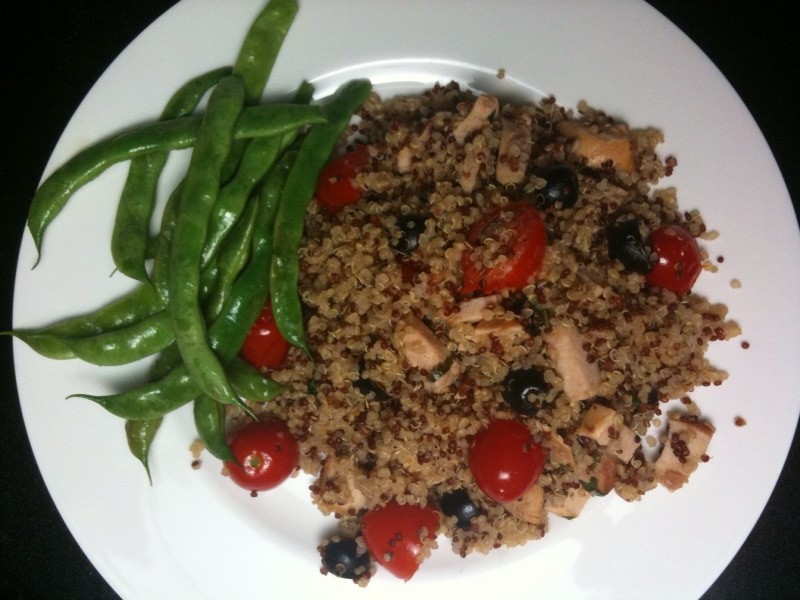 (Please pardon the iPhone photo. Dead camera battery.)
I went out yesterday morning to survey the garden…and to make sure it survived our weekend away. I was pleasantly surprised to find lots of red grape-roma tomatoes, and a meal's worth of green beans! I picked some basil, parsley and oregano and then got to work.
So we're calling this "Mediterranean" because it has olives. And olives are plentiful in the Mediterranean. And I'd really like to take a trip to the Mediterranean. (This weekend getaway to California really gave me the travel itch!)
Loved the variety of textures and how the flavors meshed…
This Mediterranean Chicken Quinoa is a delightful combination of flavors and textures to give you a meal you'll enjoy!
Ingredients
1 1/2

cup

white quinoa

1

Tbsp

olive oil

2 garlic cloves, crushed ($.10)

crushed

1 pint grape or cherry otomatoes

2

tsp

chopped fresh basil, parsley, and oregano

3/4

cup

black olives

2

small

boneless, skinless chicken breasts

grilled and dcied

Salt and pepper

fresh green beans

side dish

1 tsp olive oil
Instructions
Cook the quinoa as directed on the box. 2 parts water to 1 part quinoa.

In a large skillet, add the olive oil and saute the crushed garlic for about a minute, then add the halved tomatoes and saute for another 2-3 minutes, or until tomato skins "wrinkle." Then add the black olives and diced chicken and saute together for another minute.

Add the cooked quinoa into the Mediterranean Chicken mixture and toss. Season with salt and pepper to taste.

Saute the green beans in the olive oil and season with salt and pepper to taste.

Serve Mediterranean Chicken Quinoa with Sauteed Green Beans.