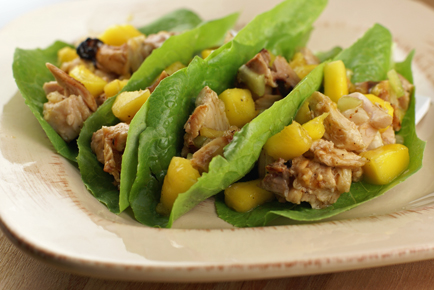 I have been itching to make some lettuce wraps ever since getting my lettuce transplants from the store earlier this year. I've been waiting for the leaves to grow larger enough to actually wrap…and that time is now.
When I learned about Chris Lilly and his Grilled Chicken Lettuce Wraps with Spicy Mango Marinade recipe from KC Masterpiece, I was inspired. I made my own twist on the recipe to keep it close to $5…and love the way it turned out!!!
Ingredients
1.5

lb.

boneless skinless chicken thighs ($2.98)

about 3/4 cups Spicy Mango Marinade from KC Masterpiece ($.50)

2 mangoes, diced ($1) On sale for $.50 each latelyhow to select and cut a mango

1 celery stalk ($.10)

2 garlic cloves ($.10)

1

Tbsp

Spicy Mango Marinade ($.05)

Lettuce leaves from the garden

Optional: Use tortillas instead of lettuce wraps

1

bag

Steamers frozen peas ($.67) Recent sale and coupon match
Instructions
Marinate the chicken thighs in the Spicy Mango Marinade for at least 30 minutes in the refrigerator.
I did receive the bottle of KC Masterpiece's Spicy Mango Marinade free. More information can be found on the site's disclosure policy.