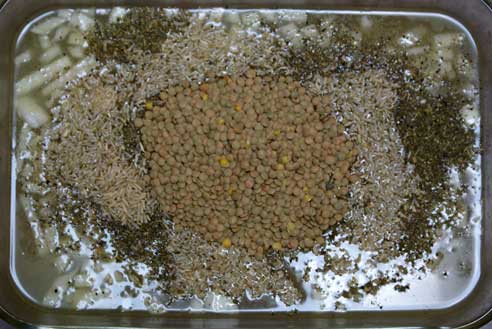 If you are ever in need of an UBER frugal meal, here you go!
Not only was this quite tasty, dinner really doesn't get much cheaper than this.
And we had leftovers. Which will probably end up in a tortilla with some salsa!
Again, thanks to Gayle at the Grocery Cart Challenge for leading me to this great recipe!
Note: When I pulled this from the oven, before adding the cheese, it occurred to me that this would be a fantastic and healthful baby food recipe. Puree the cooked lentils and rice for younger babies, or mush with fork for older babies, or feed as is for "table food" babies!
Quite possibly the cheapest meal I have ever made!
Ingredients
3

cups

broth

(chicken or vegetable)

3/4

cups

green lentils, although any color will do

1/2

cup

brown rice

1/2

yellow onion, chopped

2

tsp

Italian seasoning

1

tsp

garlic powder

1/2

tsp

pepper

2

cups

shredded sharp cheddar cheese

Of course, omit if dairy-free.

2

large

broccoli heads
Instructions
Preheat oven to 300 F.

Add broth, lentils, brown rice, chopped onion, and spices to 9x13-inch glass baking dish. Stir together and cover tightly with foil.

Bake at 300 F for 1 hour and 10 minutes.

Remove foil and sprinkle shredded cheese over the top and return to oven and bake uncovered for 20 more minutes, or until cheese is completely melted.

Steam broccoli in stovetop steamer or in a microwavable dish covered with plastic wrap for 4-5 mintues.

Serve Lentil and Brown Rice Casserole with Steamed Broccoli.
P.S. I do believe this meal is now the CHEAPEST meal I've ever made!