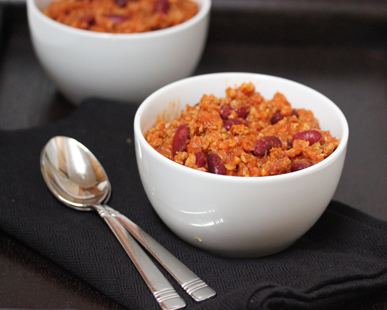 I found a box of Kasha in the pantry alongside the other grains when I was rummaging through the pantry on Friday. I'd purchased this a while back and tried a recipe…and didn't like it at all!
But I thought I'd give it another chance. You know…let it redeem itself!
+There was a recipe on the back of the box for a Kasha Chili. But I wanted to add some protein for my men!
I made a standard chili (using tomato sauce instead of diced tomatoes because I'm all out…but not for long…as the Mega Event sale this week has them on sale and there's a great coupon matchup! So I'll be restocking next week!) using ground turkey, kidney beans and Kasha, along with tomato sauce and spices.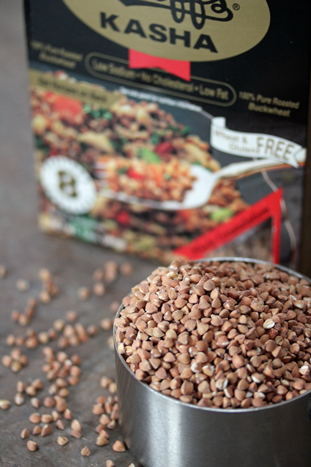 So this is Kasha.
Kasha is roasted buckwheat kernels. It is the cereal of choice in some eastern European countries…seems it would be similar to steel cut oatmeal. Despite the fact that the word "wheat" appears in "buckwheat", kasha and buckwheat are gluten-free.
We have just enough to make more kasha in the box to make this again. And we certainly will!
The Kasha redeemed itself with this chili!
Easy meal with great flavor!
Ingredients
1

lb

ground turkey

4

garlic cloves, crushed

15

oz

red kidney beans, drained

15

oz

tomato sauce

1

cup

Kasha kernels

2

cups

homemade chicken broth

2

Tbsp

chili powder

Salt and pepper

green beans
Instructions
In a large saucepan, brown the ground turkey with the crushed garlic. Once browned, add the kidney beans, tomato sauce, Kasha and chicken broth. Stir together and bring to boiling. (if I had had diced tomatoes, I would have used 1 15 oz can diced tomatoes with their juices and 1 8 oz can tomato sauce.)

Reduce heat and add the chili powder and salt and pepper. Let simmer for 15-20 minutes.

Heat up the green beans.

Serve Turkey Kasha Chili with green beans, or other veggie side dish.