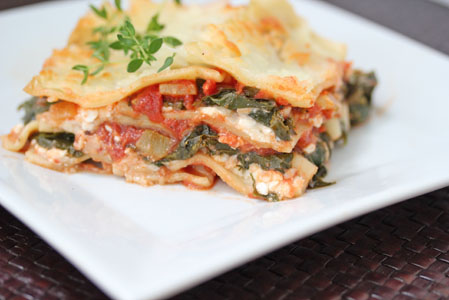 Kale.
Have you ever cooked with it?! It kinda fits in the spinach category…at least in terms of how you can use it and in what recipes. It works well with pasta (I'll be sharing another recipe later this week. But not too many after that, because I fear that kale will take over the site if I share more than 2 in a short time frame!)
I grew kale for the first time this year in my garden. I bought a few little tiny plants on a whim while the kids were at school one afternoon. And that whim turned out to be quite worth it!
The little whim plants grew, and grew, and they're still growing. Even after cutting off leaves…more are growing in. (Same leaf picking principles apply to kale as they do lettuce.)
Anyhoo…I keep picking it. It keeps growing.
And that's why I'm thankful for all the rain and cold weather. (It still feels like spring…and we wore jackets to the opening of Cars 2 at the drive-in on Friday night!)
So there may actually be a kale takeover here on $5 Dinners…if it keeps growing…and raining…and staying chilly…and growing…
How to Cook Full Kale Leaves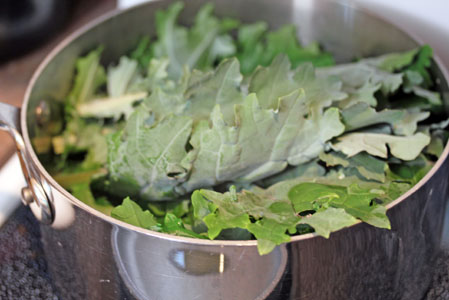 Pick off stems. Rinse. Boil in salted water.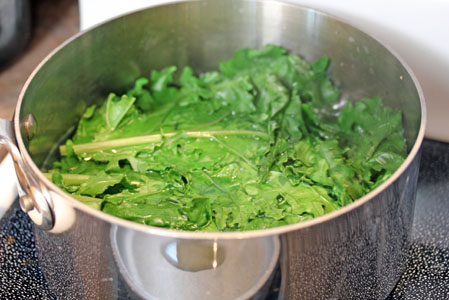 Until it looks like this…only take a minute.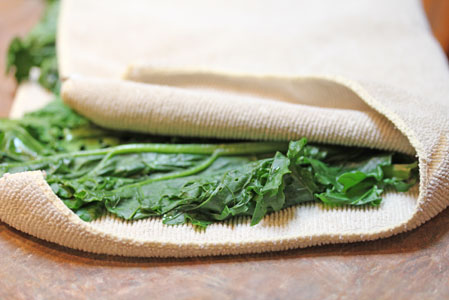 Then roll the kale leaves in paper towels or clean dish towel and squeeze them dry. (We don't want runny lasagna, do we?!)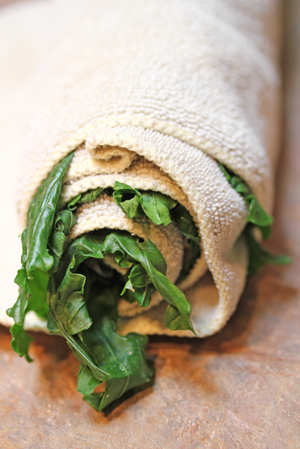 Rolled kale.
Meanwhile, or after you're done with the kale rolling, saute the zucchini, onion and garlic until opaque…about 5-7 minutes.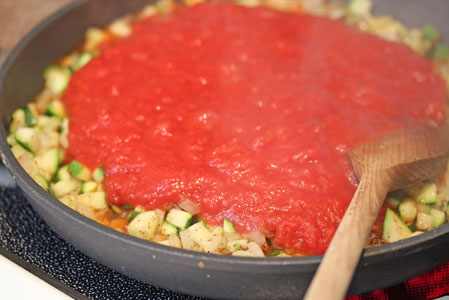 Dump in the crushed tomatoes, combine and let simmer on low for 4-5 minutes.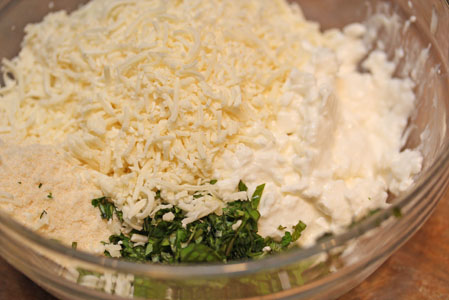 While that's simmering, combine the cottage cheese, Parmesan cheese, mozzarella cheese and fresh herbs with a touch of salt and pepper.
Then start layering…noodles, cheese, kale, sauce…repeat.
Bake.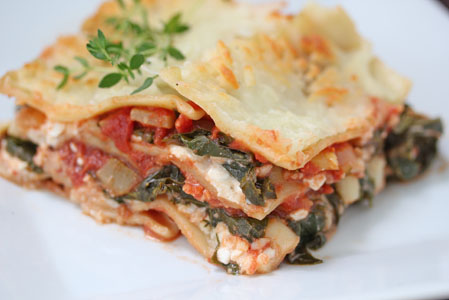 Learn how to cook kale leaves and then use in a yummy recipe like this lasagna.
Ingredients
16

kale leaves

boiled and stems removed

1

Tbsp

olive oil

2

garlic cloves

crushed

1

small

onion

finely chopped

1

small

zucchini, about 1/2 lb.

chopped

28

oz.

can crushed tomatoes

Salt and pepper

12

no-boil lasagna noodles

3

cups

cottage cheese

1 1/2

cups

shredded mozzarella cheese

1/2

cup

grated Parmesan cheese

2

Tbsp

fresh herbs - basil, oregano, thyme, parsley

chopped

1

cup

shredded mozzarella cheese

topping
Instructions
Boil the kale leaves in salted water for about a minute. Then place on paper or clean dish towel and roll and squeeze dry. Set aside until ready to layer.

Saute the garlic, zucchini, onion in olive oil for 5-7 minutes, or until opaque. Add the crushed tomatoes and let simmer another 4-5 minutes. Set aside until ready to layer.

In a mixing bowl, combine the cottage cheese, mozzarella cheese, Parmesan cheese and the chopped fresh herbs. Set aside until ready to layer.

Preheat the oven to 350.

Layer in a lasagna pan, or a 9x13 baking dish...noodles, cheese, kale, sauce...repeat. Top with the remaining 1 cup mozzarella cheese.

Bake at 350 for 40-45 minutes, or until cheese begins to golden on top. Let cool slightly before serving.

Enjoy as is for a one dish dinner, with a side salad or fresh fruit.