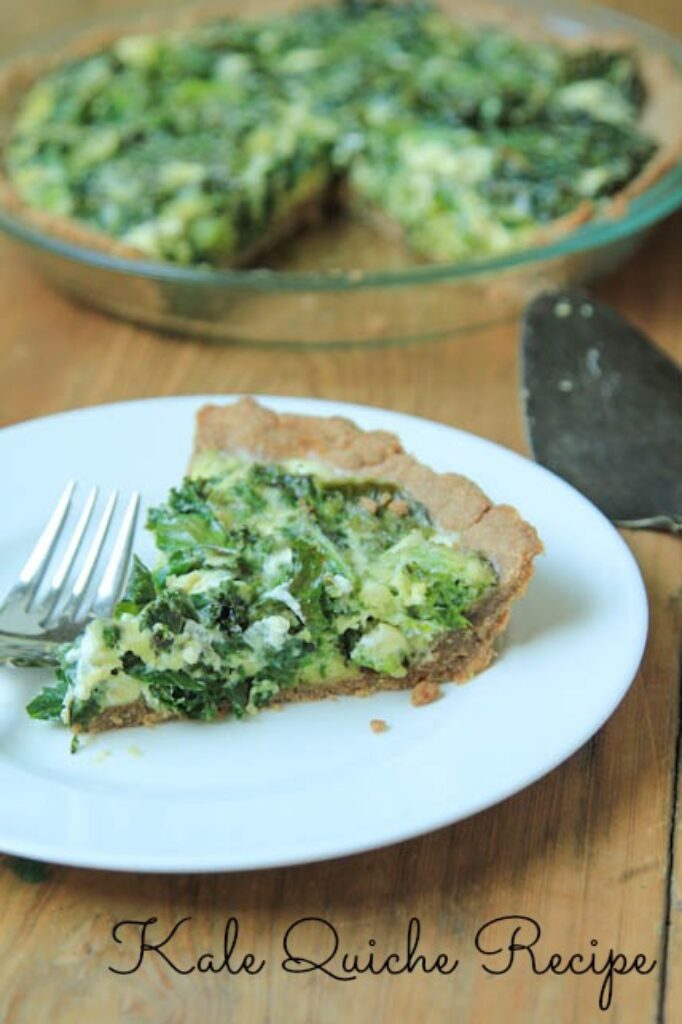 This recipe is part of the 9 Organic Meals from Costco for $100 Plan.

There is just something about a simple, flavorful quiche recipe. Then load it with nutrient rich kale, and you've got a winning breakfast meal! My boys are resistant to green leafy vegetables. So I end up hiding them into smoothies…and 'not-so-hiding' them in recipe like this one. And it's amazing that because it's eggs, they will eat them willingly!
(Ask them to eat raw kale or raw spinach and that's another story. They are just a work in progress…hehe!)
Note: This recipe is written to make a single pie plate. The 9 organic meals from Costco plan calls for making this twice. Because this isn't the most freezer friendly meal (although some would argue that cooked quiche freezes well…I disagree!), I would recommend making this 'fresh' twice before the kale goes bad.
It's a great weekend breakfast, and a simple weeknight dinner too!
Perfect for breakfast or dinner!
Ingredients
2

Tbsp

olive oil

2

garlic cloves, minced or crushed

8

oz

fresh kale

Salt and pepper

6

eggs, whisked

3

oz

feta, mozzarella or goat cheese

1

whole wheat pie crust recipe

Fresh fruit, as side
Instructions
Heat the olive oil in a large skillet and add the garlic and kale. Saute for 3-5 minutes, stirring constantly, until the kale has melted/wilted into the skillet. Transfer the kale to a plate covered in paper towels and carefully wring and dry out the kale. Place the kale on a cutting board and run your knife through it a couple of times, so that it will mix well into the eggs.

Preheat oven to 350.

Prepare the whole wheat crust dough and press into a greased 9" pie plate.

In a mixing bowl, whisk the eggs with the feta or goat cheese. Gently fold in the cooked and dried kale. Season with some salt and pepper. Pour into the pie plate with the crust.

Place the quiche into the preheated oven and cook for 30 minutes, or until the eggs are set in the middle.

Serve Kale Quiche with side of fresh fruit, for breakfast and/or weeknight dinner.