When I shared the first ever "20 meals" plan using ingredients from Costco back in September 2013, I had no idea that it would "go crazy" like it did. That page has been shared over a million times (the number counts aren't accurate because we had to change the pages around at one point to avoid some issues, so the count started over!)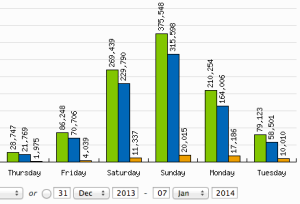 This is the website traffic on the first weekend of January 2014.
I shared another meal plan shortly after this. And another one. And then a 4th one, containing all "freezer to slow cooker meals" – this one went crazy too.
I've since shared 8 other "make-ahead freezer cooking" style meal plans here on $5 Dinners in 2014 and 2015.
This year, I set out to bring you more freezer meal plan options and develop a desktop app that would help you create meal plans that are perfect for your family – ones where you can choose the recipes and the app will "spit out" your recipes, shopping lists and assembly instructions.
With all these new options and the new desktop app, I decided to set them up on their own website, in their own store and with a new membership program. That's what MyFreezEasy is. That's why I keep talking about it.
They need their own space, outside of $5 Dinners, because they just do…and I have some other plans for FreezEasy & MyFreezEasy. 😉
The Basic MyFreezEasy membership program is open TODAY.
Over the past 3 years, I've come up with an amazing list of recipes that work beautifully in this "not much pre-cooking, just dump ingredients together" style of freezer cooking. Not all recipes work well with this. I'll admit we've had a few duds (at least that's what you told me in your feedback!), so we've taken out the duds…and added many other new ones into our MyFreezEasy recipe database.
We are putting the final touches on the new MyFreezEasy Desktop app and the Premium membership will be available for sign-up or upgrade in August!
DEAL ALERT: If you are one of the first 200 members to sign-up for the MyFreezEasy Basic Membership, I'll set you up with a FREE UPGRADE to the Premium membership when it's available in August! *Specific details here.
Ok, just wanted to give you a peek into the backstory, the evolution and where we are today. In looking back, I think "I should have done this years ago," but no…now is the perfect time!
I'd love for you to learn more about this amazing new freezer cooking meal plan membership option! (And yes, we will continue to share new recipes, coupons, deals and ideas here on $5 Dinners every day!)
I'm here to make it simple and easy for you to keep your freezer stocked full of delicious and healthy meals!