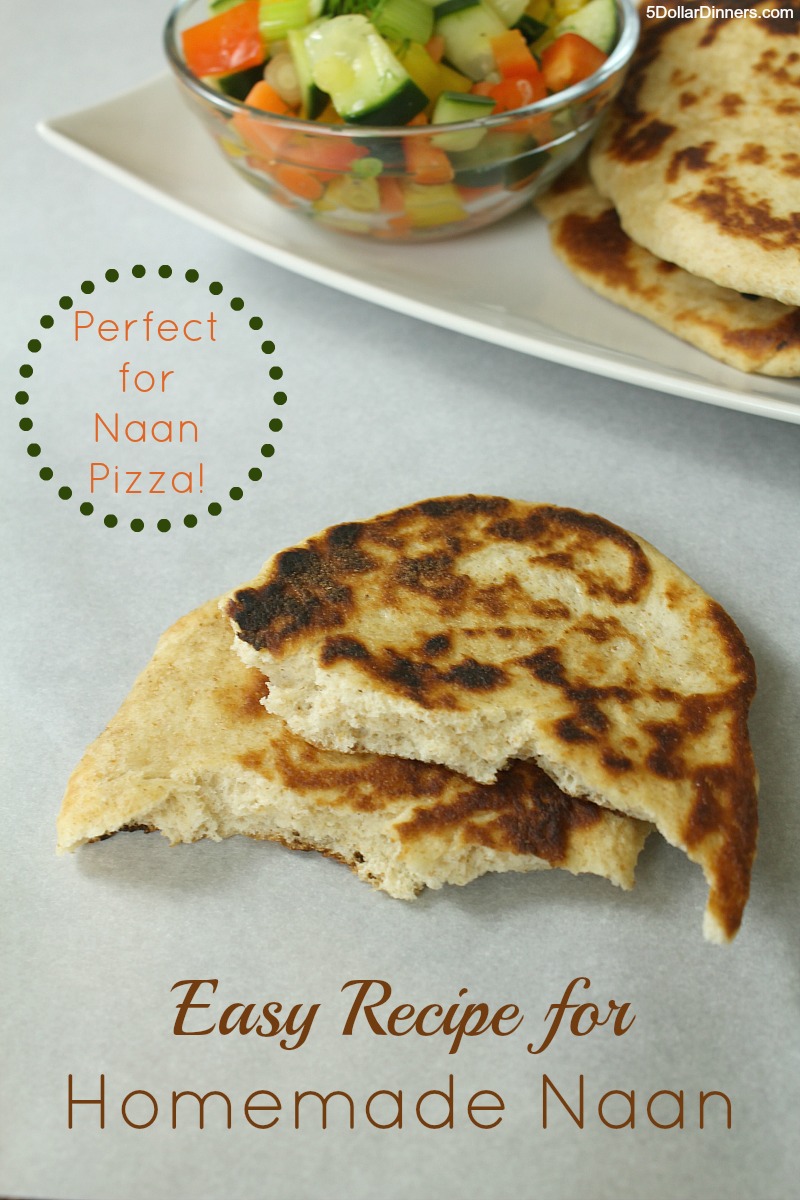 A couple of weeks (months probably…where does the time go?!?), we shared a Naan Pizza with Olives and Feta recipe and we had quite a few requests for a homemade naan bread recipe.
So.
Here it is!
Crazy delicious, perfectly smooth and soft. And be warned…you take one bite, you'll eat several pieces!
Crazy delicious, perfectly smooth and soft.
Ingredients
2 1/4

tsp

yeast (1 packet)

1

cup

warm milk, 125 degrees F

3

Tbsp

sugar

1/4

cup

plain Greek yogurt

1

egg

2

tsp

sea salt

2

Tbsp

melted butter

3

cups

all purpose flour

1

cup

whole wheat flour

2

tsp

garlic, minced

Additional butter for oiling the pan/griddle.
Instructions
Combine all ingredients EXCEPT garlic in bread machine. Youll want to place the wet ingredients in the bottom followed by the dry. Make sure to leave out the garlic.

Start the machine on the dough setting.

When the dough cycle is completed, remove the dough and knead in the garlic on a lightly floured surface.

Cut the dough into 16 equal pieces. Roll the dough pieces into balls and place them on a greased pan. Cover the pan with greased plastic wrap and a towel and allow them to rise until theyve doubled their size. This takes 20 - 40 minutes.

Preheat griddle or frying pan to medium high heat (around 375 degrees).

Once the second rise is complete, youll want to butter the griddle.

Roll one ball of dough out into to around inch. Place the dough on on the griddle and cook for 3 minutes until fluffy and showing brown bubbled areas.

Brush the raw side with butter. Flip the bread and brush the browned side with butter. Cook another 2 to 4 minutes until done. The naan should be nicely browned on both sides.

Complete the steps for all remaining dough.