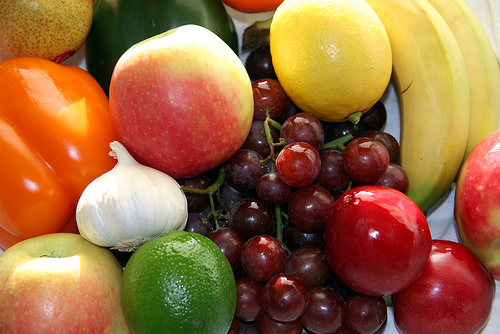 In the past 5 weeks, I have logged over 4,000 miles in the car. A trip to Texas. A trip to Georgia. And a trip to Chicago and Minneapolis. 4,000 miles.
(Just typing that makes my rear end hurt.)
So while I was logging all these miles, I burned approximately 2 calories per hour. Except for the hour that I was driving "white knuckled" through some snow showers in Wisconsin. That hour, I burned about 8 calories.
(Just typing that makes my thighs swell a bit.)
Whenever I could squeeze in a little exercise, I would…but not the same amount that I get on a regular basis. So I found it especially important during these sedentary days to watch what I was eating. I have no trouble eating well when I'm at home…but when I hit the road, it's much more of a challenge. When traveling for a day or two, you can take snacks and meals in a small cooler.  But when traveling for 4-5 days at a time, you end up facing "fast food" on the road.
Here are a few lessons learned.
1. Subway, Subway, Subway. I will say that I've eaten more Subway in the past 3 weeks than I did all of last year. Why? Because I CHOSE to eat there for most of my lunch and dinner meals while I was driving from one city to the next.  Subway has such a great variety of low cal and low fat sandwiches and salads, that I never found myself getting "sick of it."  While I was in a city, I'd chose another restaurant that served salads and other light food fare. It was a CHOICE, and I did my best to choose wisely for each meal.
2. Limit the sugary treats. When you roll up to the pump to refill the nearly empty tank, sit back in your car while you wait for it to fill up. And if you have to run inside to use the facilities, walk as fast as you can past the sugary treats. Don't even look at them. Just fly right past them and right back out the front door. Avoid them at all costs. Because inhaling 300 delicious, chocolate-y calories just doesn't do well for the thighs and hips when you're only burning 2 calories per hour!!!
3. Sunflower seeds. These are a fabulous snack because they are filled with protein and are salty enough to make you thirsty. (See #5.) Plus, they keep your mouth busy while driving. But, of course, find another nut or seed alternative if you are on a low sodium diet.
4. Water.  So salty sunflower seeds will certainly ramp up your thrist glands, but water is essential for something else. It's key to staying "regular." (Yes, we're going to talk about "that" for a minute.) Your pipes quickly go into shutdown mode when you get out of your comfort zone and are away from home. It's true.  No denying it. But water and fiber will help keep those pipes working well while on the road.
5. Move, move, move. Jump on a treadmill at the hotel.  If they don't have one (as several of the smaller hotels that I stayed in did not), hit the stairwells at the hotel.  If they doesn't work for you, walk briskly up and down the hallways. You have no excuses.  You've got to move, move, move!
What about you?! How do you eat healthy when on the road?!