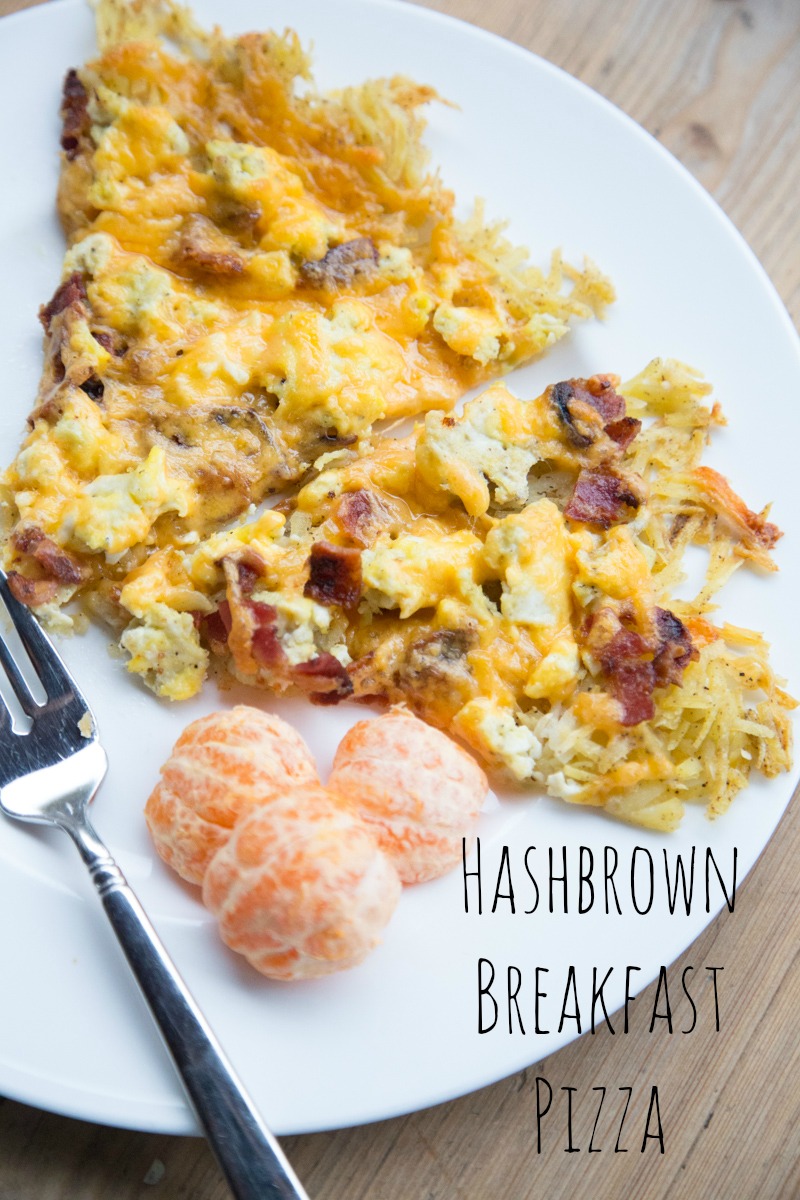 Here's a fun new twist on breakfast pizza crust my friend!
It's super simple…hashbrown potatoes, some olive oil (or melted butter) and salt and pepper.
Bake the 'crust.'
Add the toppings.
Wow your family with a few new twist on pizza night and/or 'brinner.'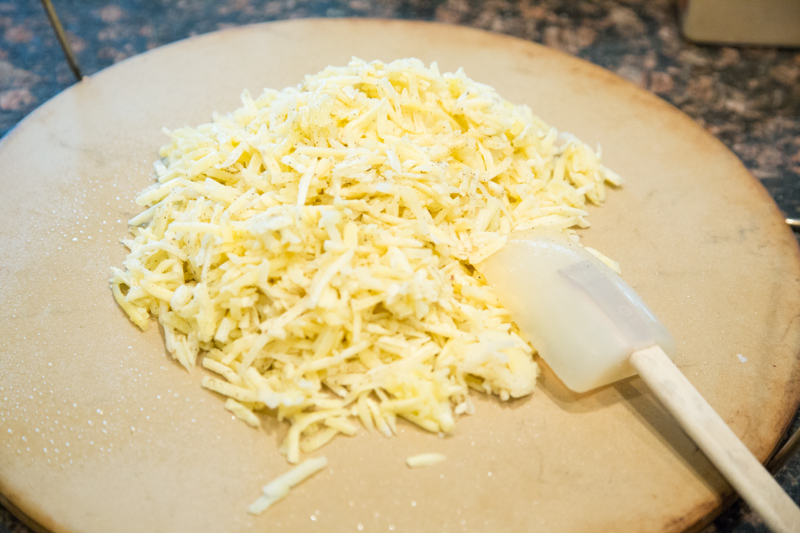 I used my pizza baking stone to make the crust. A rectangular or circular pizza pan will work too.
Drop the 'dough' onto the pan…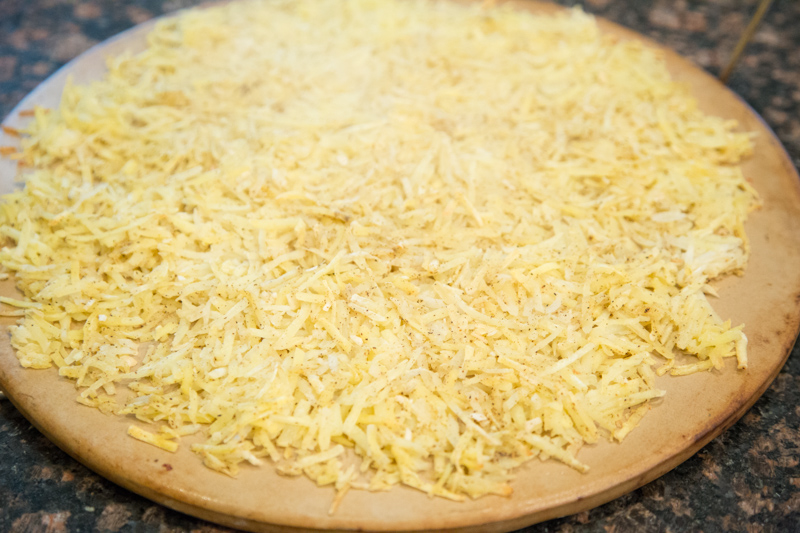 And spread into a thin-ish later, with as few gaps as possible in the middle.
"Pre-bake."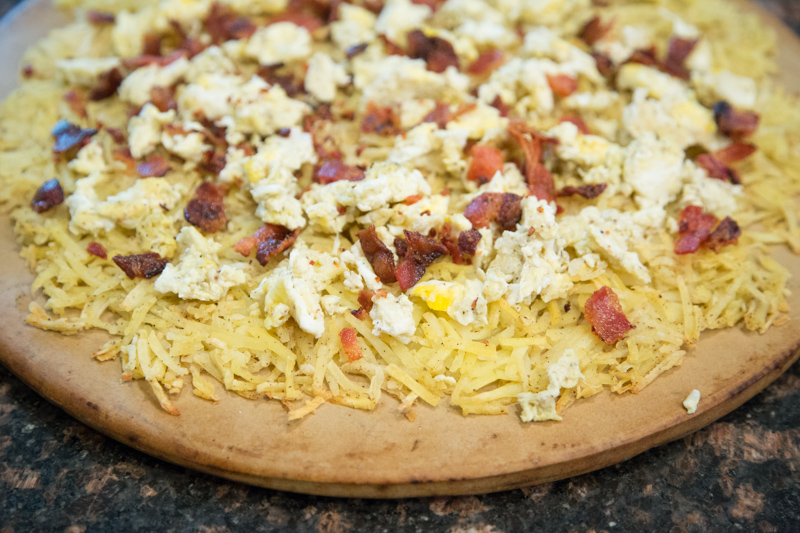 Then add toppings.
Whatever you like in an omelet, on a breakfast pizza, or on a regular pizza will totally work here.
I kept it simple with eggs, bacon and cheese. Because that's what I had on hand. (Lots of shredded cheese leftover from the 85 Breakfasts & Snacks for $150 meal plan!)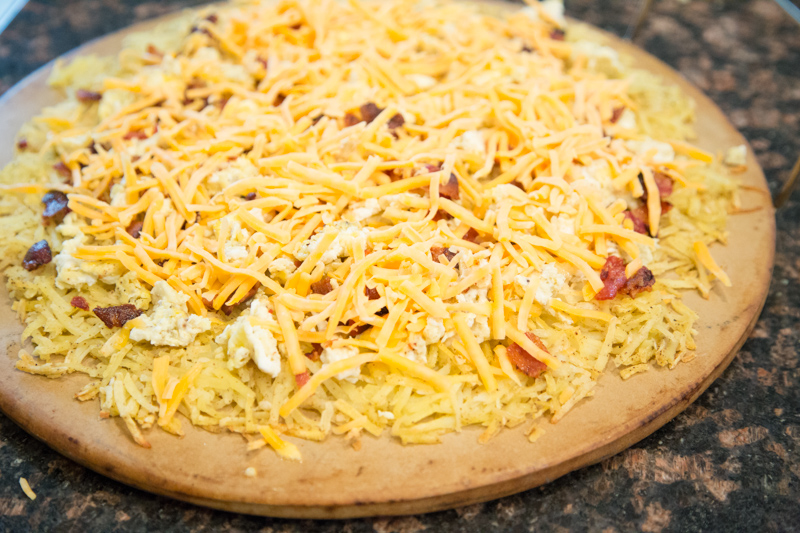 Bake again.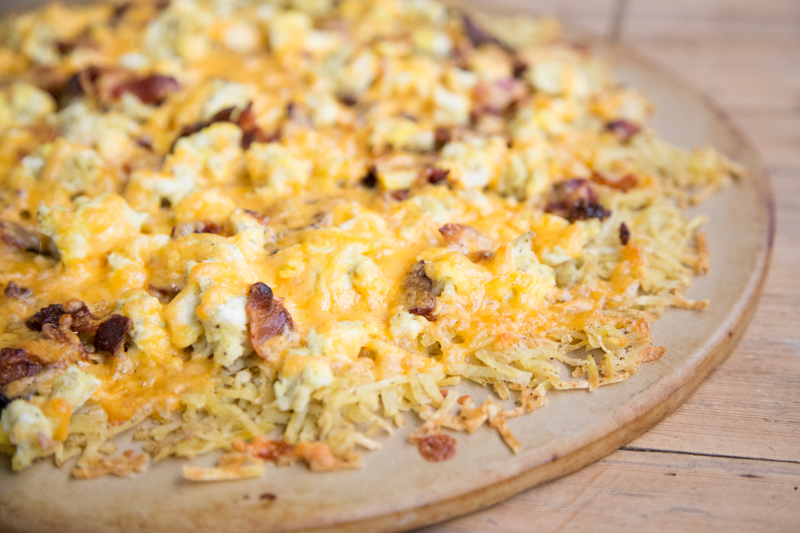 And then let it cool for a few minutes before slicing and serving.
Pizza cutter works perfectly. Use a spatula to pick up the slices.
(My slices stayed together, without issue. But I could see that if you didn't get the 'crust' right without any gaps, it could be hard to serve as a slice.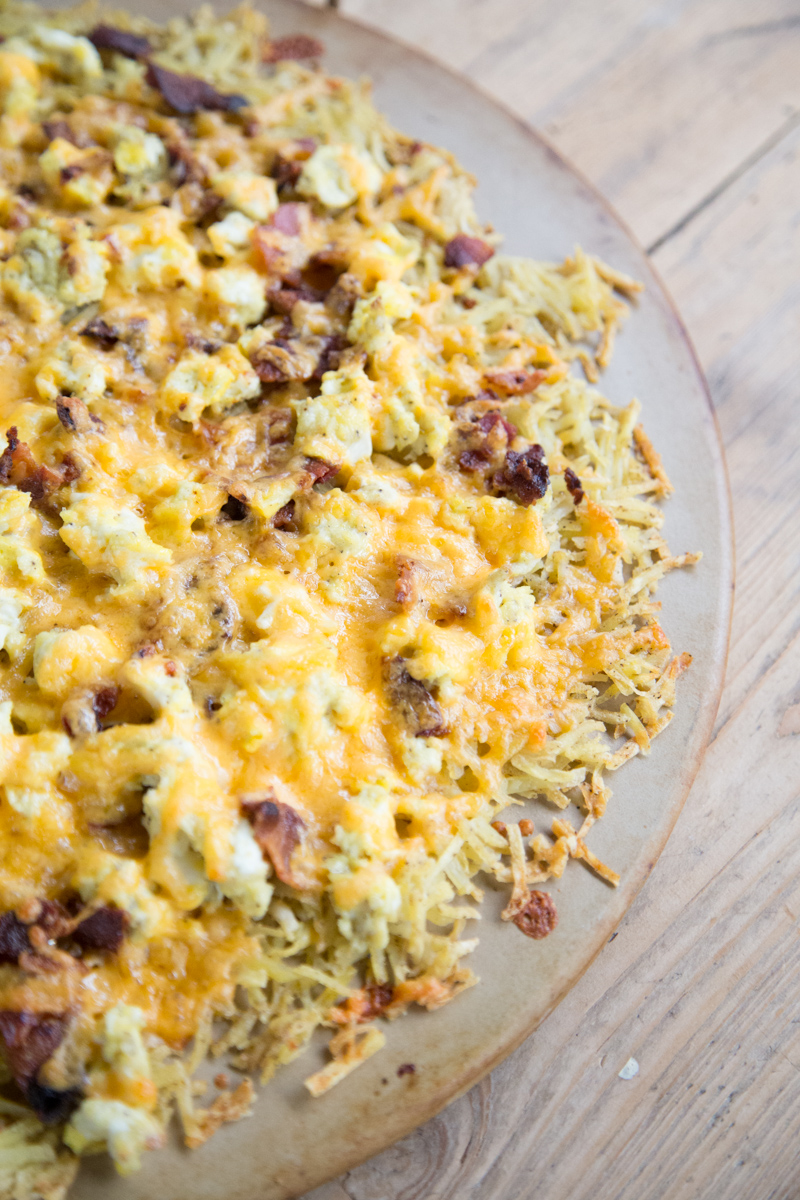 The edges are perfectly crispy, with a softer crust in the middle.
This stuff is seriously delicious!
Makes the same size as a 14″ pizza, but the crust is thin. This filled me up, but if you want a thicker crust, you could double up on the hashbrown potatoes, or serve a heftier side dish!
Savings tips: Grab the hashbrown potatoes when they are on sale and stock the freezer. Every once in a while, I'll see a coupon for frozen potatoes too. I've had these hashbrown potatoes stashed for a few months from a freezer sale at Sprouts!
Also, shredded cheese and bacon also freeze well, so stock up on those when on sale…and you'll just need eggs to make this meal!
Pizza for breakfast is always approved by the whole family!
Ingredients
6

slices

bacon

16

oz

bag frozen hashbrowns, defrosted

2

Tbsp

olive oil (or melted butter)

1

Tbsp

minced onion

1/2

tsp

garlic powder, salt, pepper each

4

eggs

Salt and pepper to taste

1 1/2

cups

shredded cheddar cheese

Fresh fruit, as side dish
Instructions
Preheat oven to 350.

Cook the bacon in the oven. (Or a skillet, or the microwave. Baked bacon tastes best, IMO.)

In a mixing bowl, toss together the hashbrowns, olive oil, minced onion, garlic powder, salt and pepper. To a 14" pizza stone, or large rectangular rimmed baking sheet, spread the hashbrown 'crust' down and press together. Bake at 350 while the bacon is cooking, for 25 minutes.

Meanwhile scramble the eggs, then drain & crumble the bacon.

After the crust has pre-baked, add the scrambled eggs, crumbled bacon and shredded cheese on top. (Feel free to add other toppings...bell peppers, ground sausage, mushrooms, etc.)

Return to the oven and bake for another 15 to 20 minutes.

Serve Hashbrown Breakfast Pizza with fresh fruit.