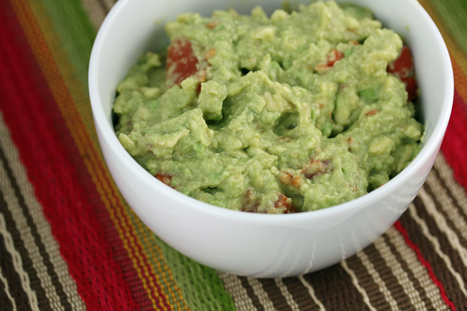 The Super Bowl is just around the corner!  And there's one thing that is always, without fail, sitting on the counter during the Super Bowl game at our house.
As far as I'm concerned, there are a few ingredients that have to be mixed into a homemade guacamole.
Must be.
There are no ifs, ands or buts about these.
Here goes…freshly crushed garlic cloves, fresh chopped cilantro leaves, lemon or lime juice, ground cumin and some salt and pepper. (And the avocados, of course!)
The rest is just optional.
This new "5 Ways" series on $5 Dinners is to help you with the optional part.
Tomato, seeded and diced – either fresh or roasted – for some balanced delicious-ness.
Sour cream – for a little creamy-ness and tangy-ness.
Red and/or green pepper, seeded and diced – for some crunch and colorful-ness.
Jalapeno, seeded and chopped – for some spicy-ness.
Red onion, chopped – for some zesty crunchy-ness.

Mix and Match for your taste bud's pleasure!
Then enjoy with some tortilla chips, crackers, veggie crudites.
Or just eat it straight out of the bowl.  There's no shame in that! (At least that's what I tell myself.  I have very little self-control when there is a bowl of guacamole around.)
And if you've never purchased an avocado before…never fear! How to Choose and Cut an Avocado.
So do tell – how do you do your guacamole?!  What are your favorite additions!?