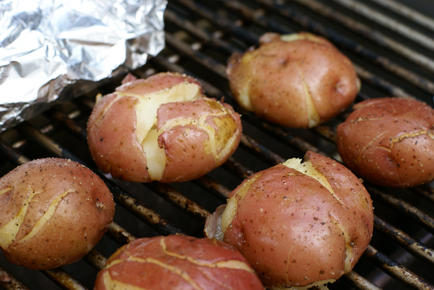 For our 4th of July party, my MIL said she would be bring steaks. (Yes, please.)
Steaks rarely fit into the $5 Dinners budget, so I was ecstatic that she would be bringing some to grill. I thought I'd grill some red potatoes to go with the steaks…but I was concerned with how long it would take to grill them. I discovered a method that would work perfectly.
Fire up the grill and let it get toasty warm.
We want to hear a sizzle when we put down the steaks/sausages/chicken, and the potatoes.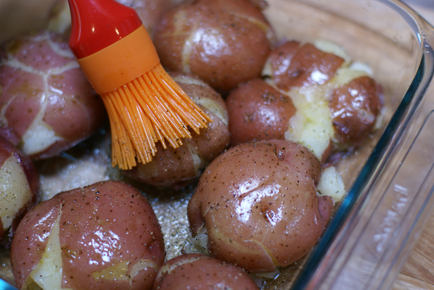 Time Saving Trick: Poke a hole into each potato and microwave to cook through faster than boiling. Cook 4 to 5 minutes, 6 potatoes at a time. Cooking time might vary based on how thick potatoes are. Cook until softened.
Ingredients
12

red or gold potatoes

1-2

Tbsp

olive oil

Salt and pepper to taste
Instructions
Boil the red potatoes whole in a large pot of water for 25-30 minutes.

After the potatoes have cooked through while boiling, set them out onto a kitchen towel and let them sit for 10-15 minutes.

After the potatoes have cooled down some, take the kitchen towel and put it over the potato and gently press down, cracking the skin...but not so hard that the potato falls out! Place in a pyrex dish. Brush with olive oil and season with salt and pepper.

Grill the pressed red potatoes (alongside the meats) for 5-6 minutes per side.

Serve with grilled steak or sausage or chicken!