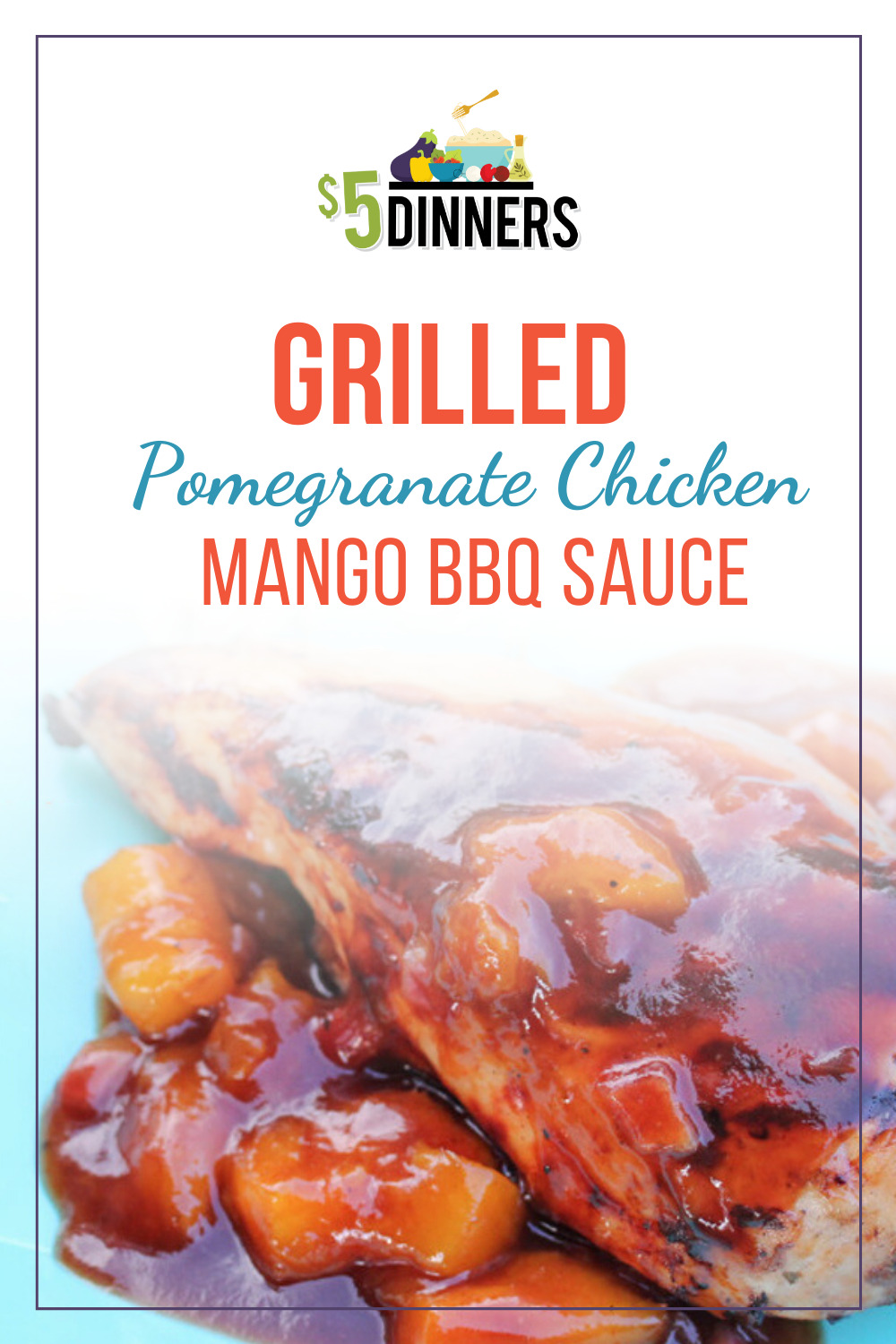 Grilling season is officially upon us. Well, it's been upon us here in South Texas for a few weeks…some days better than others for grilling. I'm thinking the last "really cold" front has passed through and we've been enjoying some lovely weather as a result. This weekend we had my sister and her family over for dinner…we grilled out, ate on the deck and had a lovely evening hanging out. My husband grilled the chicken that I had marinated in the Hidden Valley Pomegranate Vinaigrette dressing while I prepared the Mango BBQ sauce on the stove and mixed up the salad…and watched everyone devour the homemade guacamole that my brother-in-law made for us all!
(And "really cold" is totally relevant, I do realize that. But 46 in May is "really cold" for Texas!)
Here's a little image I pulled together from some iPhone photos…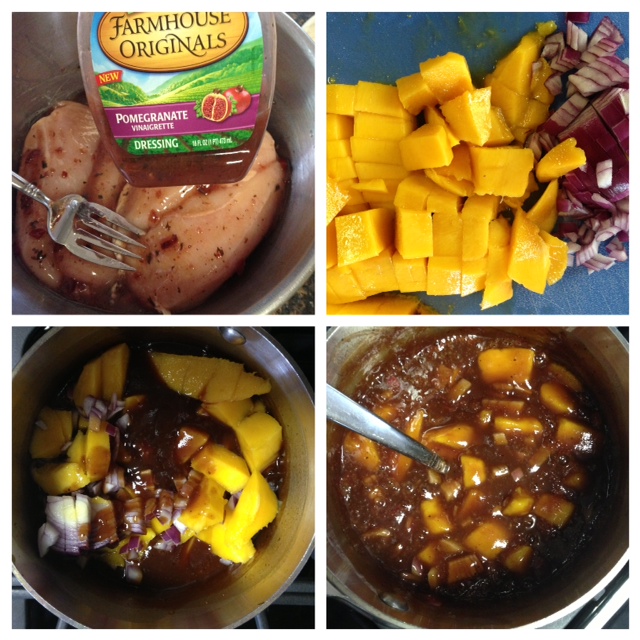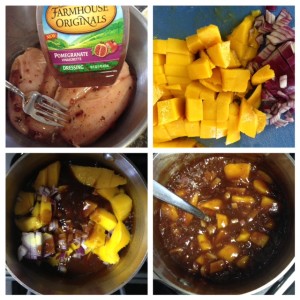 (Please pardon the funny yellow light in my kitchen. I didn't add any "filters" to these…keeping it real!)
A few notes about how to keep this meal on the inexpensive side…
Chicken breast price – don't pay more than $1.99/lb! Meat is so expensive, so following the sales cycles and buying only when it's on sale is crucial to keeping meal and overall grocery costs down!

BBQ sauce – it's that time of year when the coupons for BBQ sauce are a plenty…and the sales are too! Be sure to use the coupon when the BBQ sauce is on sale for double whammy savings!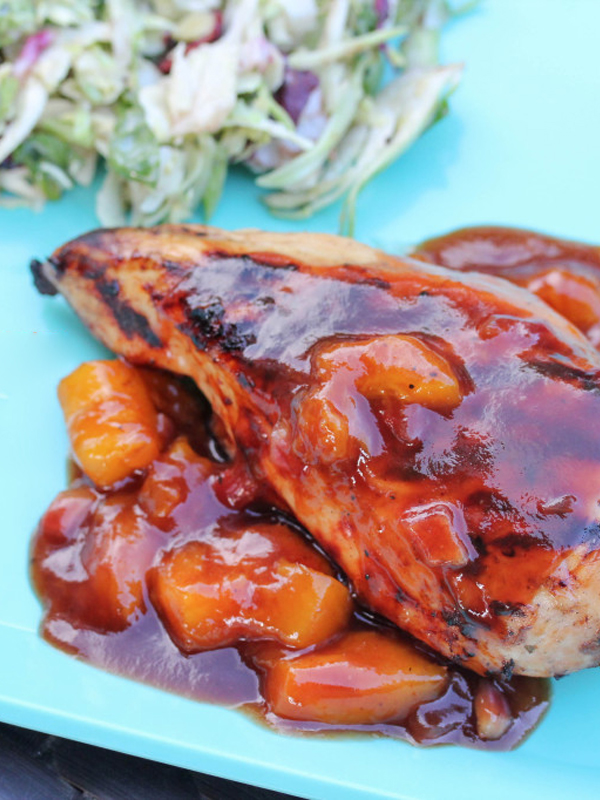 Hope y'all enjoy this delicious smoky and slightly sweet grilled chicken dinner!
Sweet and tangy chicken, fresh from the grill!
Ingredients
4

chicken breasts

1

cup

Hidden Valley Pomegranate Vinaigrette Salad Dressing

2

cups

BBQ sauce

1/2

cup

water

1

cup

chopped red onion, about 1/2 of a medium sized red onion

1

large

mango, seeded and diced (See how to choose & cut a mango here)

Veggie or fresh fruit on the side
Instructions
Marinate the chicken breasts in the pomegranate vinaigrette dressing for at least 2 hours, ideally overnight!

Grill the marinated chicken breast for about 20-30 minutes, or until cooked through. Cooking time will vary based on thickness of the chicken breast.

While the chicken breast is on the grill, prepare the Mango BBQ sauce. Add the BBQ sauce to a small saucepan and whisk in 1/2 cup of water. Stir in the chopped red onion and diced mango. Bring to bubbling over medium heat, then reduce heat to low and let simmer until the chicken is done grilling. Stir every few minutes.

Serve Grilled Pomegranate Chicken with Mango BBQ sauce...ideally outside on the deck on a beautiful evening 🙂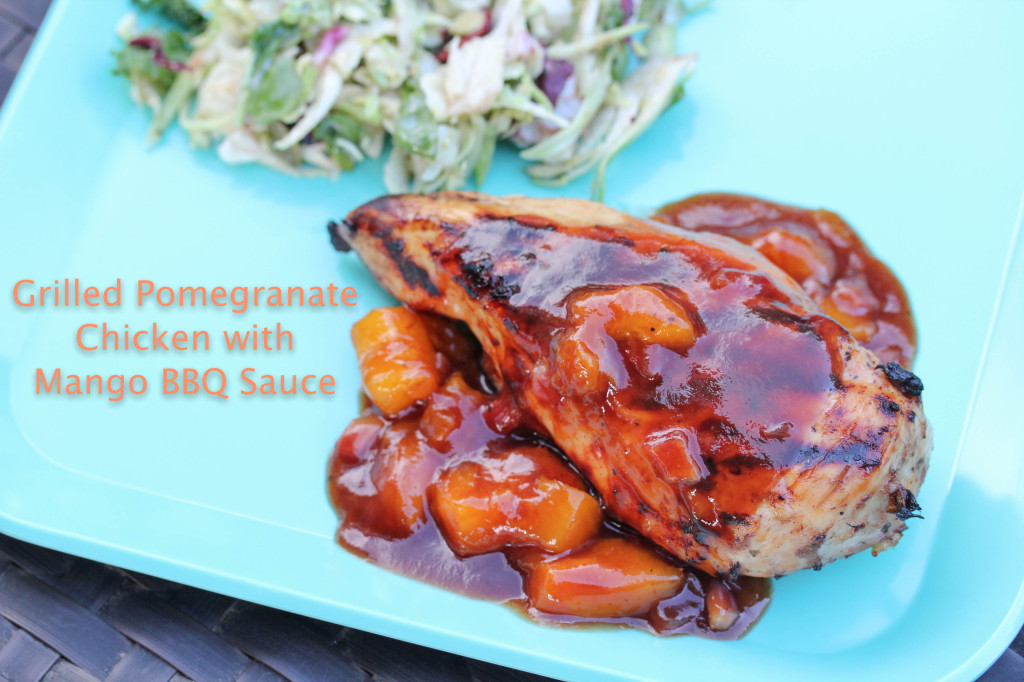 Disclosure: This post is part of a sponsored post series with Hidden Valley. Recipe is my own, opinions are my own…as always.