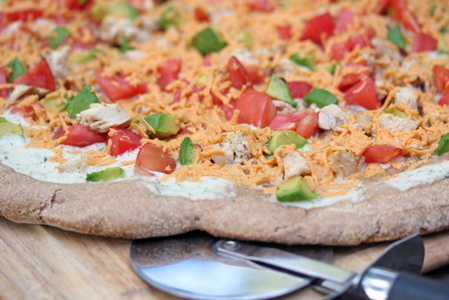 I made this pizza on Wednesday afternoon. The same afternoon I made some whole wheat, sugar free muffins (I will share the recipe as soon as I can make them again…I need to get my hands on some more sucanat first!). The afternoon I was feeling pioneer-ish!
My neighbor was over and our kids were playing around the yard. We were catching up, talking about the upcoming school year…and she was watching me and my pioneer-ish ways in action. I explained as I made the homemade ranch dressing. And she walked out with me to the "back garden" to pick tomatoes. And she watched in awe as I sliced the avocado in the palm of my hand.
(I think I might have caught her taking notes.)
She enjoys learning and watching as I cook. Or grill, in this case. And I enjoy teaching her a few tricks here and there too!
I made my traditional pizza crust dough in the bread machine, but replaced the white flour with wheat flour and used honey in place of sugar (remember my goal for August!) And for whatever reason, it was huge. HUGE. It took up over 2/3rds of my grill…and I have a big grill!
The dough rose to the same height as normal, had the same amount of flour, liquid, etc. But when I rolled it out, it was nearly double in size. Not sure of the reason…better consistency with the all whole wheat flour…no. idea.
So the crust…topped with one of my favorite flavor combinations…tomatoes, avocado, ranch and cheddar. With some grilled chicken pieces. Then, finally cooked on the grill.
De. light. ful!!!
(Other than the kind of cheese I had to use being terribly expensive (so the boys could enjoy this treat), this would be an inexpensive dinner for 4 when using regular shredded cheese!)
So the crust...topped with one of my favorite flavor combinations...tomatoes, avocado, ranch and cheddar. With some grilled chicken pieces. Then, finally cooked on the grill.
Ingredients
1

1 homemade pizza crust

1

cup

store bought or homemade ranch dressing

3

medium

tomatoes

seeded and diced

1

avocado

diced

2

cups

grilled chicken

diced

2

cups

shredded cheddar cheese

Fresh fruit or carrot sticks

side dish
Instructions
Make the crust and roll it out, or use a store bought crust. If using a store bought crust on the grill, roll it out and place it on a flat surface in the freezer for 15-20 minutes, then transfer it directly to the grill.

Place the crust directly on the grill, over the lowest heat possible. Spread the ranch dressing over the top, then add the diced tomatoes, diced avocado, diced chicken and top with the cheese. Let cook on the grill for 10-12 minutes.

Don't overcook, as you run the risk of burning the bottom of the crust.

Carefully slide the grilled pizza from the grill onto a large cutting board or large baking sheet. Slice.

Serve Grilled Pizza with Chicken, Tomatoes and Avocado and a side of fresh fruit or carrot sticks.