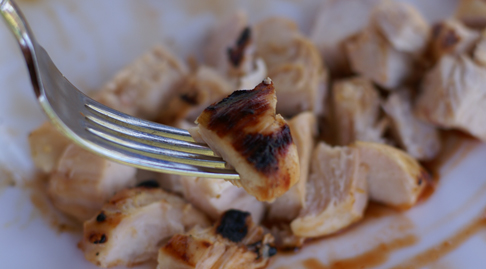 There is just something about grilled chicken. It's so….
What is it? It's so….
Tender on the inside, and a bit crisp on the outside.
It's so……perfect.
This is a simple marinade for any kind of chicken. It gave the chicken a lovely, sorta sweet, flavor!
Ingredients
3

large

or 4 small chicken breasts (about 1.5 lb) ($2.52)

Garlic pepper and salt

1 15 oz can of pineapple chunks, juice and pineapple ($.59) On sale with coupon

1

cup

orange juice ($.20)

1

small

can vegetarian baked beans ($.89)

1/2 Romaine lettuce head and salad dressing ($1)
Instructions
Place the chicken into a small baking dish to marinate. Sprinkle with garlic pepper and salt. Add the juice from the pineapple can and the orange juice to the baking dish. Let marinate at least 30 minutes in the refrigerator.

Grill until cooked through. Cooking times will vary depending on the thickness of the chicken and the grill.