An easy marinade for the chicken…using the overflow of mint from the garden…I intended to grill this chicken, but ended up baking it because of a DOWNPOUR during dinner prep time. It was still delicious, but think it would have been better if grilled!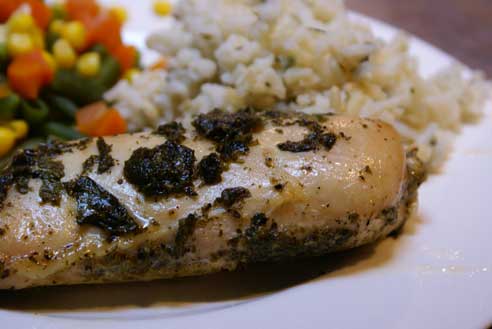 Ingredients
3 chicken breasts ($2.65) ($1 off coupon in last week's coupon insert...fresh meat coupons are RARE!)

1/4

cup

olive oil ($.40)

3

Tbsp

lime juice ($.10)

2

Tbsp

sugar ($.05)

1 tsp salt

Few dashes of pepper

1

cup

fresh chopped mint leaves (from the garden)

4

cups

of Rice with Garden Greens($.35)

16 oz. bag frozen mixed vegetables ($.68)
Instructions
Marinate chicken breasts in mojito sauce for at least 30 minutes in the fridge. Whisk olive oil, lime juice, sugar, salt, pepper and fresh chopped mint leaves.

Bake at 350 for 50-60 minutes, or until chicken is no longer pink in the middle. OR, Grill chicken breasts for 6-8 minutes on each side, or until no longer pink in the middle. Cooking times will vary depending on thickness of the chicken and heat of the grill. (OR

Reheat Rice with Garden Greens.

Cook frozen vegetables according to package instructions!

Serve Grilled Mojito Chicken with Rice with Garden Greens and Mixed Veggies.