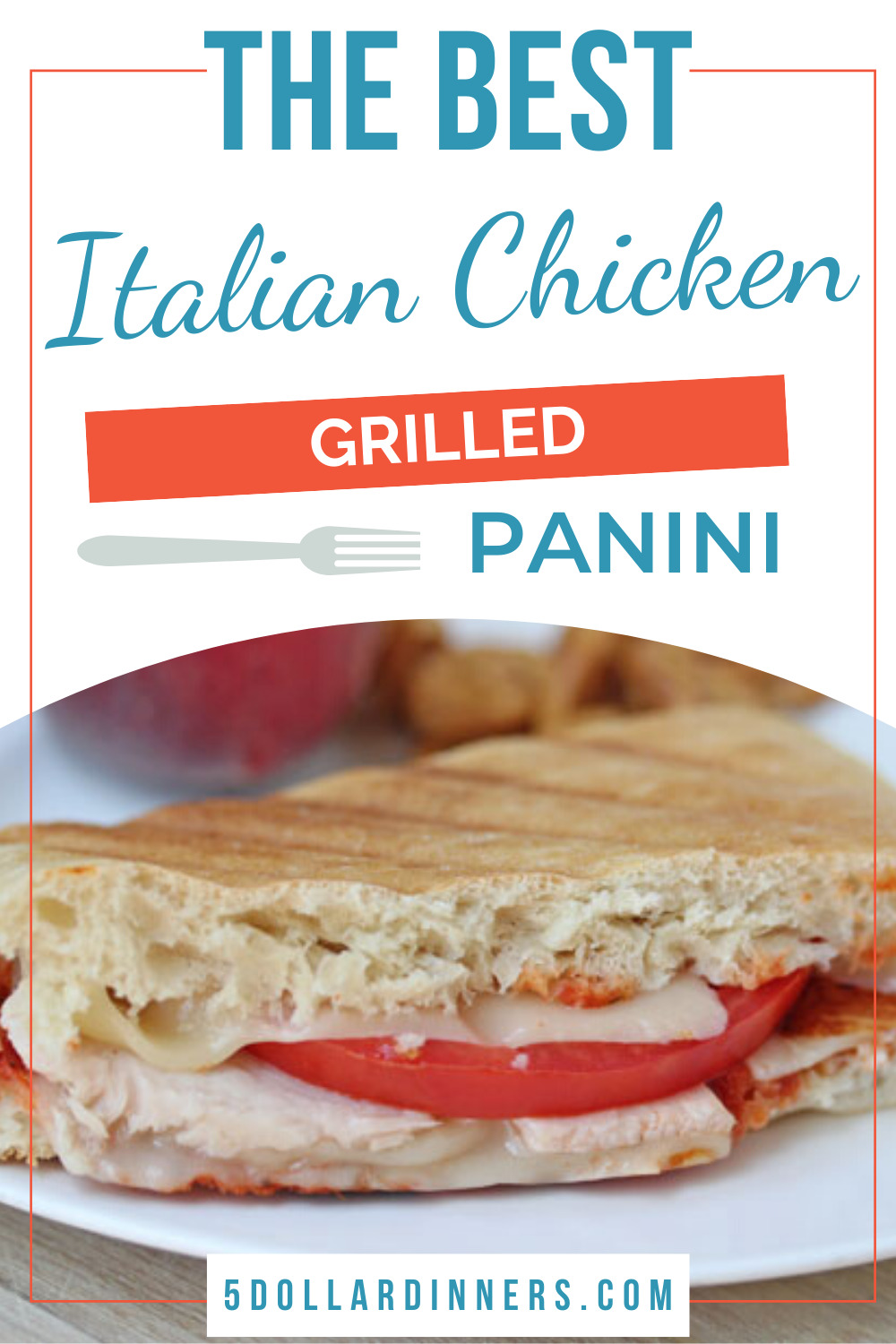 While I love a great salad for lunch most days, I also like to mix things up…and this panini is the perfect way to do that! It calls for things that you probably already have on hand…marinara, chicken, tomato and cheese.
Panini sandwiches cook beautifully in a skillet, Panini press, quesadilla maker, and on the grill! Before we get to my favorite new Panini recipe, here are a few tips for grilling these scrumptious sandwiches!
Butter the outside of the bread well.
Place the Panini directly over the flame when you first put it on the hot grill to get a nice grill mark.

Grill them over indirect heat after each side has been cooked for two minutes. This allows the cheese to melt nicely, without the risk of burning the bread.
To press the sandwich together, wrap foil around a brick and place it on top of the panini as it sits over indirect heat.
The perfect option for a delicious lunch!
Ingredients
1

loaf ciabatta bread

4

thinly sliced chicken, grilled or deli meat

8

mozzarella cheese slices

1

tomato, sliced thickly

1/4

cup

marinara or spaghetti sauce
Instructions
Butter the insides and outsides of the bread.

Assemble each of the sandwiches by spooning marinara sauce on the bottom slice, then layering a slice of cheese, tomato slice, chicken and another slice of cheese.

Add top of bread to the sandwich.

Heat the grill and place the sandwiches on the grill over direct heat for two minutes, carefully flip and let the other side cook for two minutes.

Move the sandwiches over indirect heat, place the foil-wrapped brick on top and let the Panini finish cooking.

Once cheese has melted, remove from the grill and serve paninis with chips, veggies or fresh fruit.
What's your favorite Panini? Have you ever tried making one on the grill?
Recipe originally posted on SCJohnson.com.