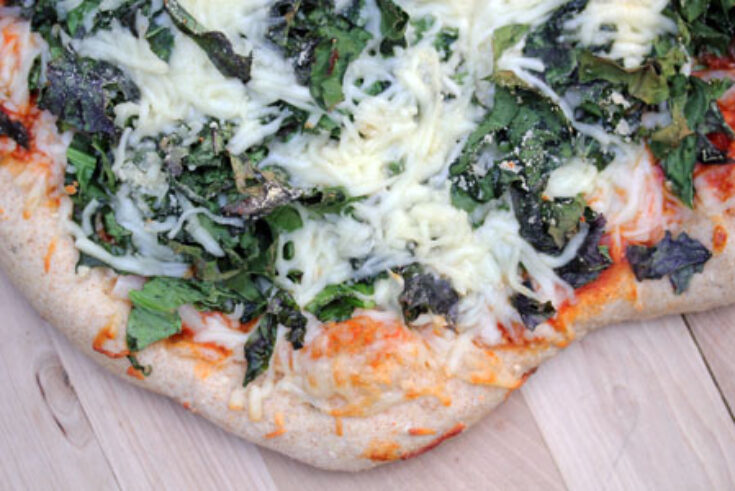 I was out to dinner with some girlfriends the other night, as one of my dearest friends is headed to California now. 🙁
We were chatting at dinner and Jackie casually mentioned that she had way too many greens in her "happy box" and I casually mentioned that I would gladly take them off her hands. She said I was welcome to them.
I was half way serious. But she was completely serious.
When I went to drop Jolyn off, there was a bag full of greens waiting for me! I was hoping to use some of my arugula from my garden to make a "greens" pizza, but there just wasn't enough…so this was perfect!
(Thanks Jackie!)
I used mustard greens and collard greens…nice bold and rich flavors…and a perfect pair with Parmesan and mozzarella. Steve and I devoured this pizza.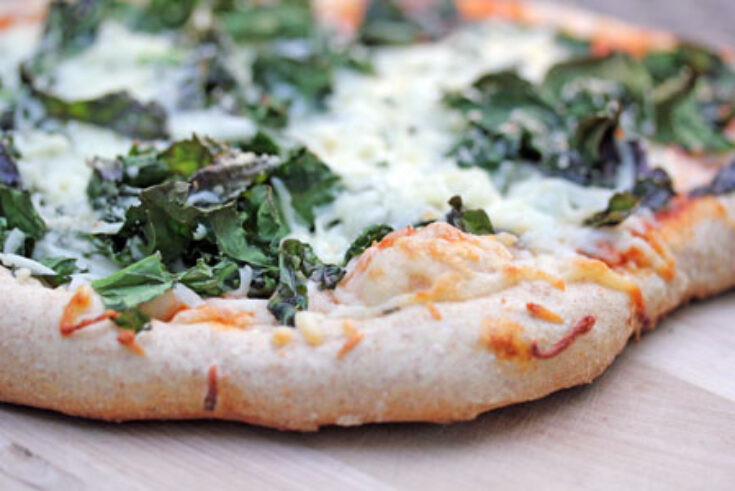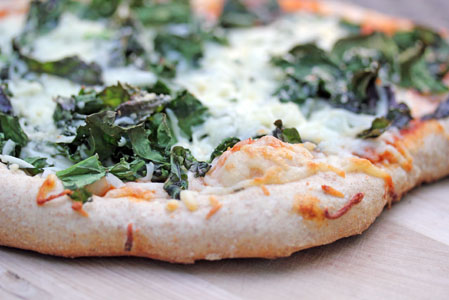 Devoured.
PIZZA! I used mustard greens and collard greens...nice bold and rich flavors...and a perfect pair with Parmesan and mozzarella.
Ingredients
1

batch

homemade or store bought pizza crust

1/4

cup

pizza sauce

1/2

small

white onion

chopped

3

cups

chopped "greens"

such as mustard, collard, kale, arugula

1/4

cup

grated Parmesan cheese

2

cups

shredded mozzarella cheese

fresh fruit

side dish
Instructions
Prepare the pizza dough and then roll it out onto a floured surface. (Note: If using store bought dough, set up your pizza with toppings, then place in the fridge for a 20 minutes before transferring onto the grill. The cold will harden the crust some and keep it from falling through the grill grates.)

Spoon a thin layer of the pizza sauce and then sprinkle the chopped onions and chopped greens over the top.

Sprinkle the parmesan cheese and then the mozzarella cheese on top.

Carefully transfer the pizza to a hot grill. Do your best to keep the temperature around 400. (Just as if you were baking it in the oven.) I keep my gas grill on the lowest level to keep it around 400. Just watch closely, as if it gets too hot, the bottom will burn. And we don't want that!

Cook the pizza on the grill for about 10-12 minutes, directly over the flame, or use indirect heat if you can't monitor the temperature. The pizza is finished when the dough is puffed up along the edges and all the cheese has melted and the greens have wilted some under the warm cheese.

Slice and serve warm with fresh fruit.