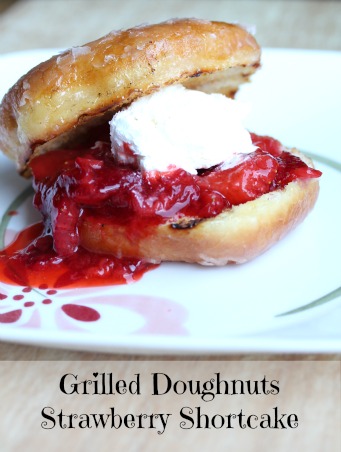 This recipe is exactly why I love what I do…I get to try all kinds of new things…the other night, it was Grilled Doughnuts. Used as the "shortcake" in strawberry shortcake. I shared with some friends that I was grilling doughnuts, and the response was "SHUT UP. That is not right." (I think she was a little jealous!)
I don't make dessert all that often. When I do, it's usually some kind of cookie because I've got several different recipes memorized, making it super quick and easy to whip up a batch or two, or four. Well move on over cookies, because there's a new memorized dessert recipe in town…
It only has 4 ingredients…and the cooking process couldn't be easier to make…and memorize!
Doughnuts – slice and grill for 2-3 minutes.

Strawberries – mash and pour sugar over the top and let sit for a few minutes.

Assemble. Devour.
See. Easy to make, easy to memorize. You're welcome 😉
I used glazed doughnuts and I was a little worried that the glaze would melt off while they were on the grill, but turns out that it did melt a little, but ended up caramelizing around the edges. This "shortcake" had a perfect slight crunch on the doughnut, combined with a just sweet enough strawberry "sauce"…rounded out with the creamy whipped topping. Amazing way to end a summer night's dinner!
Ingredients
4

glazed donuts, sliced horizontally

10-12

large

strawberries, mashed with a fork

2

Tbsp

sugar

Dollops of whipped cream, or scoop of ice cream.
Instructions
In a small mixing bowl, mash the strawberries with a fork, allowing some of the juices to seep out. Sprinkle the sugar over the top and let sit for 10 minutes, stirring once or twice.

While the strawberries rest, grill the doughnuts. Place the sliced doughnuts, inside part down over the flame on the grill for 2-3 minutes.

Remove from the grill and serve immediately with the strawberry "sauce," and whipped cream or ice cream.