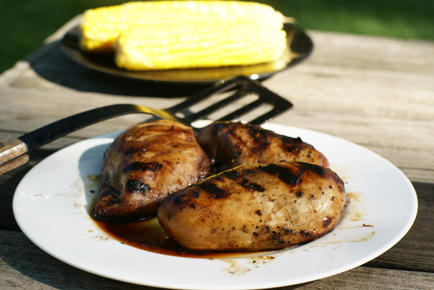 So it's almost 90 today here in Ohio. I'm sure it's some sort of heat record. And if it's not it should be. It's making me tired. And cranky. And the bazillion little cottonwood seeds drifting through the air, and some other pollen are wrecking havoc on my allergies. (I just took a Benadryl, so if the end of this doesn't make sense, you'll know why.)
I turned the A/C on this week. We can normally hold out until the first week of July. But not this year!
All this to say, I have a new obsession with my grill. Or is it Steve's grill. I say it's mine. He says it's his!
And a new love for cooking outside. Dreaming about an "outdoor kitchen"…or at least some sort of countertop where I can put my plates and ingredients that I need when cooking on the grill.
When the weather heats up, cook this grilled balsamic chicken outside and don't heat up the kitchen!
Ingredients
4

small

boneless, skinless chicken breasts

1/4

cup

balsamic vinegar

1/4

cup

extra virgin olive oil

Salt and pepper to taste

2

cups

brown rice

side dish

corn cobs

side dish
Instructions
Marinate the chicken breasts in the shallow baking dish or plastic freezer baggie with the balsamic vinegar, olive oil and some salt and pepper for at least 1 hour. I placed the chicken into freezer baggies with the marinade and then froze the chicken. Just remember to pull it out early and let it thaw in the fridge...best way to marinate!!!

Grill the chicken over direct, high heat for 7 to 9 minutes per side, or until cooked through.

Cook the brown rice as directed on the package.

Boil the corn for 4 to 5 minutes. Don't want to heat up your kitchen, grill your corn!

Serve Grilled Balsamic Chicken with Brown Rice and Corn.