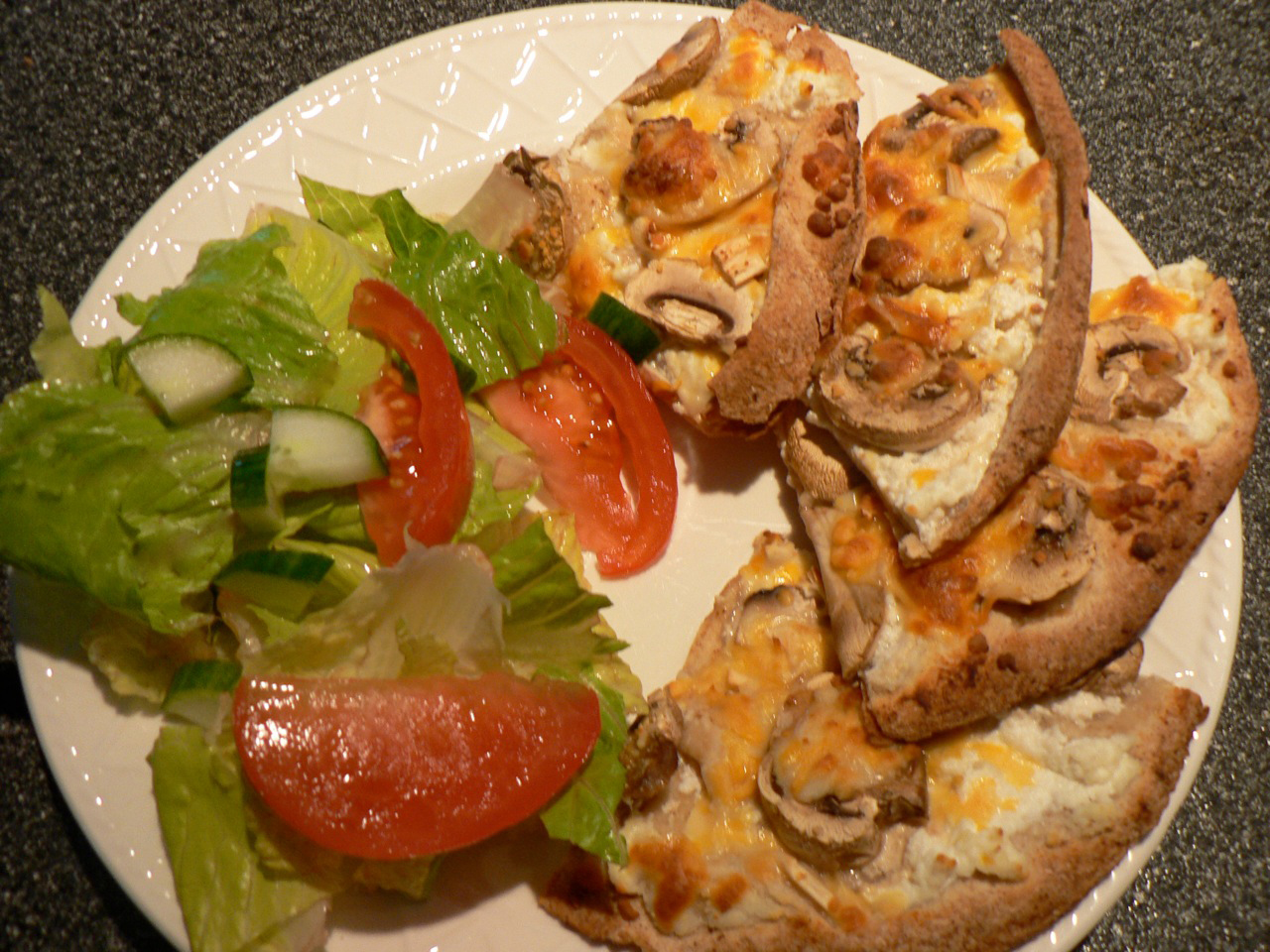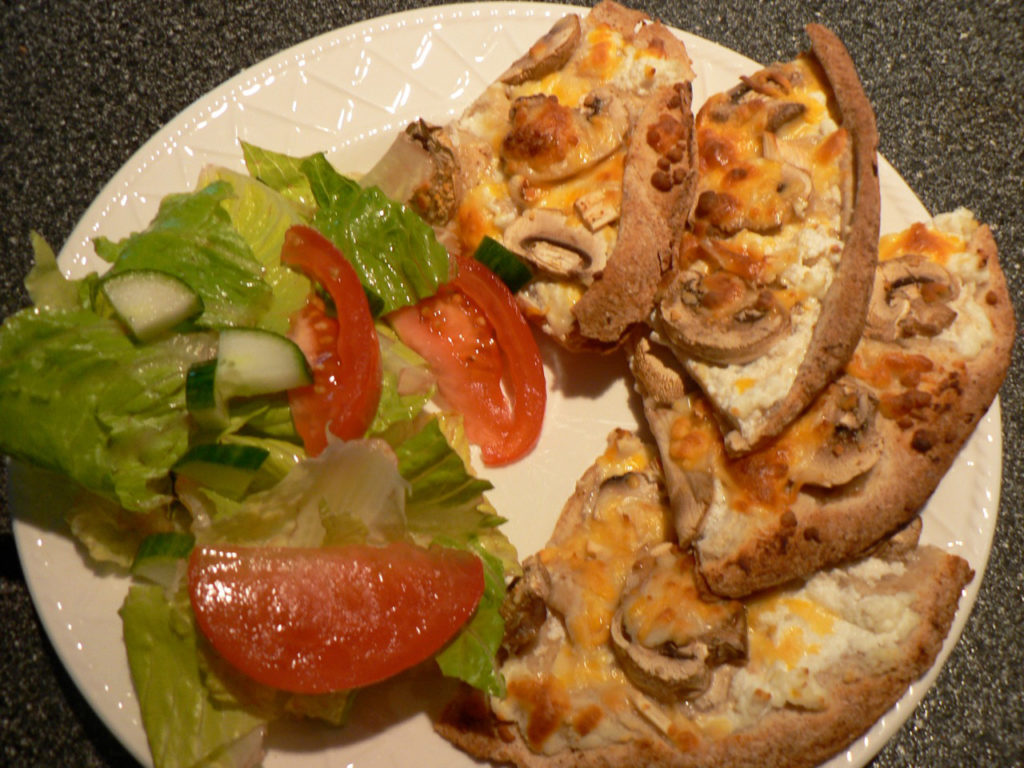 My husband and son love pizza: the greasier the better. That kind of pizza really does not agree with my system.
Before we started becoming more frugal, we had delivery pizza of this description about once a week. It was bad for our wallets and bad for our bodies. Over several months, I have gotten my family accustomed to enjoying less greasy pizzas — usually home made (when I plan ahead a wee bit) and sometimes, frozen (when I really don't feel like cooking and I bought some on sale).
This pizza is a real hit at my house. It rather surprised me how much both my husband and my son both love this pizza. It is about a far away as you can get from the heavy, thick crusted, tomato laden, meat infused, cheese clogged stuff they used to love. It is a wonderful, delicious, even gourmet tasting delight that costs tens of dollars less than delivery, is far and away healthier and is delicious enough for the whole family to enjoy.
I got the pitas on sale for $1 for 8 of them, the ricotta on a discount, the sliced mushrooms on sale, the grated cheese from the freezer (bought on sale) and the garlic was a pantry staple. The four servings of pizza cost under $4.00. Even with the addition of the salad, the whole meal was under $5.00.
Serve these pizzas with a salad for a healthy, delicious and super quick and easy dinner.
Ingredients
4 whole wheat pitas

1/2

cup

ricotta cheese

8 ounces mushrooms

8 cloves garlic

1/2

cup

mozzarella cheese, grated (or use whatever cheese you like or have on hand)
Instructions
If you have one, put a pizza stone into the oven. Preheat the oven to 400 degrees.

Meanwhile, slice the mushrooms (I cheated and bought presliced -- they were on sale).

Crush and chop the garlic into fairly thick pieces.

I often remove the sprout portion of the garlic as it can be bitter and also can cause sensitivity in some people.

Lay four pitas out.

Spread 2 tablespoons of ricotta cheese over each pita.

Lay out the mushrooms and sprinkle on the garlic.

Sprinkle with 2 tablespoons of grated cheese.

Bake in preheated oven for 10-15 minutes. As the pizza bakes, the garlic "roasts" and turns sweet and delicious, the cheese melts and gets wonderfully gooey without being overwhelming and the mushrooms infuse the pizza with their delicate flavor. Yum! When the crust is golden brownand the cheese is melted, remove the pizza from the oven and let it rest for a minute or two.

Slice and enjoy with a green salad.
Frugal Idea
Frugal tip: I almost never use commercial cleansers for my house. I use a combination of baking soda, vinegar, water, and shampoo. For general cleaning, I use a spray bottle of about 10% vinegar in water solution. For tough stains, I sprinkle baking soda on the stain or make a paste of baking soda and vinegar. Occasionally, I use a bit of shampoo to help with the cleaning.
I started using these products because I was hating the impact of these chemicals on my family and on the environment. As a major added bonus, they are also very much less expensive than commercial cleansers.
Magda Stryk Therrien is a wife, mother and daughter who tries (and sometimes even succeeds) to be frugal.  She also loves to make things: dinner, artwork, books, crafts, etc. She is starting to blog about these efforts at magdamakes.wordpress.com and at magdamakeswithkids.wordpress.com.