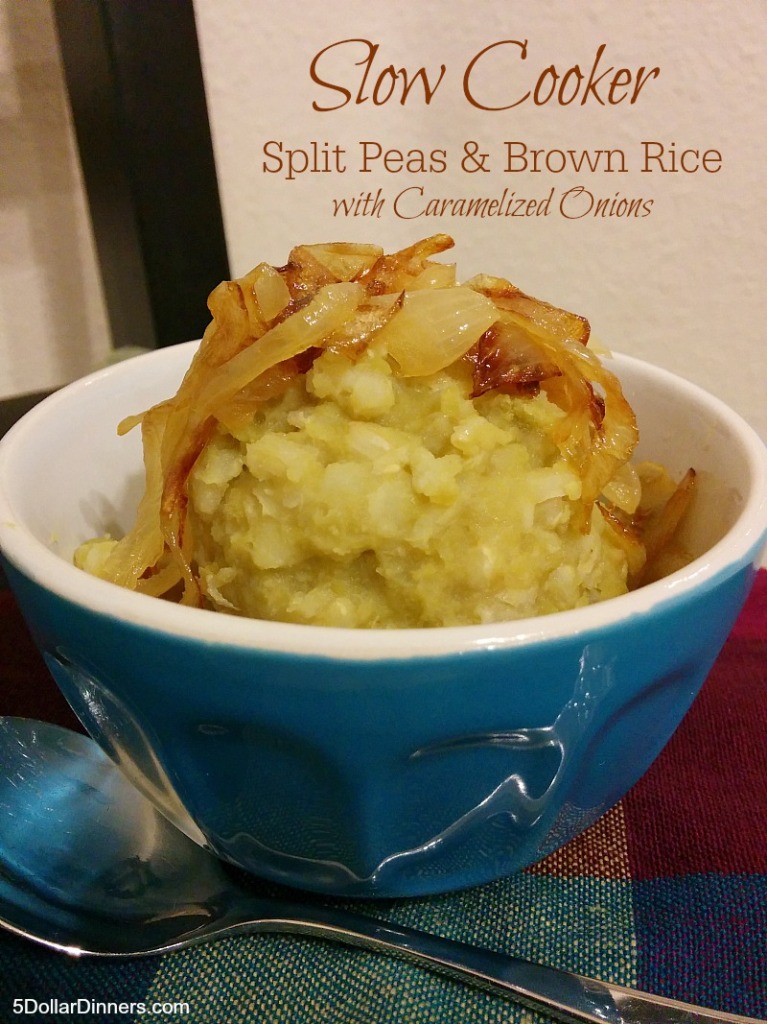 Could this possibly be easier or more yummy?
Three ingredients in your slow cooker means a hearty, warm, freezer-friendly dinner can be ready with only 5 minutes of effort.
My family boycotts the kitchen when we run out of a few items. Bananas are one. And split peas are another.
I'm glad something so popular is easy to make and freezes well. Unlike other legumes and beans, split peas become creamy when cooked.
Bring up the fancy-factor for adults with sliced grape tomatoes, fresh herbs, or, our current favorite, caramelized onions.
Slow Cooker Split Peas Brown Rice, topped with sweet caramelized onions - makes for a simple, affordable and nutritious meal! Enjoy!
Ingredients
2

cups

split peas

2

cups

brown rice

9

cups

water or broth of choice
For Caramelized Onions:
1

onion

thinly sliced

2

Tbsp

olive oil

1

tsp

white sugar

Salt

pinch
Instructions
Combine split peas, rice, and water/broth in slow cooker.

Set on low and cook on low for 6 hours.

With about 30 minutes left in the cooking cycle, begin sauting the caramelized onions.
For Caramelized Onions:
In a small skillet, heat the olive oil.

Add sliced onions, white sugar and pinch of salt.

Cook on medium-low heat, stirring regularly until the onions are translucent, brown, sweet, and juicy.

Serve Split Peas and Brown Rice with caramelized onions as garnish.