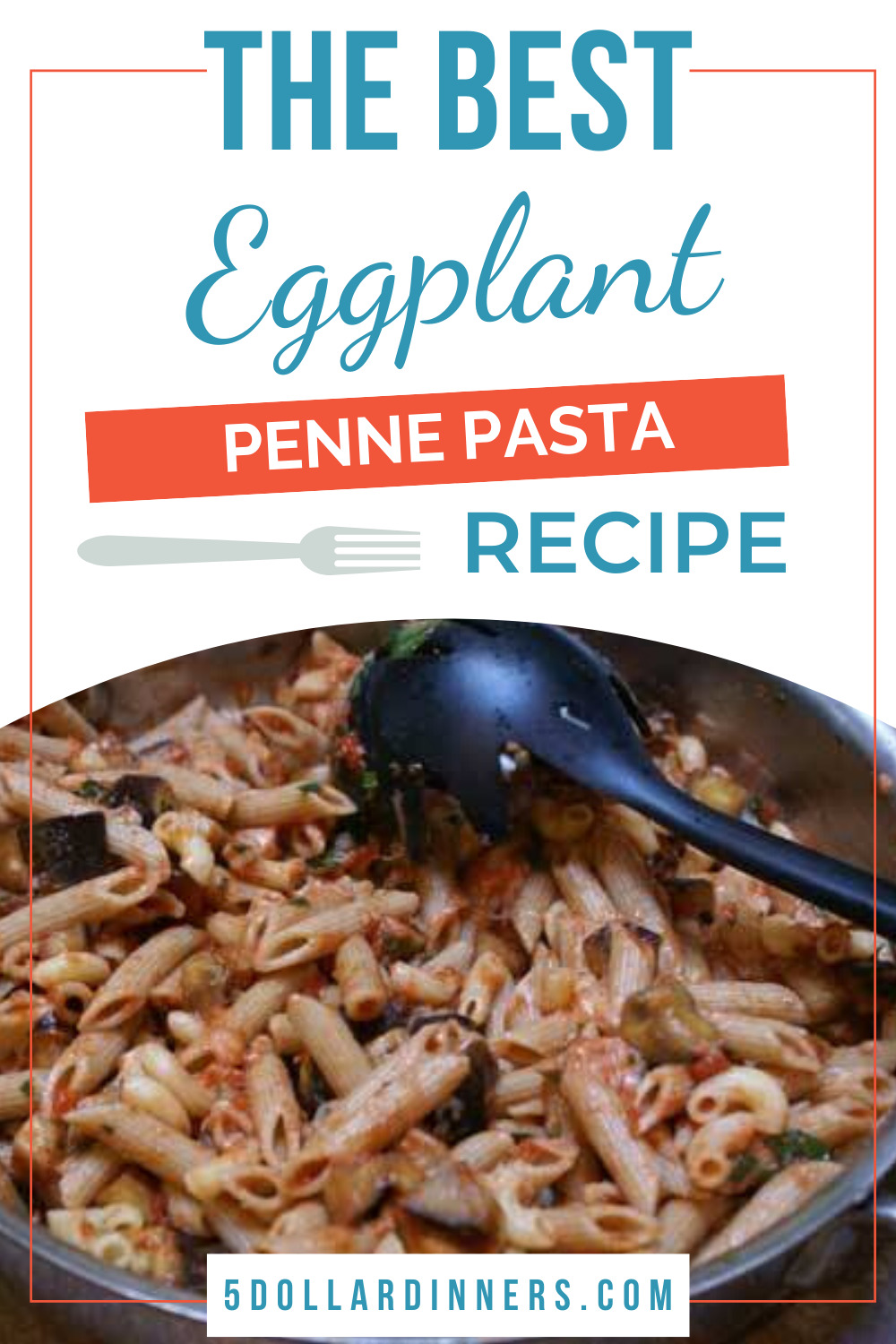 This meal is sorta "2-n-1″…it could be vegetarian…or it could be done with meat or diced chicken!
Here's the lowdown…
Since I only used 1 cup of the crushed tomatoes, I ended up using the rest to make spaghetti sauce for the boys while I'm gone this weekend. Before stashing it in the fridge, I tossed about 1 cup with the eggplant and pasta for the boys…then tossed the eggplant and pasta with cheese for us. Make sense? I don't normally make "2 for 1 meals," but that's how this meal played out tonight.
So could be meatless, or toss in a bit of your favorite meat and spaghetti sauce!
Also, today I sliced up my green pepper and orange pepper with an onion and froze them. I wanted to make chicken fajita pizza tomorrow night before I leave, but that's not gonna happen…rather than let it go to waste, I froze them so that I could saute them with the chicken next week when I can make that pizza!
This dish could be meatless, or toss in a bit of your favorite meat and spaghetti sauce!
Ingredients
2

small

eggplants

Couple dashes of salt

16

oz.

box penne pasta

2

tsp

olive oil

Pepper

Bunch of parsley, basil leaves and rosemary leaves

3

garlic cloves

1

cup

crushed tomatoes

3/4

cup

mozzarella cheese

4

ears of corn

Optional, Add 1/3 - 1/2 lb. ground beef or diced chicken for the meat version!
Instructions
Slice eggplants into 1/2 inch cubes or slightly smaller.

Place in colander and sprinkle with salt. Set colander in the sink and let sit for 30 minutes. The salt will remove the bitter juices from the eggplant and the dish will be much tastier! After sitting for 30 minutes, rinse with cold water and then add to skillet for sauteing.

Meanwhile, cook pasta according to package instructions. Drain and return to saucepan. Chop fresh herbs.

Saute eggplant with the fresh herbs in olive oil for about 3-4 minutes, or until begin to brown. Stir often.

Add 1 cup of crushed tomatoes, or tomato sauce/diced tomatoes. Stir through. Add cooked pasta and shredded mozzarella cheese. Toss and let simmer over low heat for 3-5 minutes, or until cheese melts.

In glass baking dish, add corn cobs with 1/4 cup of water. Cover with plastic wrap and microwave for 4-5 minutes.

Serve Eggplant Penne Pasta with Corn Cobs.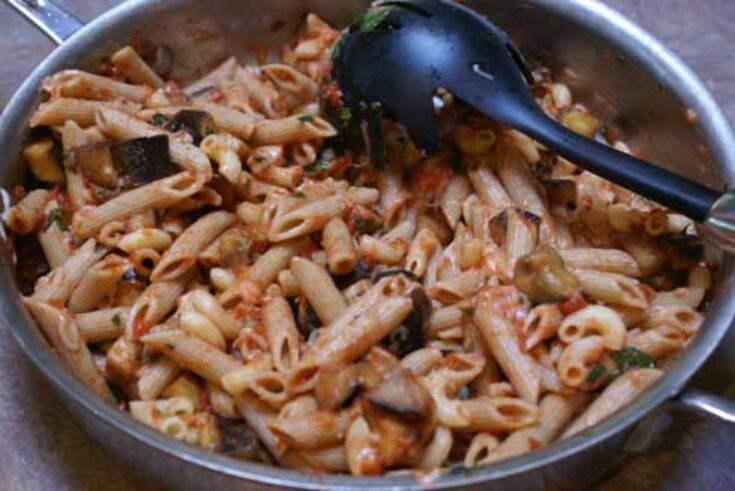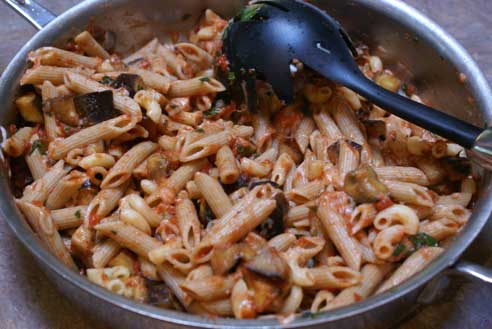 Cost $4.52 for meatless, $5.27 for meaty version