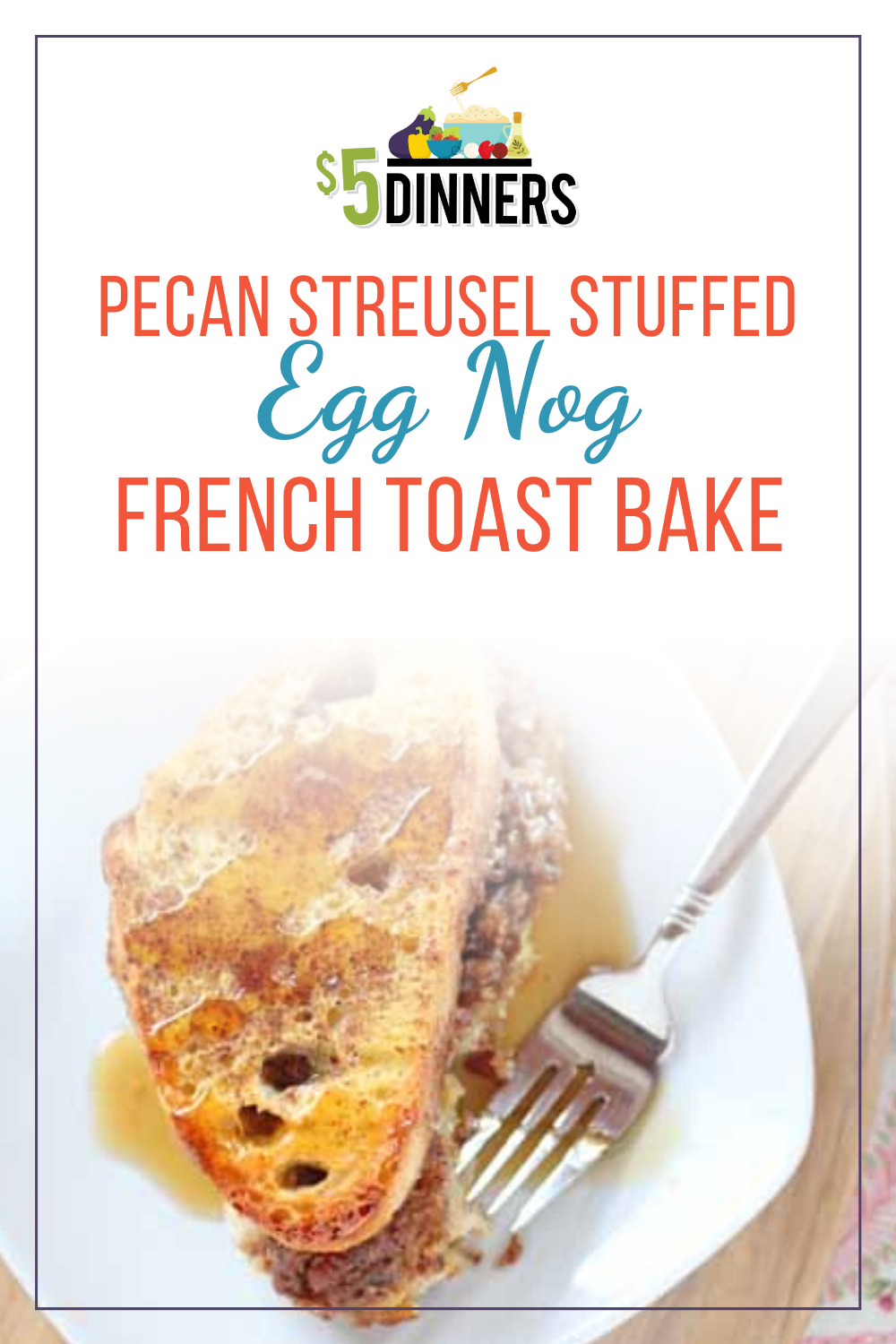 Christmas Morning Casseroles. So many options, so many choices. Tradition vs. something new.
(I just added a few casserole ideas to my "Holiday Food" board on Pinterest.)
Here's one for this year. Or next, if you've already got this year's figured out. (If you're into trying new ones!)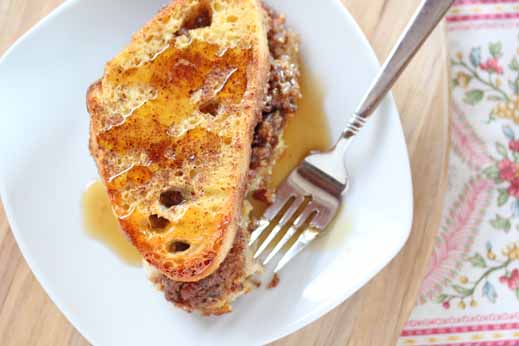 It's a basic stuffed french toast bake. That I hopped up with pecan streusel, and egg nog.
(Mouth watering, deliciousness. Not too sweet. Not too pecan-y. Not too egg nog-gy.)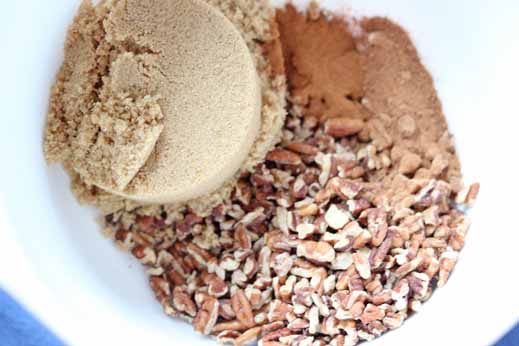 Pecan. Streusel. Mixture.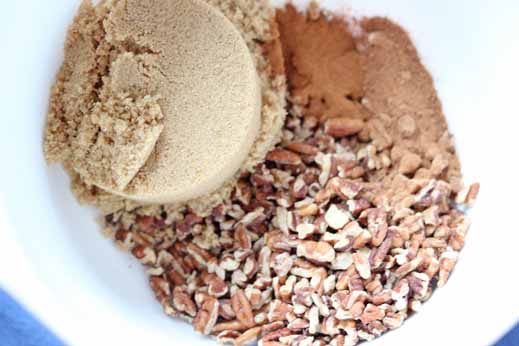 I used a sourdough loaf bread, because that was what I had on hand. (1 lb. loaf sliced, was perfect for this size dish.) Pulled or torn french loaf or any other stale loaf bread would work with this…just add a layer of torn pieces, then the pecan mixture, then more torn bread on top.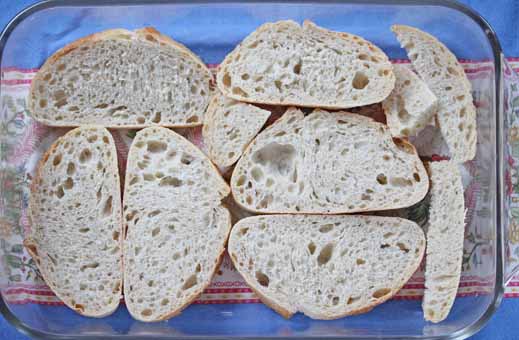 Add a layer of slices to the bottom. I cut up the smaller end ones to fill in gaps.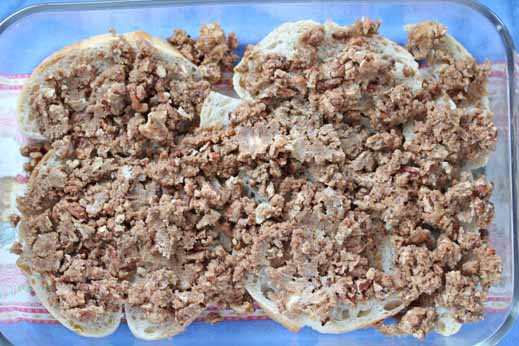 Add the pecan and brown sugar mixture. Spread evenly.
Add the rest of the bread.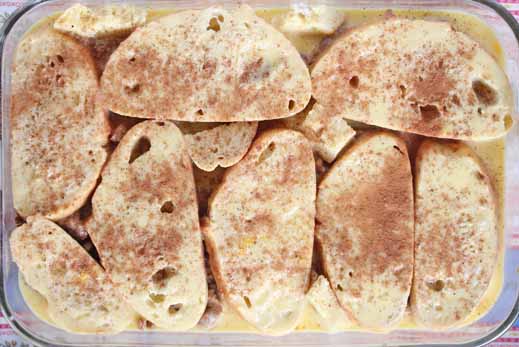 Pour egg nog-egg mixture over the top.
Sprinkle with cinnamon and nutmeg to cover the top lightly.
Bake it.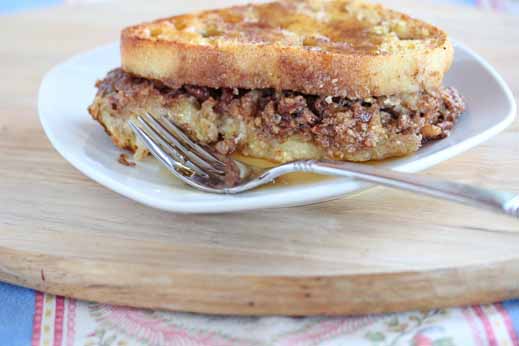 Cut out a slice. Serve with maple syrup, syrup, powdered sugar, or as it.
Divine.
A little twist on the classic French Toast Bake. This mix of flavors is superb!
Ingredients
1

lb.

sourdough loaf, sliced (or shredded)

6

eggs

3

cups

egg nog

1

cup

pecans

1

cup

brown sugar

1

tsp

cinnamon

2

tsp

nutmeg

1/2

cup butter

softened

Dash cinnamon and nutmeg, as topping
Instructions
Preheat the oven to 350. Lightly grease a 9x13 inch glass baking dish with non-stick cooking spray.

In a mixing bowl, whisk together the eggs and egg nog.

In another mixing bowl, blend together the pecans, brown sugar, cinnamon, nutmeg and butter with knives/forks/pasrty blender until crumbly.

Add a layer of the sliced bread to a 9x13 inch casserole, then spread out the pecan streusel, then top with another layer of the bread. Pour the egg nog-egg mixture over the top. Sprinkle a little cinnamon and nutmeg on top, covering lightly.

Bake in the preheated oven for 30 minutes covered with foil. Then remove the foil and bake another 25-3o minutes, or until casserole is cooked through and center bread is "springy."

Serve with maple syrup, syrup, powdered sugar or as is. Along with some fresh fruit, bacon or sausage...for a complete holiday brunch!