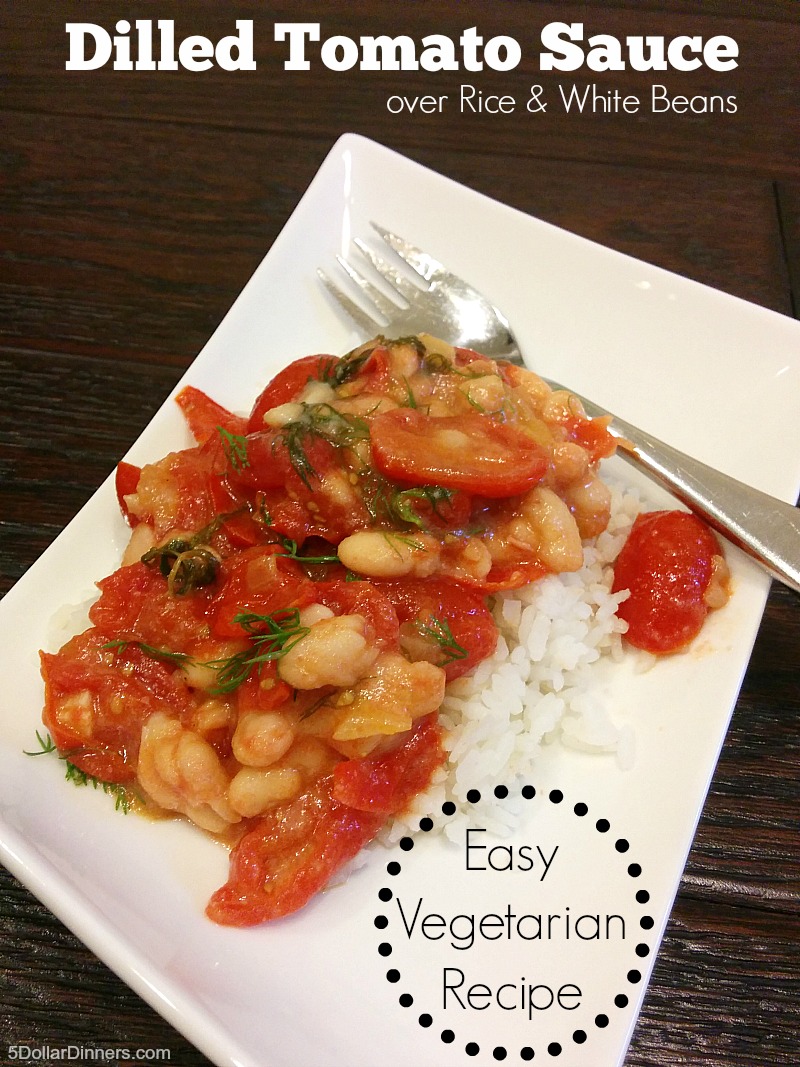 How does your family feel about tomato sauce? I mean, we all know pasta is the greatest thing since sliced bread. But the love of the sauce is important here. Because this recipe is a Mediterranean twist on tomato sauce and is served over rice.
A couple of tricks to make this recipe super easy for you:
If your family isn't particularly fond of the tough skin on grape tomatoes, canned tomatoes do the trick equally well.
For that matter, if your family is more fond of beans than tomatoes, change those proportions, too.
If you have more or less dill available, that's also fine. Dill is quite mild, so it's no problem to add more. Run out of dill and still need flavor? Oregano or basil can do the trick.
If you like a creamier sauce instead of a chunkier sauce, blend some or all of it for a few minutes before serving.
This just isn't a recipe you need to stress over! But do savor and enjoy this delicious and easy vegetarian recipe!
Ingredients
2 pints grape tomatoes or 1 - 28 oz. can diced tomatoes

1 1/2 cups white beans(Or learn how to cook your own beans here.)

2 Tablespoons fresh dill or 1 Tablespoon dried

1 Tablespoon olive oil, plus extra for serving

Salt, red pepper, and black pepper, to taste

Cooked rice for serving
Instructions
Halve the grape tomatoes or open the canned tomatoes.

Pour 1 Tablespoon of olive oil in a pan. Turn stove on medium-low.

Add tomatoes, beans and dill.

Add salt and peppers to taste. Think: enough of each pepper to add flavor without too much heat.

Cook until the tomatoes soften and release their juices, about 40 minutes.

Ladleover cooked rice.

Drizzle with a generous amount of good olive oil.

Enjoy!