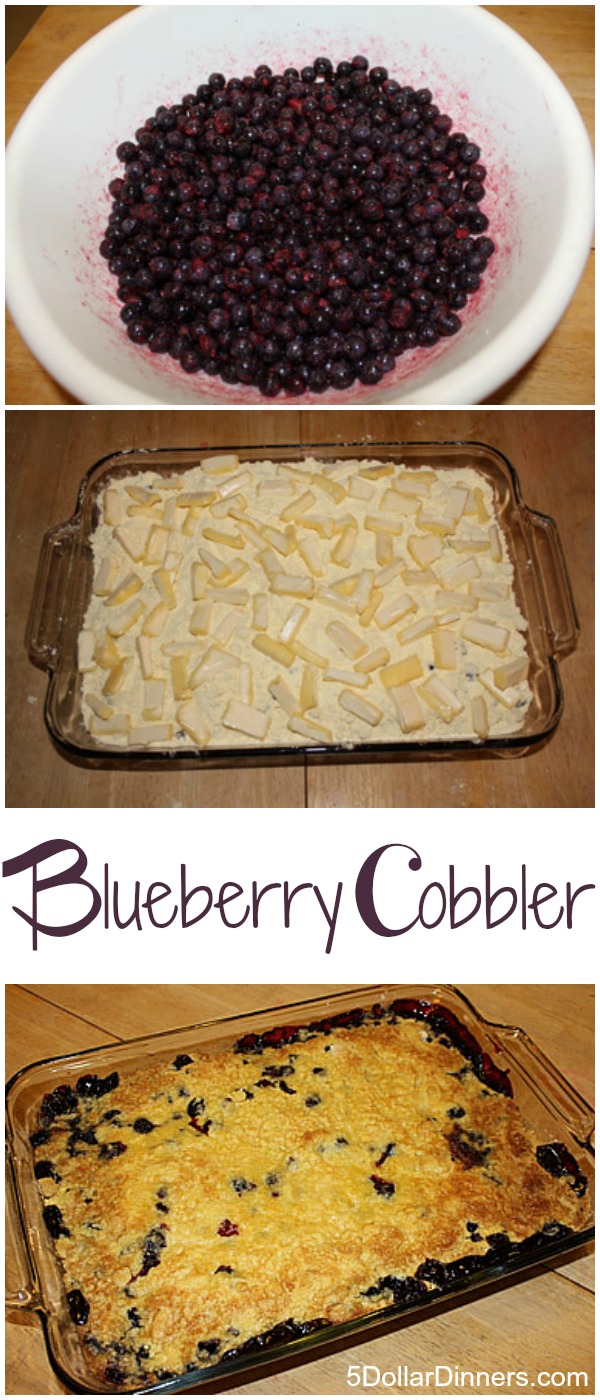 Our blueberry bushes have started producing early this year because we had such an early spring in our area but I still have a bunch put away in the freezer from last year so I thought I'd better start using them up.  This blueberry cobbler recipe is a family favorite and it is SO simple to make that I really have no excuse for not throwing it together more often!
You could substitute any type of fresh fruit for this recipe like raspberries, blackberries, pitted tart cherries, sliced nectarines or peeled and sliced peaches.  I've even been known to use canned cherries when fresh fruit wasn't available.  You can also half the recipe and use a 9×9 pan instead if you don't have as many people to feed.
Simple Blueberry Cobbler

Yield – 12 servings

Preparation Time – 15 minutes

Cooking Time – 45 minutes

Ingredients

8 cups fresh or frozen blueberries
1/4 cup sugar
2 tablespoons cornstarch
1 teaspoon vanilla

 

(or use homemade vanilla extract!)
1/2 cup or 1 stick butter or margarine
1 box yellow cake mix

Directions

Toss the fruit, sugar, cornstarch and vanilla together in a large bowl until coated then pour into a 10×13 pan.

Sprinkle cake mix evenly over the top of the fruit mixture.
Place small pats of butter evenly over the top of the cake mix.

Bake at 350 degrees for 45 minutes or until golden brown.
Cool and serve with vanilla ice cream.