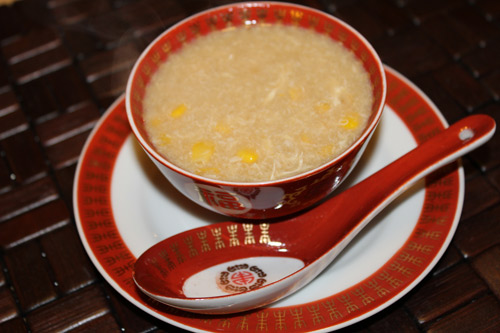 My dad is retired Air Force and when I was young our family spent four years living on base in Taiwan while my dad was stationed there.  Many of my memories from that time center around food because we were served all sorts of sometimes wonderful, often strange and occasionally scary foods.  Fish eyes anyone?  I'm really happy that my mom brought back recipes for our favorite food finds and this fabulous set of dishes.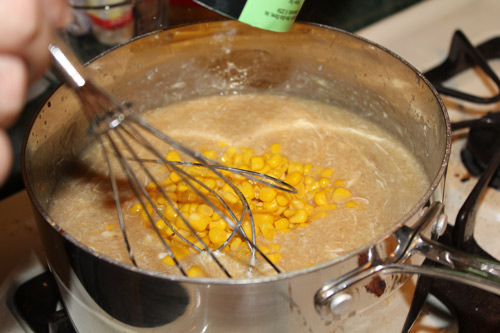 Restaurants were everywhere and were very inexpensive so we got to eat out quite a bit and this corn soup was always on the menu, just like egg drop soup is at Chinese restaurants here in the states.  We always loved this yummy soup and it's very easy to make so I like to put it on the menu whenever we're having stir fries or the like.
Corn Soup

Yield – 6 servings

Preparation Time – 10 minutes

Cooking Time – 20 minutes

Ingredients

2 cans or 4 cups of chicken broth (or vegetable broth)
2 cups water
3 tablespoons soy sauce
3 cloves garlic, minced
1 1/2 teaspoons ginger
2 tablespoons cornstarch
3 eggs, lightly beaten
1 can corn, drained

Directions

Add the broth, water, soy sauce, garlic and ginger to a large saucepan and bring to a boil over medium heat.
Mix the cornstarch and two tablespoons water in a small bowl, whisk into the broth mixture and cook for 2 to 3 minutes until thickened slightly.
Stir the soup in a circular motion and begin slowly pouring in the eggs in a steady stream.
Add the drained corn and serve.