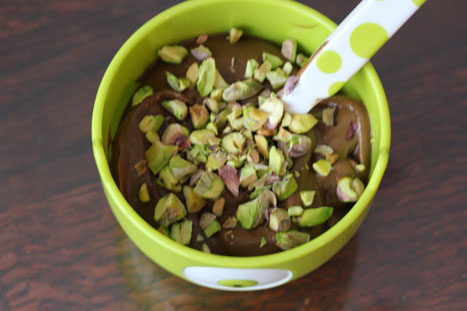 About a year ago, I was introduced to "chocomole" by Katie from Kitchen Stewardship. She included a link to a recipe in one of her e-books, "Healthy Snacks To Go" and I was intrigued.
So intrigued that I made in the next week.
I could not believe it. I still can't believe it.
It's a dairy-free pudding. (I can't remember the last time I had pudding.)
This chocomole is made from avocados. Yes, my dearly beloved avocados.
(I know!)

I have started making this again to help fatten up Tyler. When I make it…they all ask for more. And more. And more.
And we end up licking the blender clean!
Tricks to Make Chocomole for Less
Buy both ripe and hard avocados when they are on sale. Use the ripe avocados right away, and let the hard ones ripen and use the following week
Be on the lookout for coupons for A Taste of Thai…the coconut milk brand that tends to be cheapest
Use Swagbucks credit to get maple syrup, agave or honey for free from Amazon
Use coupons for the pistachios…I've seen them on Kroger.com digital coupons, and have printed them from the internet, and seen them in the newspaper.
This is the first of a few "Food Allergies on a Budget" recipe ideas that I'll be sharing as part of the series! The recipe is dairy-free, gluten-free, grain-free and tree nut-free if you omit the pistachios.
Ingredients
2

avocados

1/2

cup

coconut milk

6

Tbsp

sweetener - agave, honey, maple syrup

4

Tbsp

cocoa powder

1/2

tsp

cinnamon

1/2

tsp

vanilla

1/4

tsp

salt

Crushed pistachios, for topping
Instructions
Place all ingredients in the blender or food processor except the pistachios. (Although you could add those in if you'd like.)

Blend until smooth.

Serve with crushed pistachios on top.