Let's Show EXTRA Love This Year with Pats, Snuggles, and Green, Healthy Cleaning Products
In our home, there's no shortage of puppy love…snuggles, belly rubs, and ear scratches…for Daisy and Cody.
Loving our sweet pups goes beyond soft, cozy crate space, ramps for the backyard (Cody needs this post-back surgery!) and daily neighborhood walks/jogs.
Have you ever considered how you can show your love by keeping your pet's environment clean and safe?!
Have you ever thought about the cleaning products you're using around your pets?
National Love Your Pet Day is February 2oth, and I want to take a close look at both of those questions and share some ideas, hacks and cleaning routines for you to use in your own home, around your pets.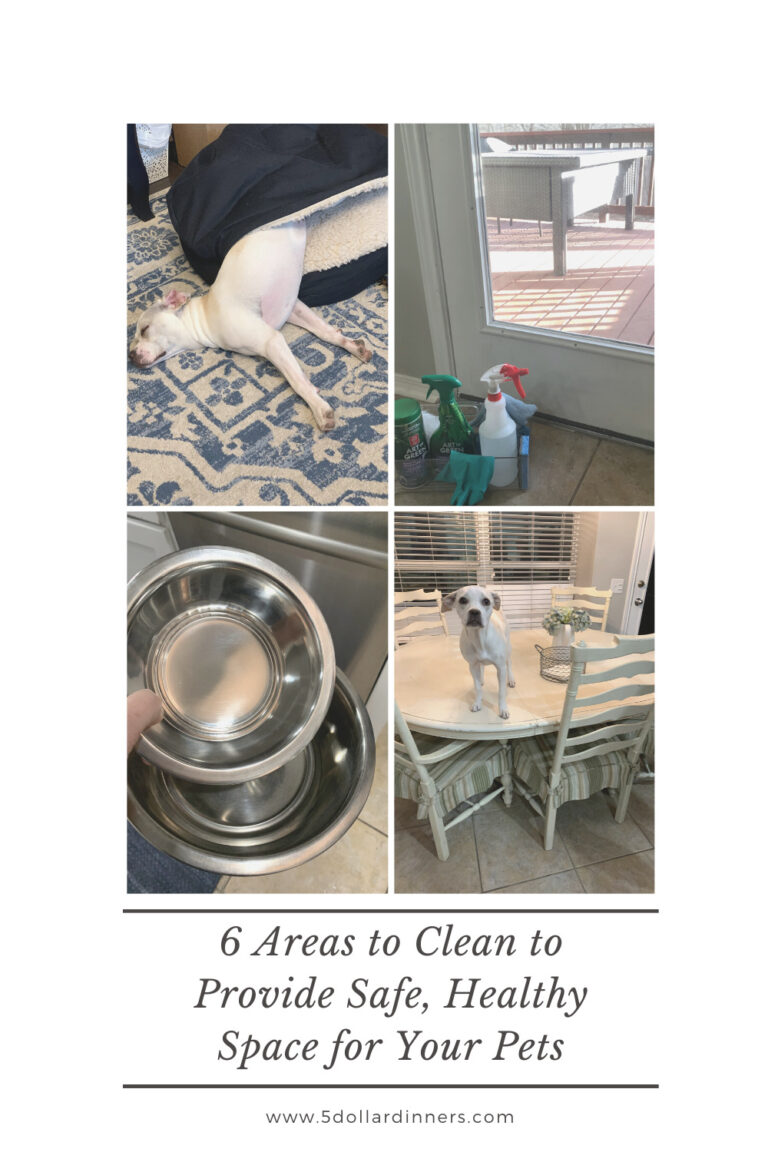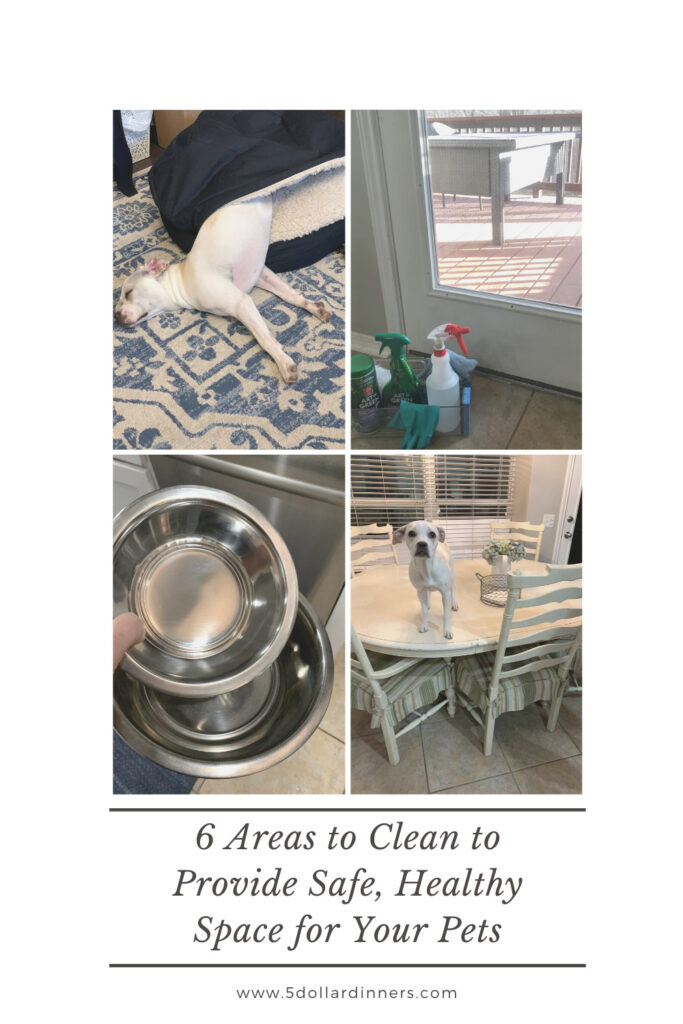 Here's what keeping a clean home means to me:
Decluttered-ish…most of the time 😉
Floors free of grime, dust, and pet hair
Commonly used surfaces (counters/sinks/floors) are free of grime and debris
Smells great (hello 2 puppies and 4 boys!)
Now, imagine two puppies, four boys, and all their things. This might make you think my home resembles a frat house.
But…
It doesn't!
Because I have amazing:
routines and flows setup for keeping the house tidy and clean. (It's a team effort!)
products that help cut through the grime and smell amazing too.
For years now, I have been using the Art of Green® multipurpose spray and wipes because they are naturally-derived and safe around kids and pets…and of course, never tested on animals.
The spray and wipes come in two amazing scents, Citrus & White Flowers and Lavender Eucalyptus, which are both great for homes with pets.
(If you missed my hack for keeping up with all the cleaning, you need to read this and set these up today. They help me immensely with pet clean-up too!)
For now, as we approach Love Your Pet Day, I wanted to share a few things that we do around here to keep our puppy environment clean and safe.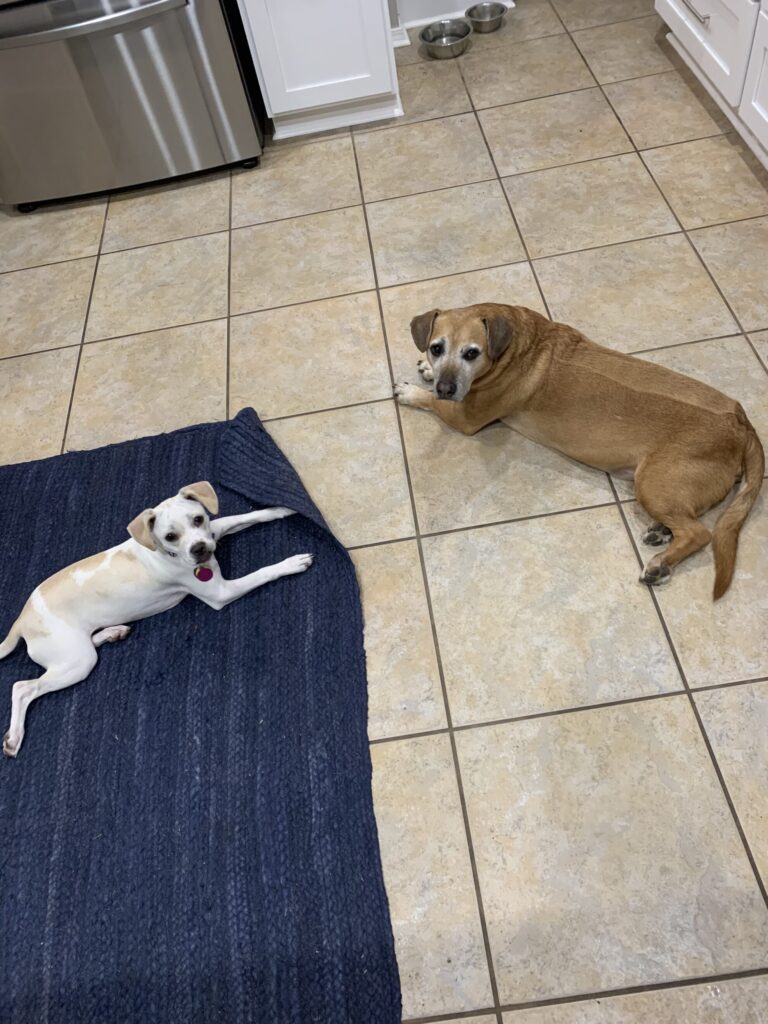 Clean These 6 Areas to Provide Safe, Healthy Space for Your Pets
#1 Food and Water Bowls
Stop what you are doing right now and check your pets food and water bowls!
This is probably one of the most neglected part of pet care…so don't feel bad. You're not alone. But it's these bowls that need daily and weekly TLC!
Just like humans, their dishes need to be cleaned too.
At our house, I rinse their bowls daily (after feeding hours) and let them dry. I rinse out their water bowls at the end of every day. (This is easy to remember to do, because I put them up on the counter at 6:30 pm. I have an alarm on my phone and we do this nightly…otherwise, our sweet puppy drinks water too late and has to go out at 3 am. Eeks.)
On the weekends, I will scrub out their food bowls and run them through the dishwasher to sanitize them.
Rinse and dry daily
Sanitize weekly in the dishwasher
Squeaky clean and ready for Cody and Daisy!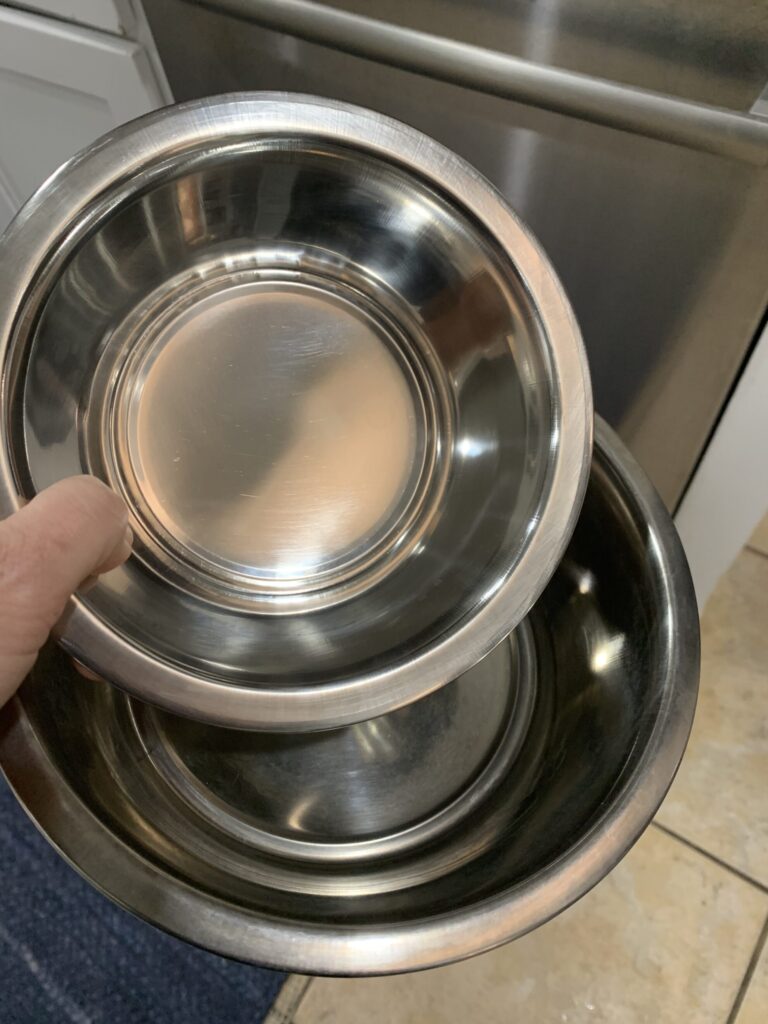 #2 Kennels and Crates
Just like your bed and bedroom, you want to keep your pets sleeping area clean and safe.
This means wiping down the crate tray or bottom of the kennel with Art of Green spray or wipes.
I also wipe down the handle and any other area that needs to be cleaned. These fabulous wipes have no trouble getting off any gunk or dirt from the crate, and they leave behind a lovely smell too.
Every two weeks (or as needed), I pull out Daisy's crate pad and her blankets to wash and dry. I also unzip her "Cozy Cave" cover (see photo below) and wash that too.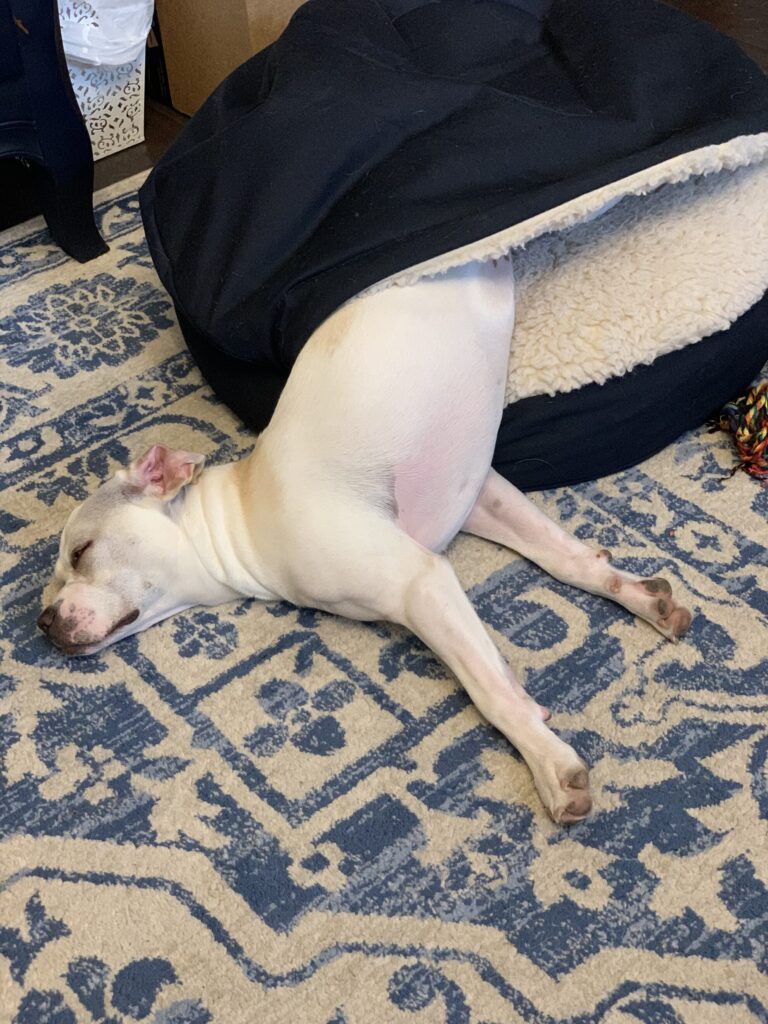 Why and how she naps like this, I don't know!
#3 Floors
Moving on the floors…
This is where my cleaning caddies come in HANDY.
When you have pets in your home, there's the potential for extra muddy messes. Especially during rainy-snowy seasons.
You should already be cleaning and mopping your floors every week (or two), but let's talk about the extra muddy messes.
The puppy paw prints might look cute, for a second…then they aren't so cute…especially if there is a long trail of the muddy prints.
Art of Green wipes are perfect for a quick wipe up.
I HIGHLY RECOMMEND swiping up these prints before they dry. Either way, Art of Green wipes can easily take care of the mess…but I prefer to eradicate the muddy prints while they are fresh.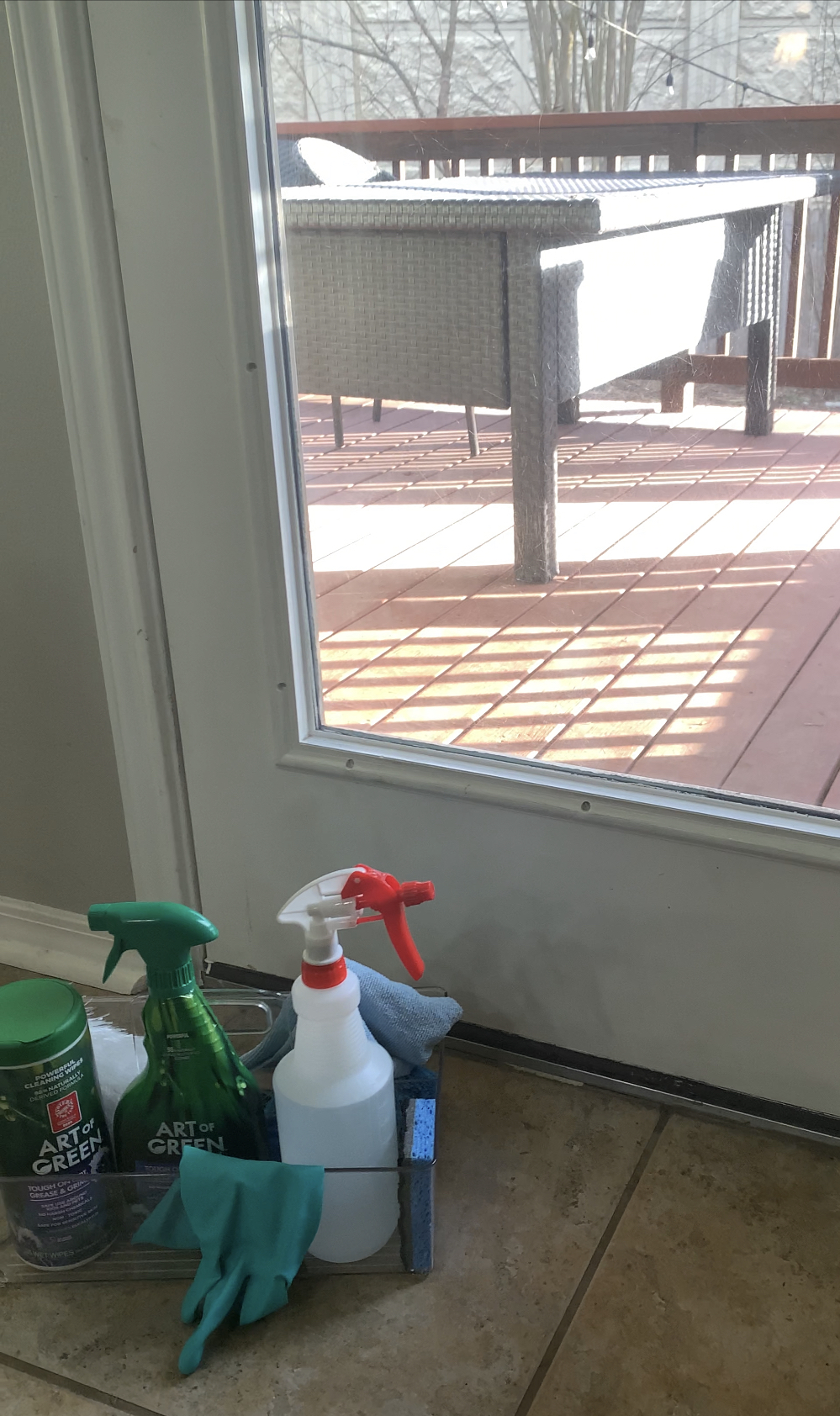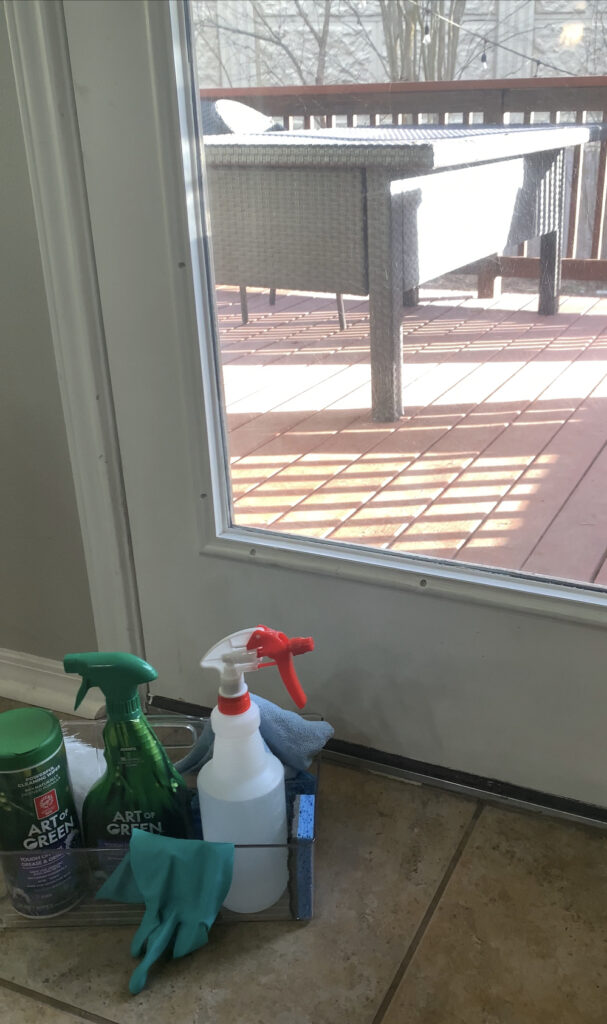 100% you will find me crawling along the trail and swiping up each print, right away.
See prints. Grab caddy. Clean prints off. Put Caddy back.
Easy-peasy.
Bye-bye muddy mess!
When it comes time for my regular floor cleaning, I will mix about 2 oz. Art of Green from the spray bottle with a gallon of water and mop as usual. I do spend an extra few minutes "deep scrub-mopping" the high puppy traffic areas right by the back and front doors.
#4 Puppy Surprises
What about "those moments"…
Like when the puppy jumps on the dinner table…just after you finish cleaning up from dinner.
(Yes, I snapped a photo because FUNNY. And yes, I am training her to not do this again!!!)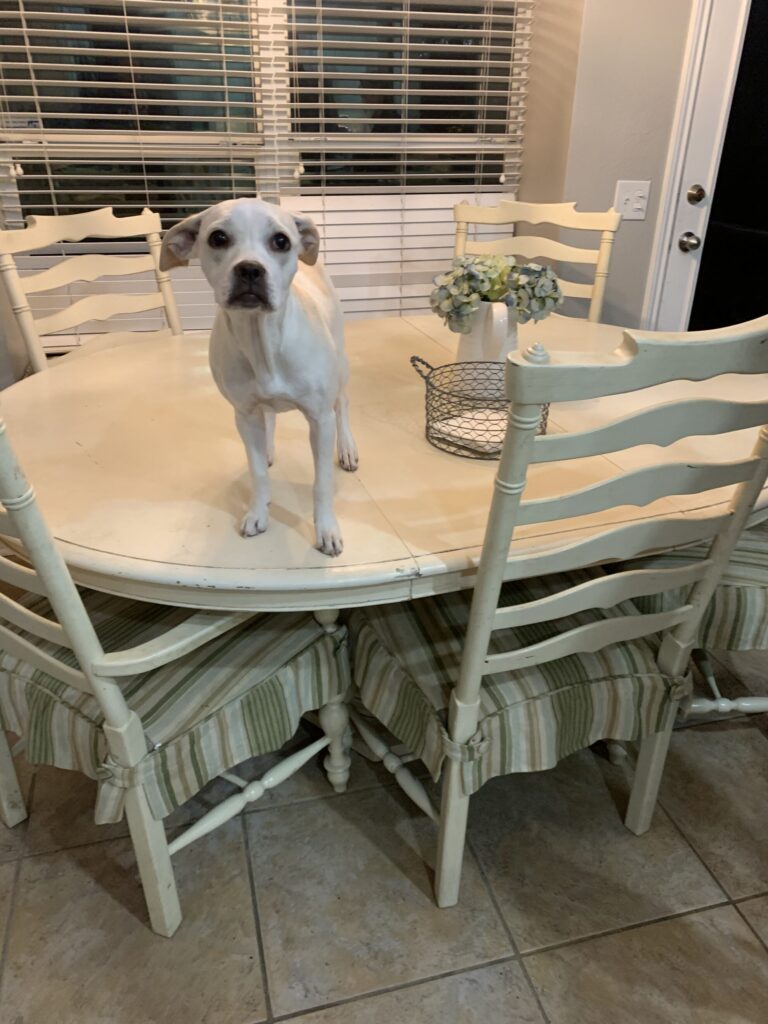 It's moments like these when you need to clean up real quick.
While this one of those, "Awe….she managed to get up on the table!" moments, it's also a "Ewwww, gross. Puppy paws on the table. Nasty!" moments!
Immediately after returning Daisy to the ground at that moment, I grabbed my rag and my Art of Green and re-cleaned the entire table.
Another area that I find myself doing this is at the back door. We have a glass back door, and her little muddy paws can make a smear of a mess there.
She jumps up to let us know she's ready to come back inside, and on rainy days, she leaves a muddy mess there too.
Again, grab the Art of Green wipes, quick clean, and move on with my day.
#5 Accidents
I would be remiss if I didn't include a short section about puppy accidents and sick accidents.
We are fresh out of puppy potty training mode here. During that time, we had quite a few accidents inside before Daisy was fully housebroken.
Despite our timers, reminders, trackers, and keeping her confined to certain rooms during that time, the accidents were inevitable.
For upset tummy mess and #1 or #2 messes, I would absorb or pick up with paper towels (If you know me, I don't usually buy paper towels…but I did get a pack for puppy potty training only!)
After it was absorbed, I would wipe up that area with Art of Green wipes, then wash my hands.
The Art of Green wipes are great for getting anything left behind post-absorption, and they are great for getting rid of odors too.
#6 Toys
Finally, get to your pet's toys.
Pet toys can harbor some serious dirt and grime. Pet toys should be cleaned weekly, and here's what that looks like for our bones and chew toys.
First, I use an Art of Green wipe or spray with Art of Green multipurpose spray and then wipe clean.
Then, I rinse with warm water and dry or set them on towel to dry.
Unlike their food bowls, I don't put toys in the dishwasher.
Also, I don't use hot water if the tag specifically states not to.
While cleaning them, it gives me an opportunity to do a "spot check" to make sure no parts are pulling off that could become a choking hazard. I have found a few parts to different bones that have needed to be snipped off!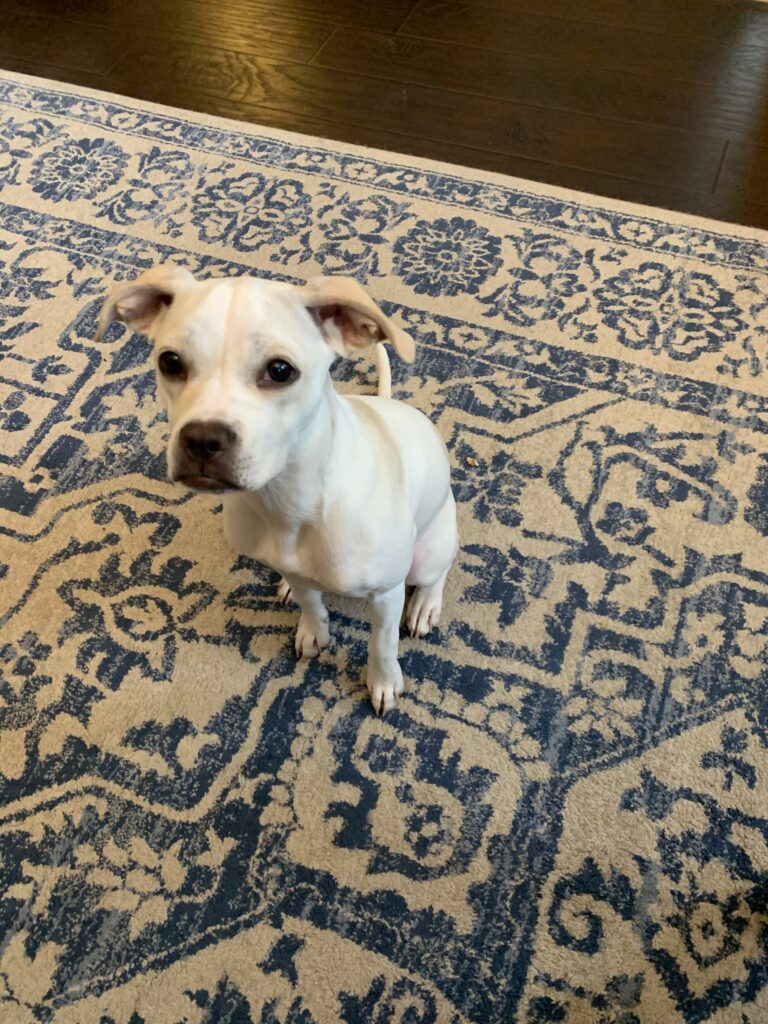 Cody and Daisy are my furry children and I want nothing but the best for them!
I follow our vet's recommendations for their food and eating schedules. I have fun toys for them to play with, and great places to sleep.
And it only makes perfect sense to use healthy, natural cleaning products that are safe to use around your pets.
If you haven't made the switch yet to Art of Green, it's time to do that now…for yourself, and for your pets!
Where to Buy Art of Green
Go right now, get your Art of Green ordered or onto your grocery shopping list, and be on your way to a cleaner, safer environment for the pets in your home.
Art of Green wipes and spray are available at select retailers.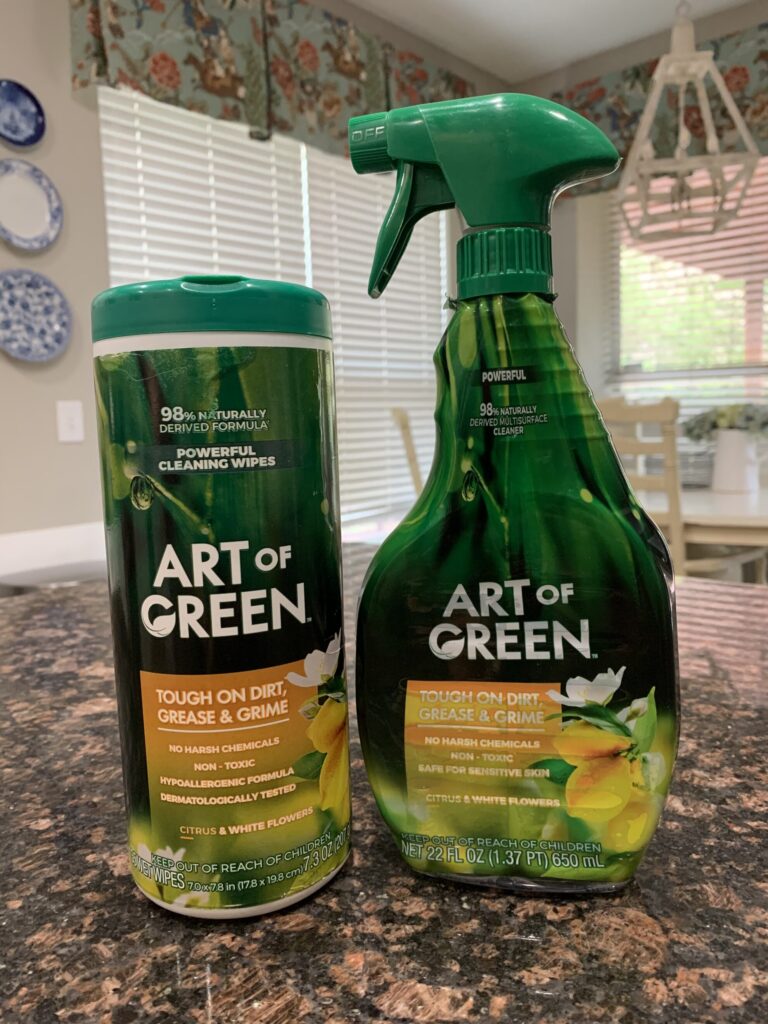 Disclaimer: This post is sponsored by Art of Green of AlEnUSA. Opinions and love of the product are my own.