Hacks and Tips for Striking the Right Balance of Clean and Convenience in Your Routines
As we turn this corner into a new year, a question about cleaning that keeps coming up in conversations is "how much is too much?"
How often should I be disinfecting?! How much bleach is too much?!
I'm going to break this all down for you below.
The pendulum certainly swung all the way over to the DISINFECT ALL THE THINGS…ALL THE TIME…in 2020.
And I'm here to challenge yourself to bring that pendulum back into the middle, and take a more BALANCED approach to cleaning in 2021.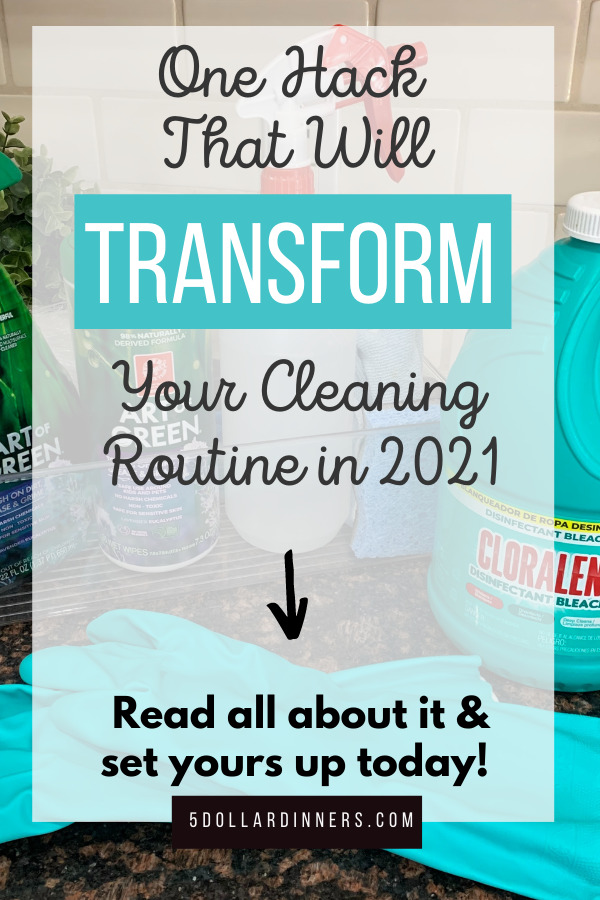 My goal and plan for 2021 is to make my cleaning routine more fun, easy and pleasant…while keeping my home clean and safe.
And I'd encourage you to do the same!
We can use this Winter season and the extra time spent inside our homes to make small changes that will make a lasting difference in both our attitudes about cleaning, and our cleaning routines.
Below is how I plan to balance the everyday cleaning with natural green cleaners with a splash of disinfecting of high tough areas and surfaces in our home.
Here's the plan for…
A Balanced Cleaning Routine in 2021
#1 – Wash your hands before and after every cleaning session!
#2 – Crank up the tunes or podcasts. Dial up your favorite peppy music or podcast host and listen while you clean.
(It will be so much more pleasant this way, and the time will pass quicker!)
#3 – Set up a cleaning caddy for easy and convenient cleaning sessions.
This is the one thing that will dramatically change your cleaning routine and help your attitude switch from an overwhelming UGH to "that was easy."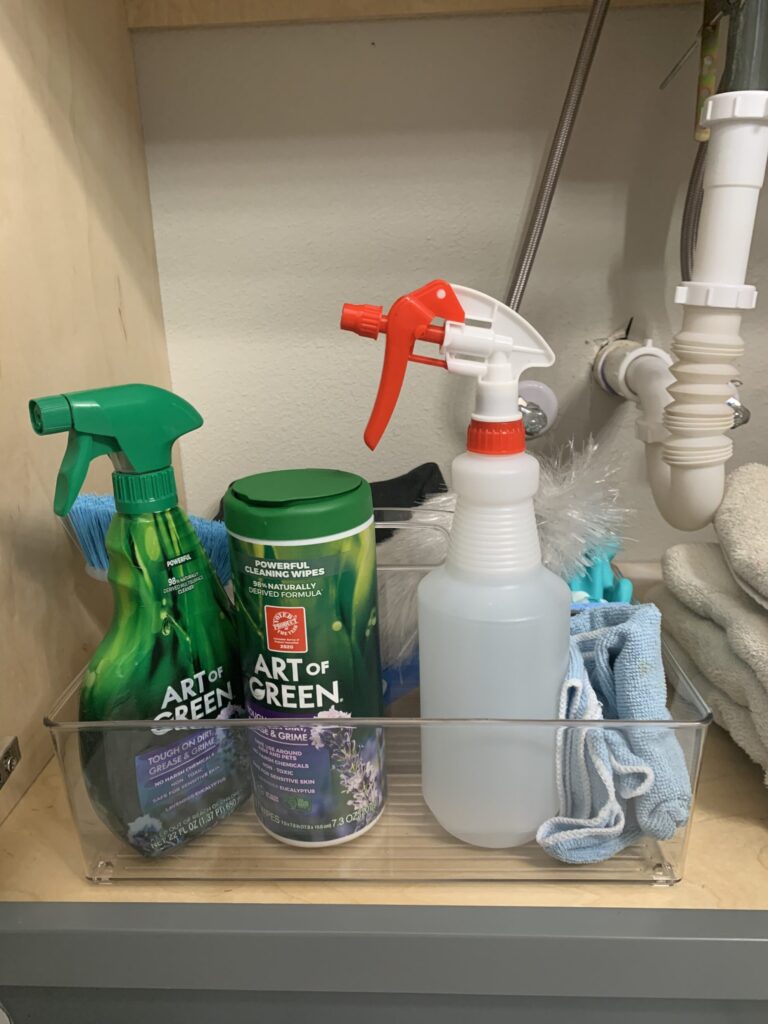 I have cleaning caddies stashed under both bathroom sinks upstairs, one under the kitchen sink, and another for the garage/van/laundry room and downstairs bath.
I literally have them right where I need them for both the fast cleanups, and for the deeper cleaning sessions too.
Each caddy contains:
Art of Green® spray
Art of Green wipes
CLORALEN® Disinfectant spray bottle (more on how to make this below)
Reusable cloths and rags
Duster
Sponge
Gloves
Hand broom
With everything right there, I can quickly grab a wipe to clean off the sticky toothpaste messes from the counter, or wipe off the toilet handle.
And it's loaded with everything I need to clean the counters, showers, toilets, floors, and nearby furniture.
This will TRANSFORM your cleaning sessions, and your ATTITUDE too!
Say goodbye to the ughs and overwhelm of cleaning day in and day out.
#4 – Disinfect the right areas
When it comes to disinfecting areas in your home, you want to think in terms of "defense" and "traffic." You will want to daily disinfect those areas that are high traffic flow, and items that are touched often by multiple people in your home.
I keep CLORALEN Disinfecting Spray in my caddy, so it's right there when I need it. CLORALEN Disinfectant Bleach is a trusted disinfectant brand at an affordable price.
During 2020, CLORALEN became the #2 branded bleach in America because:
Powerful for everyday use
Disinfects
Deep cleans
Whitens
Available in several options including splash-free
Available in three pleasant scent varieties that help to reduce the 'bleachy' smell
(See store locator to find CLORALEN near you!)
Germy Areas that Require Regular Disinfectant
Main, exterior door knobs
Steering wheel
Car door handles
Entryway, high-touch light switches
Silverware and plates drawer pulls
Other germy items to disinfect regularly (pandemic or not!): remote control, cell phones, tablets, computer keyboards
CLORALEN Disinfectant Bleach is registered as a disinfectant by the U.S. Environmental Protection Agency.
Important note: never mix bleach based products with ammonia, as that will create noxious and dangerous fumes. Store bleach and ammonia in separate areas.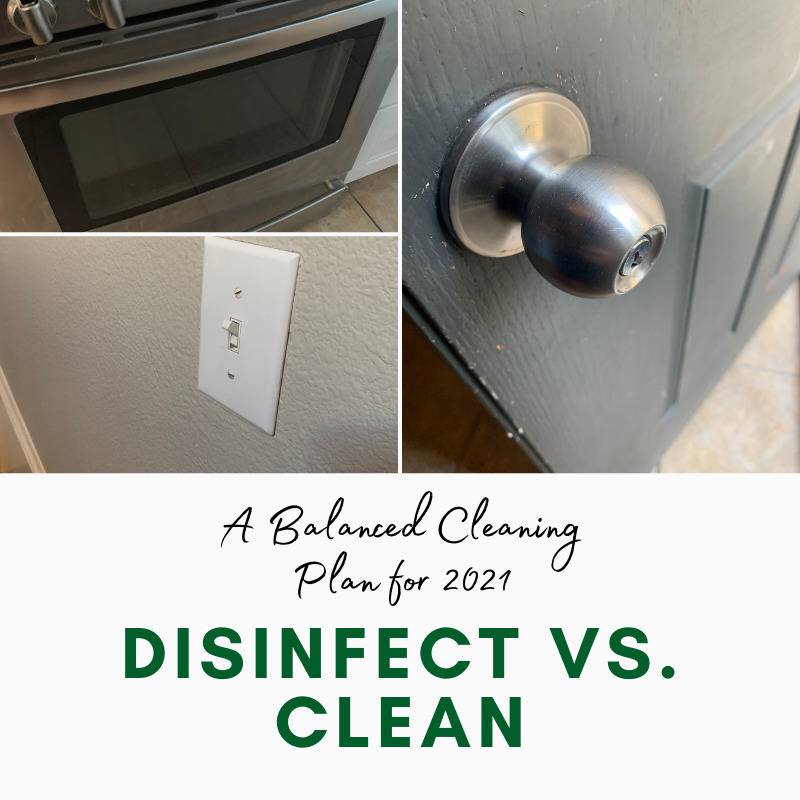 #5 – Use naturally derived cleaning products to balance the harsher bleach-based products.
Your natural cleaners, like Art of Green, should be used for the day to day/everyday messes.
Here's the thing…
I don't want to be spraying harsh chemicals in my home all day long. With the extra, repetitive cleaning that's been happening in recent months, I need a safer cleaning product.
One that is safe to use around kids and pets, and one that is going to cut the grease and get rid of the dirty!
That's why I love using Art of Green.
It is all of those things…
Amazing scent based on essential oils
Non-toxic,

98% naturally-derived formula

Tough on grease
Safe to use around Cody (and our new puppy Daisy!)
Safe to use around the boys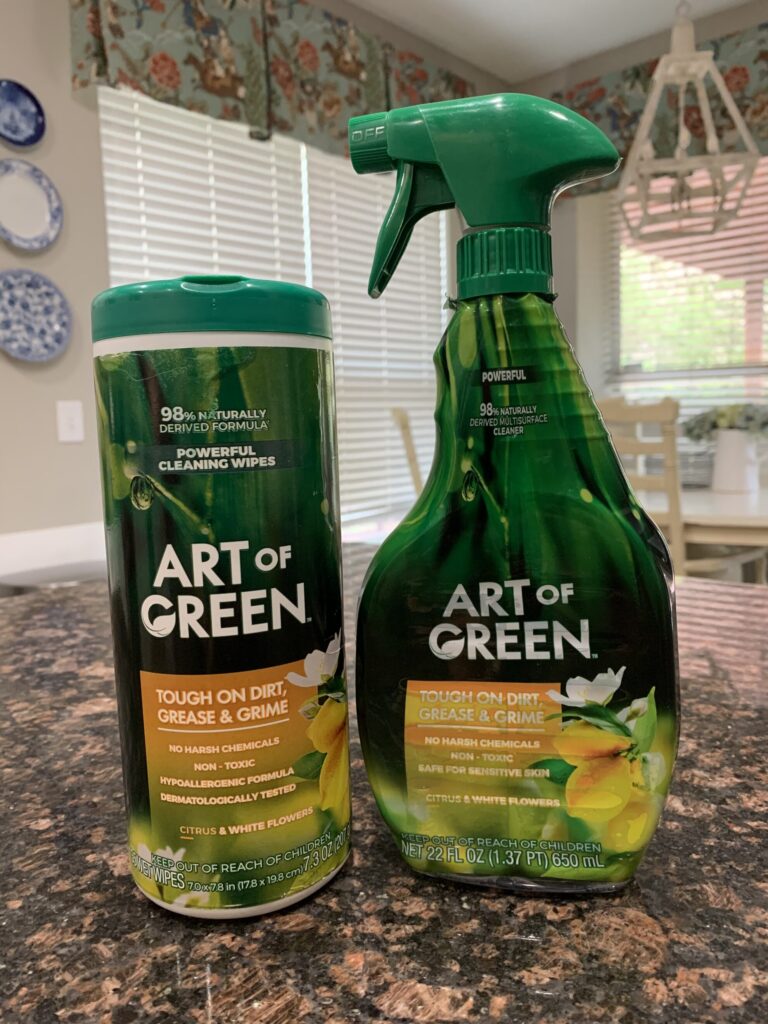 And that's why I'm using it for all the DIRTY AREAS in the house, like…
Mess around toilets and bathroom sinks
Cabinet handles
Tile floor smudges – muddy tracks
Laminate/wood floors – smudgy
Cleaning boot tray – salt/mud
Fridge handles
Kitchen faucets and handles
Kitchen drawers
Laundry room cabinets
Oven handles and stovetop surfaces
Bathroom faucets and handles
The key here is to balance products like Art of Green spray and wipes, with CLORALEN disinfectant bleach.
These two products have important uses in your home and they pair beautifully to maintain a green, properly disinfected home.
How to Make Disinfectant Spray
You can easily make your own disinfectant spray with CLORALEN Disinfecting Bleach.
This is a great way to be both cost conscious and prudent with your grocery budget. I get asked frequently "do cleaning products count in your grocery budget?" And the answer is yes…and I buy both affordable natural options, like Art of Green, as well as make my own sprays like this one! Here's the breakdown for both making up a gallon, as well as a single spray bottle.
FORMULA: 1/2 cup of CLORALEN Disinfecting Bleach mixed with 1 gallon of water.
If you want to make a spray bottle, you can adjust the amount based on the size of the spray bottle.
I add 1 TBSP of CLORALEN Disinfecting Bleach through a funnel in my 32 oz. spray bottles, then I fill up with lukewarm water.
Tightly seal with the spray nozzle, and then give a twist, swirl and gentle shake to combine together. Store in your cleaning caddy for ultimate convenience.
You want to think about what specifically in your home needs disinfecting based on "high traffic flows" and potential illness exposures.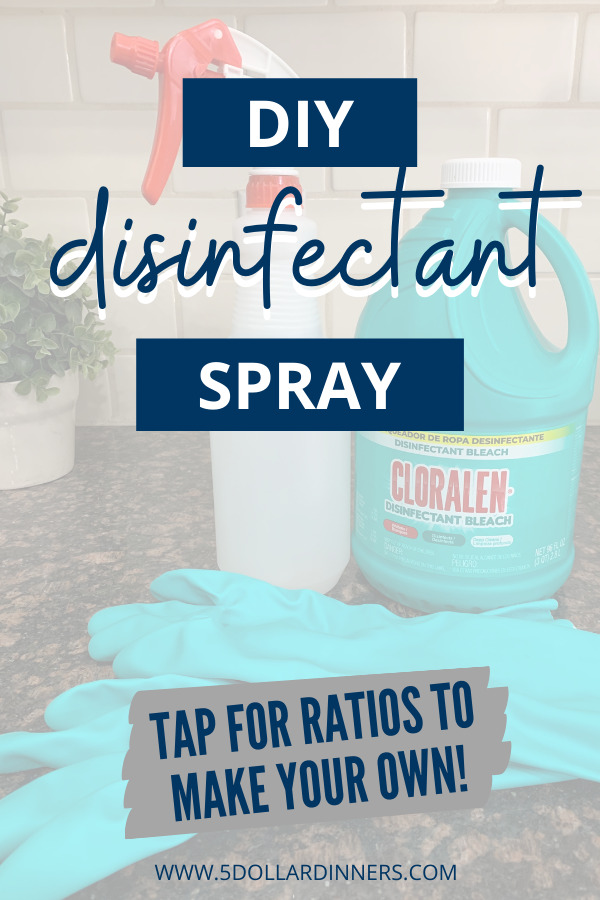 Where to Buy Art of Green and CLORALEN Disinfecting Bleach
Again…the key here is to strike the right balance between cleaning and disinfecting and together, Art of Green and CLORALEN Disinfecting Bleach, make the perfect combo.
Go right now, get your Art of Green and CLORALEN Disinfecting Bleach ordered or onto your grocery shopping list, and be on your way to a green, clean home in 2021!
Art of Green wipes now available at Target.com and other select retailers.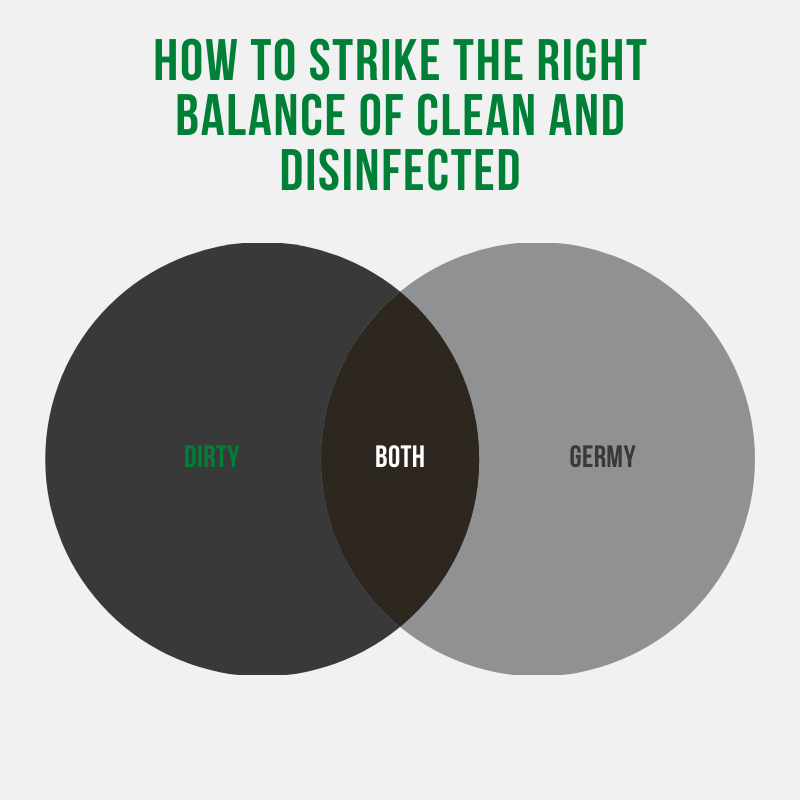 Disclaimer: This post is sponsored by Art of Green & CLORALEN of AlEnUSA. Opinions and love of the product are my own.