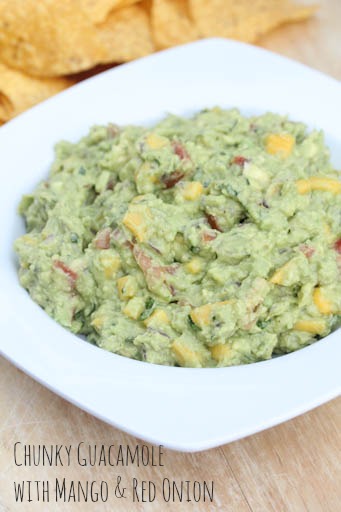 This one surprised me. I'm a huge fan of homemade guacamole, definitely prefer it over store bought. (I usually doctor up the store bought with lime juice, cumin, cilantro and possibly other mixins.)
About homemade guacamole…it's really a highly personal thing. It's almost like you shouldn't mess with a good and simple homemade guacamole. But I promise adding sweet mango with a bite-y red onion and woooohooo…
(Even my uber picky brother-in-law was impressed with this one.)
Also, this guacamole rolled up in a tortilla with this slow cooked cilantro-lime shredded chicken…will be on our next week's meal plan. Drooling about it already.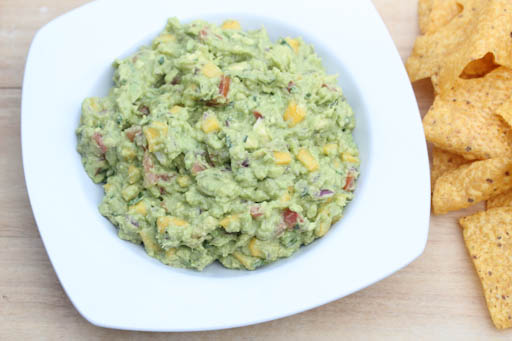 You should add it to yours too.
Just when you think guacamole can't get any better, you add mango and red onion and everything changes!
Ingredients
3

avocados, seeded and mashed

1

large, ripe mango, seeded and finely diced

1

Roma tomato, seeded and diced

1/2

large

red onion, finely chopped

2

small

limes, juiced

1

tsp

ground cumin

Small handful of Cilantro, finely chopped

Salt and pepper, to taste

Tortilla Chips
Instructions
Combine all the ingredients, except the tortilla chips, into a serving bowl and combine well. Season with salt and pepper to taste.

Serve Chunky Guacamole with Mango & Red Onion with tortilla chips, or with tacos.