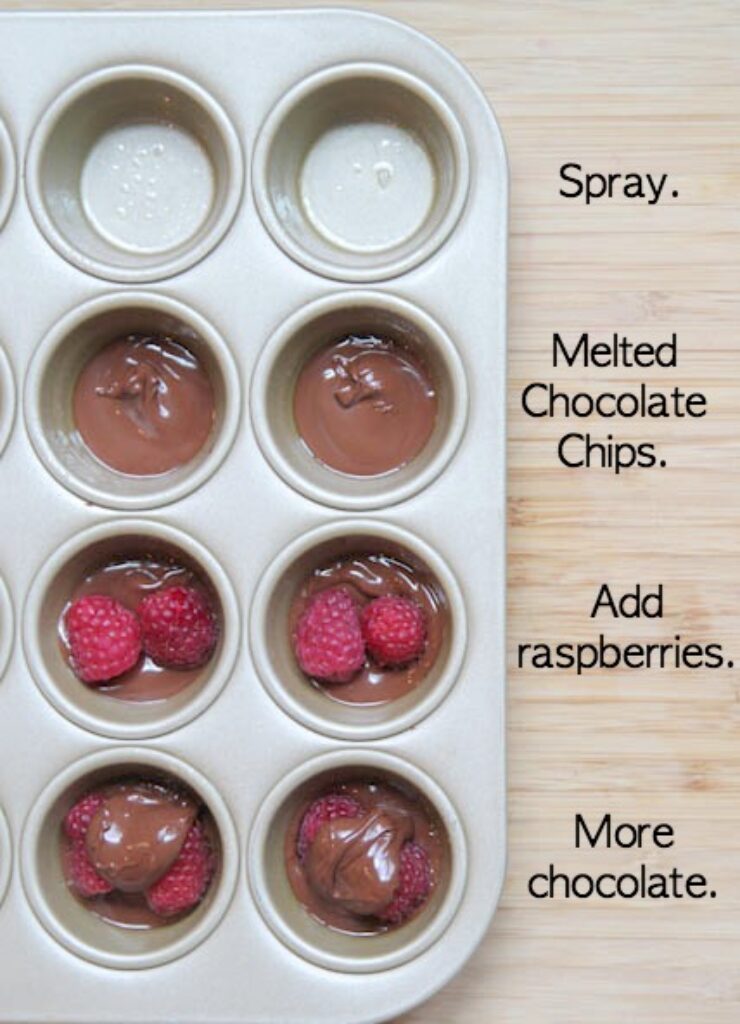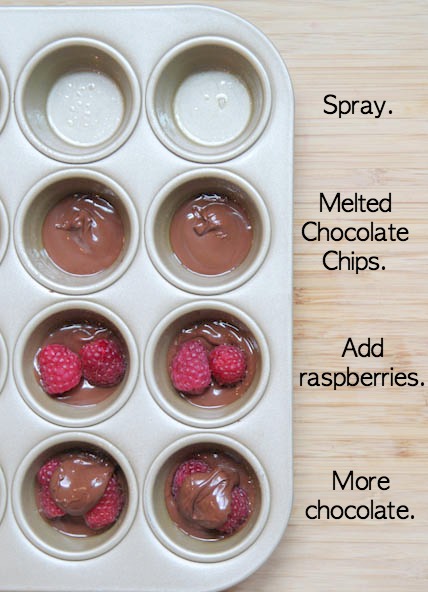 Because I love chocolate and I love raspberries. And I love them together.
mmmmm.
mmmm.
This is super simple and goes like this…
Melt chocolate chips in the microwave or in a double boiler.
Follow the directions on the photo above, using a mini muffin tin.
Freeze or chill the bites. (I prefer to freeze mine…so I'm less tempted to eat 13 at one time. Wait, who am I kidding?!)
Let warm up a little bit and then use a knife to pop them out of the muffin tin. Keep chilled or frozen until serving.
Try not to eat more than 13 at once. Kidding, maybe. But not really.
Oh, and if use dark chocolate chunks…then supposedly that's good for you. Like, really good for you. I choose to believe that. Because I'm healthy like that.
The ultimate chocolate lover's snack!
Ingredients
1 1/2

cups

semisweet or dark chocolate chips/chunks

1

pint

raspberries
Instructions
Spray a mini muffin tin with non stick cooking spray. (Use paper liners if you'd like.)

Melt the chocolate in a microwave safe bowl. Cook on high for 45 seconds, then stir and cook another 45 seconds and stir into creamy chocolate.

Drop a teaspoonful of chocolate into each mini muffin tin, then add a raspberry or two on top. Then add another small dollop of melted chocolate on top.

Chill in the refrigerator for at least an hour, or until chocolate is firm. Let warm slightly before popping the bites out of the mini muffin tin with a knife. Keep chilled until serving.

Freeze in a plastic container or baggie up to 3 months.
Disclaimer: As an Amazon Associate, I earn commissions on qualifying purchases. Reviews, opinions are my own.