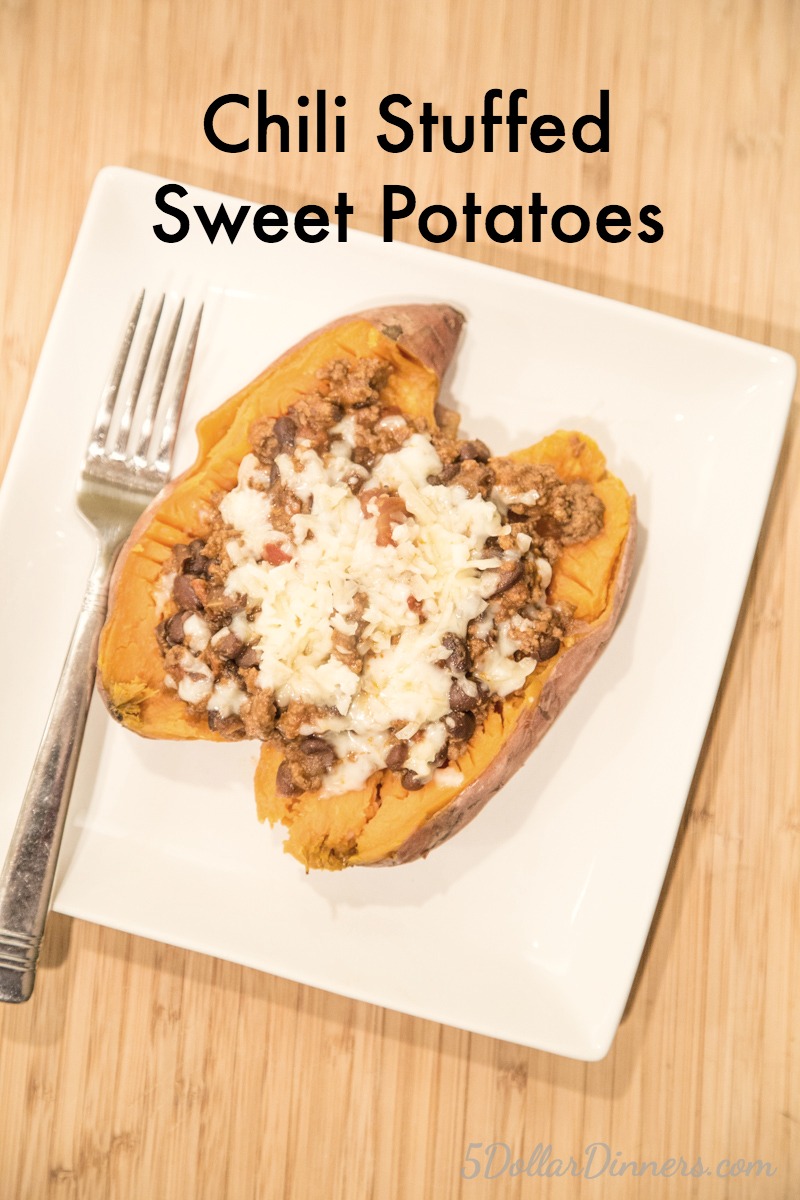 Please pardon the iphone photo above. I did what I could with it in my photo editing software, but it's still an iphone photo! 😉
I've done a number of stuffed potatoes and sweet potatoes on the site over the years, but never these. I love them because they are a great way to use up leftover chili. In your week's menu, you can schedule a chili meal, perhaps with some cornbread on the side, and then later on in the week, plan on using the leftovers to make stuffed potatoes or sweet potatoes. Whip up a giant pot of chili and you're golden!
I've written a full chili recipe below, or you can use your favorite chili recipe on top of perfectly steam-baked sweet potatoes!
We love these stuffed sweet potatoes…and yes, my oldest son did pick out the beans…as he always does when I serve beans in any meal. I'm just grateful that he's learned how to be gracious when he sees beans in his food and that he quietly pushes them aside!
Without further ado…
Use this chili recipe below, or you can use your favorite chili recipe on top of perfectly steam-baked sweet potatoes!
Ingredients
4

large

sweet potatoes

1

lb.

ground beef

1

Tbsp

dried chopped onion

1

tsp

1 tsp garlic powder

Salt and pepper, to taste

15

oz.

can black or red kidney beans, drained

15

oz.

can diced tomatoes

2

Tbsp

chili powder

1

tsp

ground cumin

2

cups

chicken or beef stock or water

1

cup

shredded cheddar or Monterrey Jack cheese

Fresh veggies

side dish
Instructions
Preheat the oven to 350 F and steam-bake the sweet potatoes. Cut a slit into each sweet potato. Place sweet potatoes into glass baking dish and add 1/4" of water. Cover tightly with foil. Bake for 45-60 minutes, or until softened.

While the sweet potatoes are cooking, prepare the chili and let it simmer. Brown the ground beef in a large saucepan with the minced onion, garlic powder, salt and pepper. Drain if necessary. Stir in the diced tomatoes and can of drained black or red kidney beans. Stir in the chili powder, ground cumin and broth or water.

Let the chili simmer for 30 minutes or until the potatoes are done. Cover if necessary to keep too much liquid from escaping. Season with salt and pepper to taste.

Once the sweet potatoes are soft, remove from the baking dish and place onto serving plates. Carefully open and then spoon chili on top. Add a couple pinchfuls of cheese on top. The heat from the chili should melt the cheese.

Prepare veggies.

Serve Chili Stuffed Sweet Potatoes with side of veggies.