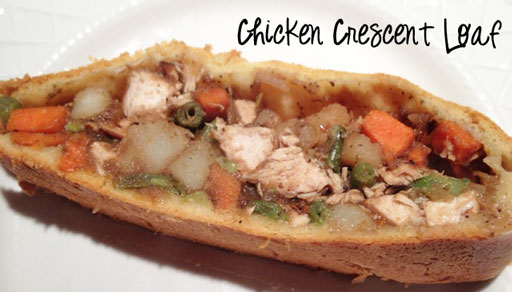 I rarely use packaged ingredients in my recipes, crescent rolls are an exception to that. Yes, they are full of bad things, but they are also yummy. I don't use them more than about once or twice a year and I fully enjoy them when I do. This makes a great dinner one night and an easy to pack lunch for the next day.
Ingredients
2 chicken breasts, cooked

1 tablespoon vegetable oil

1/2

medium

onion

3

medium

potatoes

3

medium

carrots

2 handfuls green beans

1 teaspoon oregano

1 teaspoon thyme

1/2 teaspoon cumin

1 tablespoon flour

1

cup

chicken stock or water, or as needed

2 packages Crescent rolls, (or make your own)
Instructions
Preheat oven to 375 degrees Fahrenheit.

Heat oil on a large pan until hot.

Meanwhile, dice the vegetables into 1/4" to 1/2" (6 mm to 12 mm) pieces, starting with the onions.

Add the onions to the hot oil and cook until translucent.

Add the rest of the vegetables and seasonings and cook until almost tender. You may need to add chicken stock or water to prevent sticking. Stir and deglaze (scrape the bottom of the pan, adding more liquid as necessary) as you go.

Sprinkle the flour over the mixture and stir in, cooking for two minutes.

Remove the vegetables from the pan, set aside.

Deglaze fully with a bit more liquid to collect all the flavour from the bottom of the pan. Add this flavourful liquid to the vegetables. The mixture should be moist, but not wet.

While the vegetables are cooking, open two packages of crescent rolls and pinch all the seams closed. Put the two sheets of dough beside one another and pinch that seam closed. Lay over a baking sheet.

Chop the chicken into 1/4" to 1/2" (6 mm to 12 mm) pieces.

Combine with cooked vegetables and heap in the center of the dough.

Bring the dough over the mixture. Pinch the seam closed and cut a few vents for air to escape.

Bake for about 30 minutes till the crust is golden and the inside is hot.

Let sit for 5 minutes and then slice and serve.