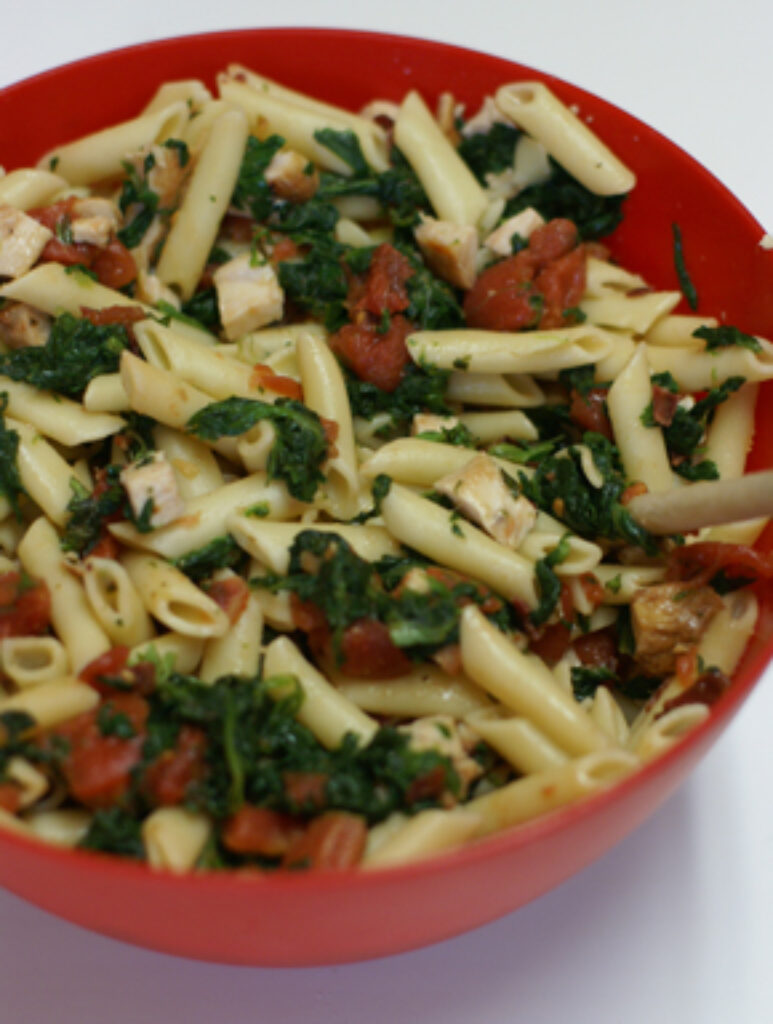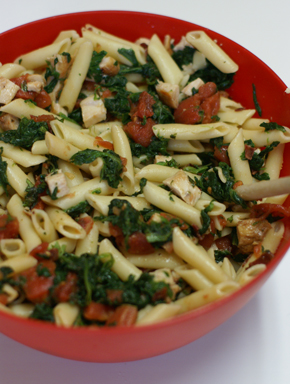 Every had one of those super productive days…only to forget one very important thing on your to-do list.
That thing: Make dinner.
Eeps! That's what happened to me tonight. I scurried around all day, catching up on Mt. Washmore (yes, we have been home for 10 days and I still haven't caught up on laundry from the Savvy Blogging Summit!), helping the boys with a new puzzle and reading their new book to them approximately 18 times, answering emails, making important behind-the-scenes decisions, picking up little pieces of fuzz from the floor that Tyler seems to be so attracted to these days, watering the garden, building tents and forts with sheets, chairs and couch cushions, send out a few tweets, maybe a facebook status update…
So I look up at the clock…5:25.
What?!? How'd that happen?!
Thankfully, I had some diced grilled chicken in the freezer, some cooked turkey bacon in the freezer, along with a box of frozen spinach. And in the time that it took to cook the pasta, I had the chicken, bacon and spinach thawed, warmed and ready to toss with the pasta. I even had a second to grab some fresh basil, oregano and thyme from the garden…just enough to give the additional umph to the pasta!
So what's missing from this here florentine pasta…a cream sauce! I went for the lower cal (and easier) drizzle of olive oil. :)Â And I'm glad I did!
Loved the light-ness of the dish, the flavor boost from the garden herbs, and the smokiness of the grilled chicken. Now, enjoy!
Ingredients
1

lb.

pasta noodles, such as mostacchioli, rotini, medium shells ($.92)

2

cups

grilled, diced chicken ($1.50)

4

slices

turkey bacon, chopped ($.25) (Try cooking bacon in the oven.)

1 15 oz. can diced tomatoes ($.16)

1 box frozen spinach ($.50) $1 sale plus coupon

Fresh basil, oregano, thyme from the garden

2

Tbsp

olive oil ($.20)

Salt and pepper to taste
Instructions
Cook pasta according to package instructions.
Need more than this one-dish meal? Add a garden salad.
Got a plethora of tomatoes from the garden? Use those instead of canned.
Want a creamier pasta? Thin some sour cream with some milk and replace that with the olive oil.

Cost $3.53