Cheesy Beef Quesadillas are the cheesiest and most delicious weeknight meal!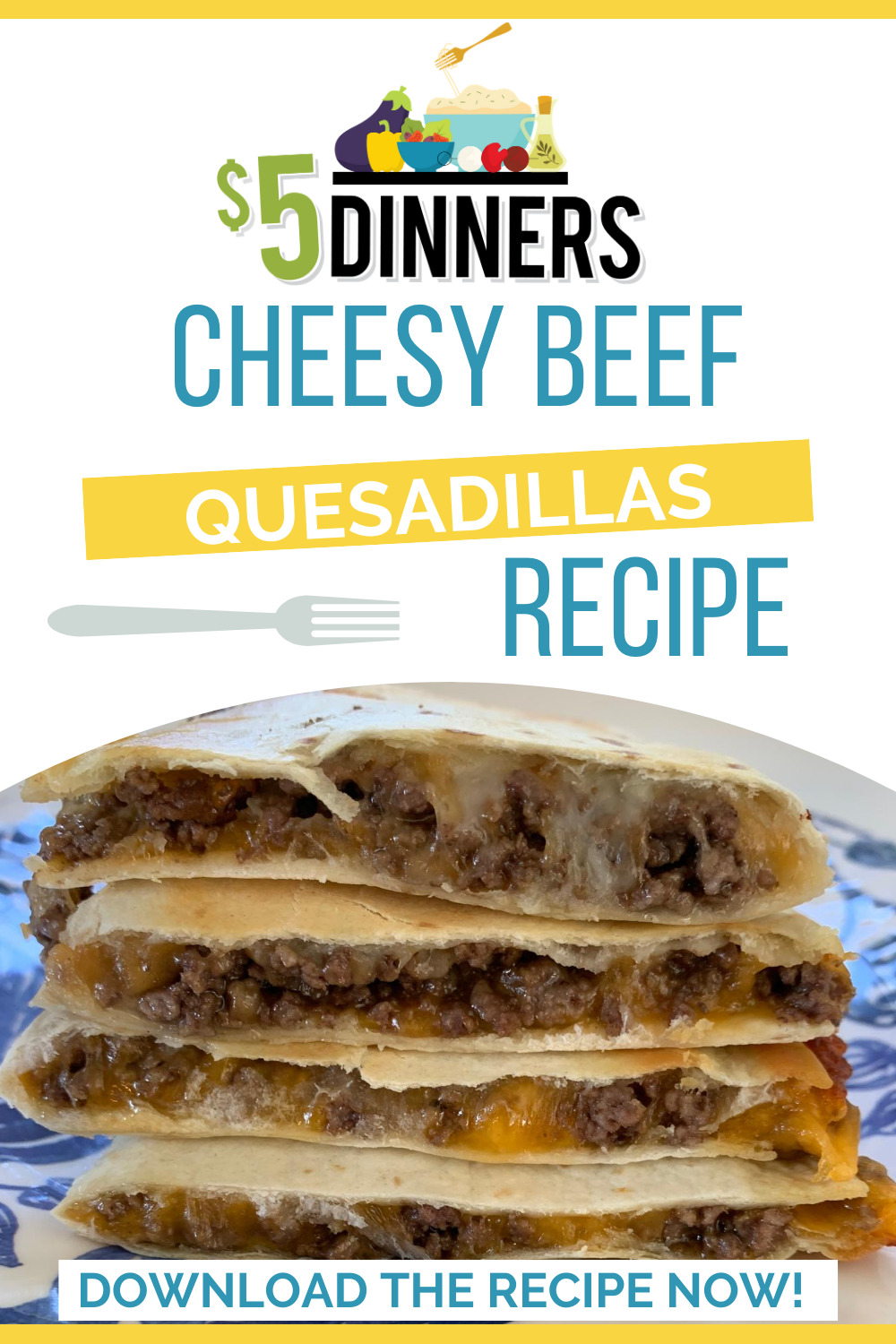 We love an easy meal around here, and this is one of our favorites!
We are just making some perfectly seasoned ground beef, then snuggling it inside a flour tortilla with some shredded cheese. (Level up the flavor by using a combination of cheeses!)
I'm all about cooking smarter, not harder – so we are using the oven for the Cheesy Beef Quesadillas. Toasting them on a cookie sheet in the oven allows you to make more at once, rather than warming individually in a skillet on the stove.
This is one of those recipes that is extra quick and easy if you have ground beef already browned and stashed in the freezer. Or maybe just some leftover ground beef from tacos?!
Okay, enough chatting. Let's cut to the cheese! 😉
How to Make Cheesy Beef Quesadillas (Photo Tutorial)
First, brown the ground beef in a skillet on the stove. Drain and add seasonings. Then, you get to the fun part of assembling the quesadillas!
Add cheese to one half of the tortillas.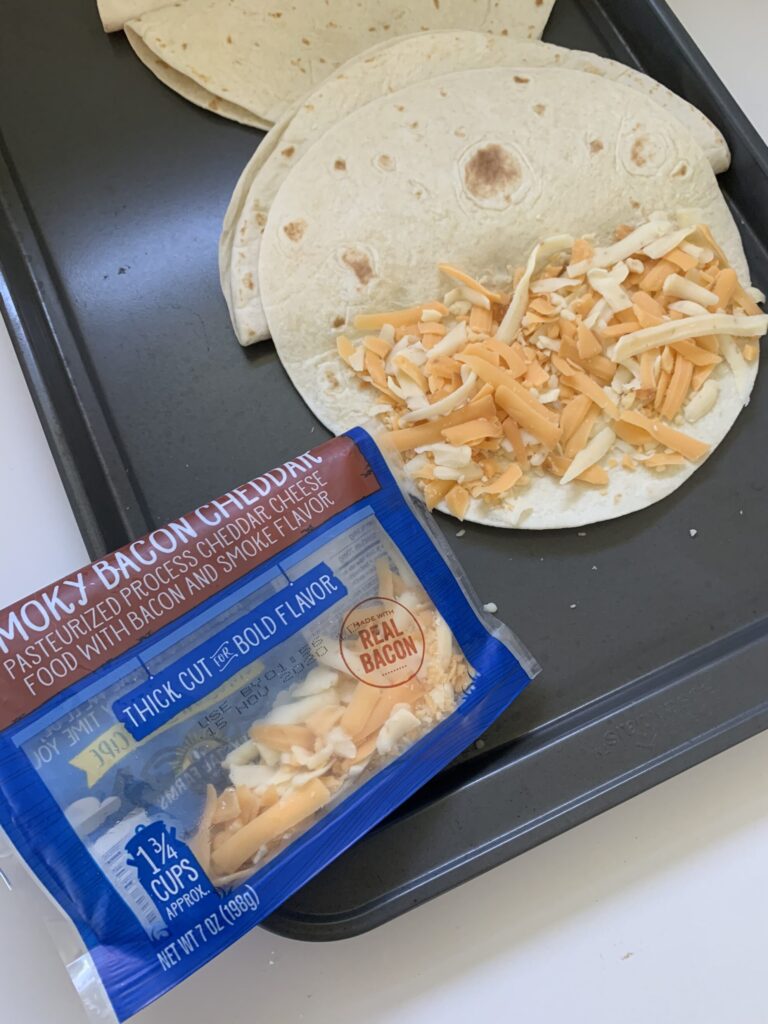 Next add the browned and seasoned ground beef.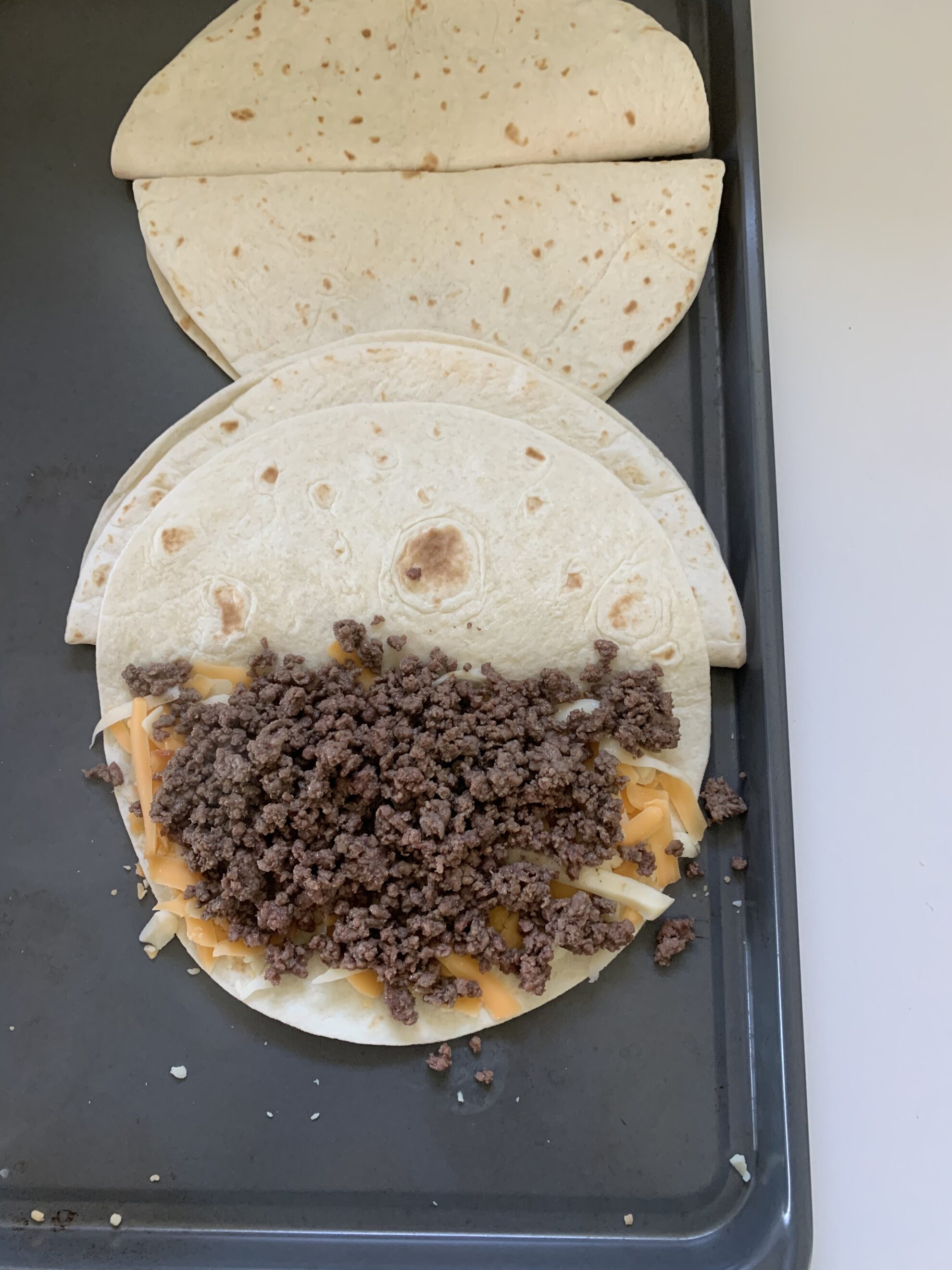 Top with more cheese.
Be generous with the cheese, please.
These are CHEESY Beef Quesadillas!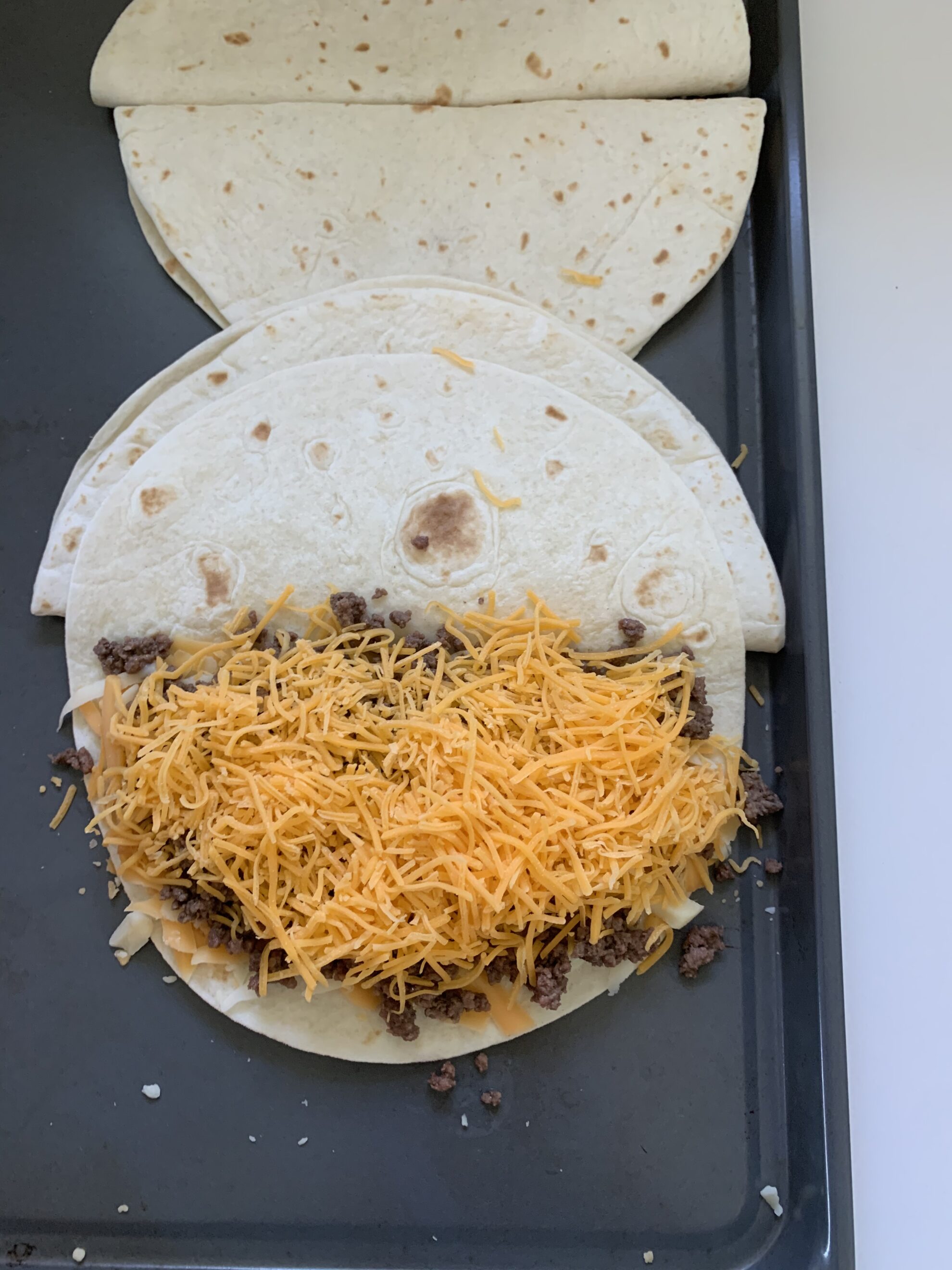 Then fold all the tortillas up in half. The cheese and ground beef should be nice and cozy in the tortillas.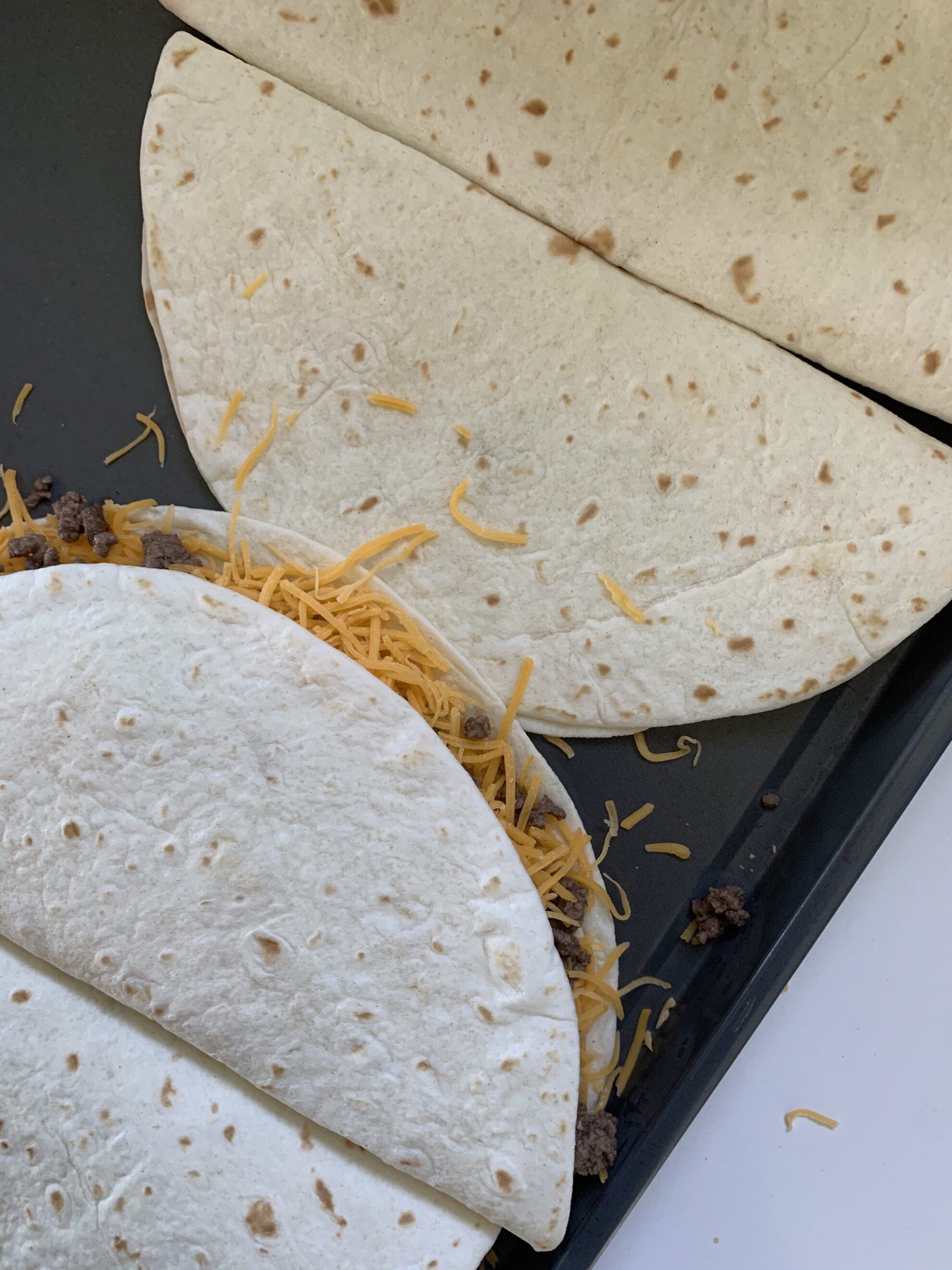 Toss the tray into the oven and bake to perfection.
Perfection = melty cheese and toasty tortillas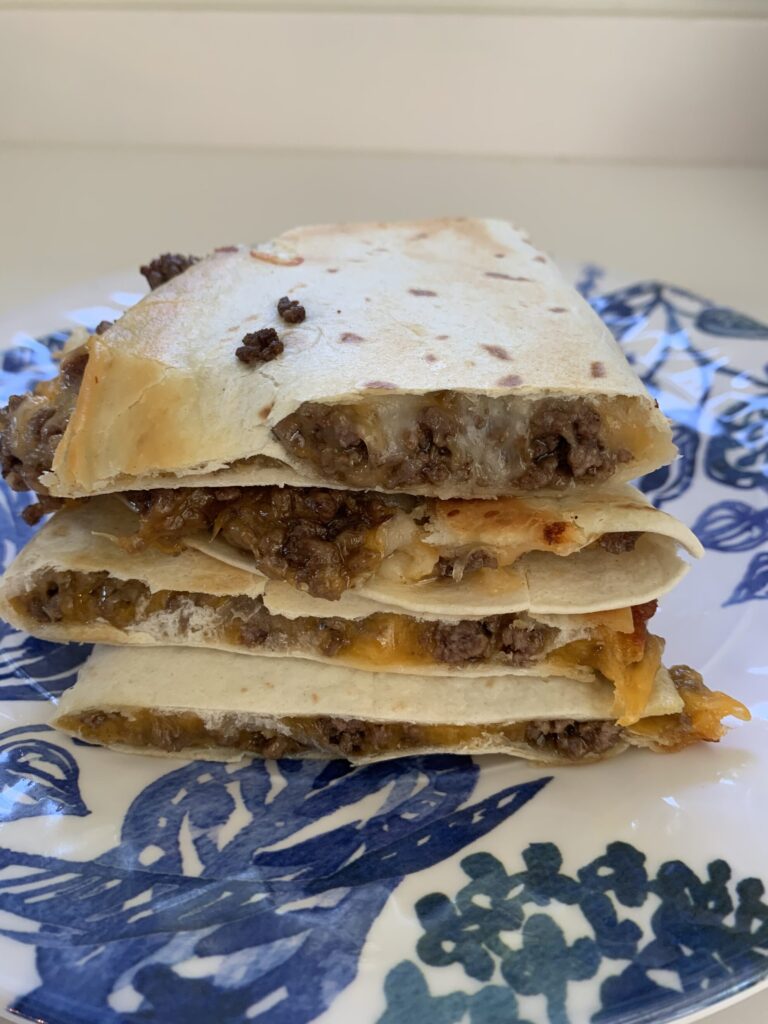 Use a pizza cutter to slice the quesadillas up quickly and easily!
(Because the pizza cutter is just way more fun than using a knife. And safer for little ones to use on their own, too.)
Enjoy with a side of your favorite salad or fruit!
Pack a flavor punch by using different shredded cheese blends!
Ingredients
1

lb.

ground beef

1

Tbsp

minced onion

1

tsp

garlic powder

1

tsp

chili powder

1

tsp

ground cumin

4

large

flour tortillas

2

cups

shredded cheddar cheese blend

Fresh fruit or salad

side dish
Instructions
Preheat the oven to 400 F. Lightly grease a cookie sheet with non-stick cooking spray.

In a large skillet, brown the ground beef with the minced onion and garlic powder. Drain if needed, and then stir in the chili powder and ground cumin. Remove from heat.

Lay the tortilla on the baking sheet and sprinkle the shredded cheese blend onto half of the tortilla. (You will be folding the tortilla, so sprinkle a thin layer over half.) Top with the browned, seasoned ground beef. Then sprinkle more shredded cheese on top of the beef. Fold the tortilla over to cover the cheese.

Repeat with the remaining 3 tortillas, beef and shredded cheese. 4 half-tortillas should fit on a standard size cookie sheet.

Bake in the preheated oven for 8 minutes, then carefully flip and cook another 5 minutes. You want both sides to be slightly golden and the cheese melted through.

Run a knife of pizza wheel through the quesadilla and cut into wedges.

Serve Cheesy Beef Quesadillas with side of fruit and/or salad.
This recipe is featured on
Meal Plan Monday #232
.