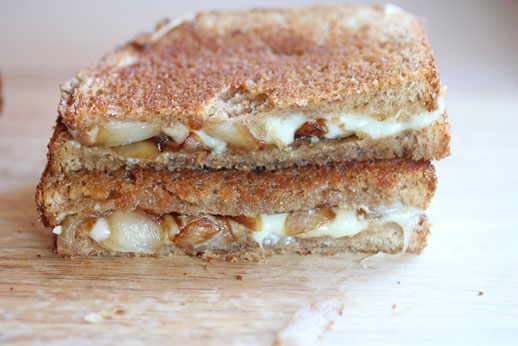 While it's difficult to say what my favorite soup is…because I love soup. All kinds of soups. But at the top of the list is French Onion Soup. With a thick-ole slice of bread and topped with Swiss cheese. Nom.
I didn't realize this would happen when I was making this sandwich, but turns out…it tastes just like French Onion Soup. Just less drippy 🙂
I don't eat a lot of cheese, or dairy for that matter. Except when I'm pregnant. I listen very closely to my body and it's cravings…and there are certain times that I just c.r.a.v.e cheese. Any and all kinds of varieties, typically in sliced form. I'm sure it's because baby is having a little growth spurt and my body knows it needs extra calcium. So I listen, and I oblige.
A few weeks ago, I was craving cheese and decided to step it up by adding some caramelized onions. And a little Parmesan too.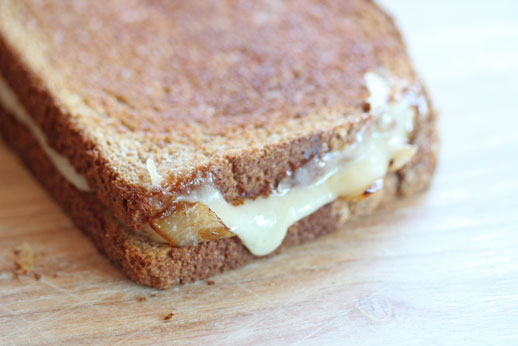 This melty, gooey, delicious-ness hit. the. craving. on the head!
Turns out...it tastes just like French Onion Soup. Just less drippy 🙂
Ingredients
1

Tbsp

olive oil

1

tsp

balsamic vinegar

1

Tbsp

white sugar

1

large

white onion

thinly sliced

2

Tbsp

butter

softened

1/4

cup

Parmesan cheese

4

slices

Swiss cheese

8

slices

whole wheat bread
Instructions
In a skillet, add the olive oil, balsamic vinegar and sugar. Add the sliced onions and heat them on low, stirring often, for 30 minutes to caramelize them.

While the onions are caramelizing, stir together the softened butter and Parmesan cheese. Spread the Parmesan butter on the insides of the bread. Butter the outsides of the bread for grilling.

Once the onions have caramelized, place them onto a plate and gently pat them dry. (You don't want them to be too runny and make the bread soggy before grilling.)

Add a slice of Swiss cheese and some of the caramelized onions onto the buttered breads. Grill on a skillet or electric griddle. Flip carefully to prevent onions from sliding out!

Enjoy!