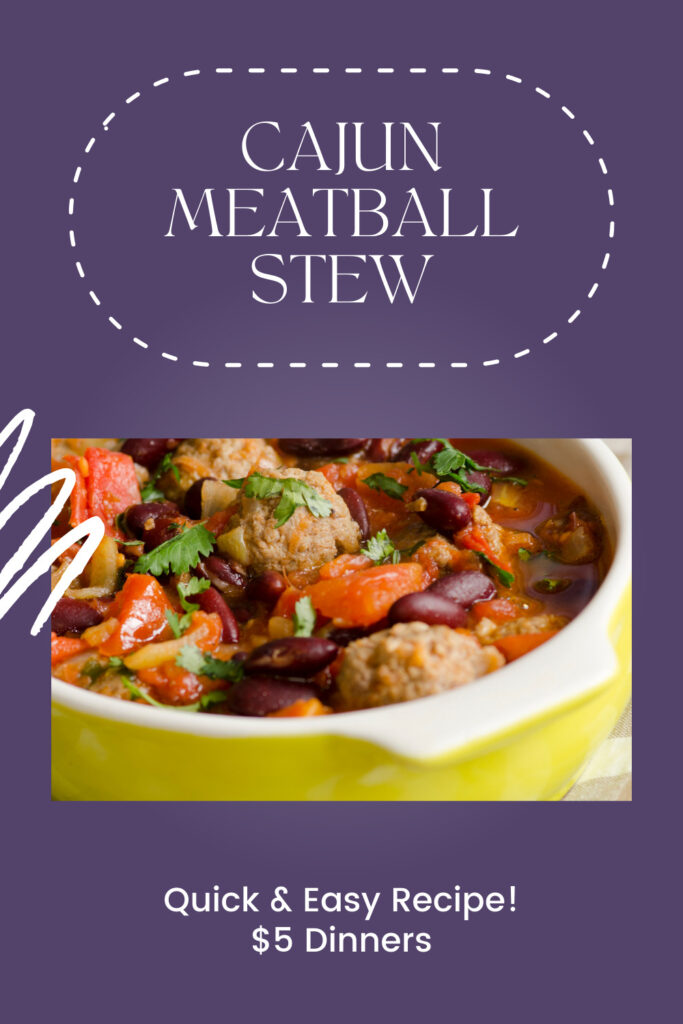 Several months ago, Jamie emailed me a very simple recipe for Cajun Meatball Stew. It's one of those recipes that has been sitting in the back of the recipe file in my brain…waiting for it's chance to be made. And enjoyed!
As I was doing the freezer inventory last week (and working on the Freezer Staples List), I noticed that I had several bags of frozen meatballs. Just your basic meatballs, mixed up and frozen raw. Perfect!
The meatballs were ready…just need to prepare the base for the stew. And get it going on the stove! (Love that I was able to skip the meatball making step of this recipe. Batch Cooking certainly has its advantages!!!)
I wasn't sure I was going to like this as I was making it…but I really enjoyed the finished product 🙂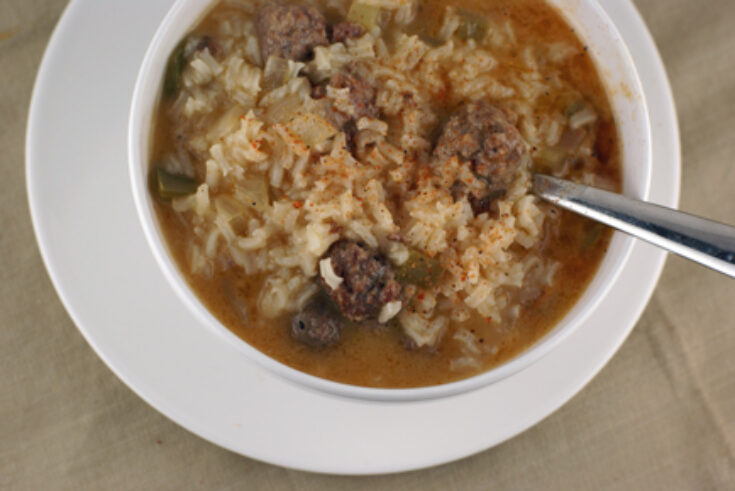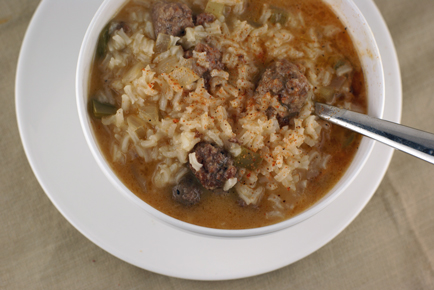 Ingredients
1

lb.

worth of meatballs

2

Tbsp

oil for browning meatballs

1/4

cup

canola or vegetable oil

1/4

cup

flour

1

cup

chopped onion

1

cup

chopped celery

1

cup

chopped green peppers

1-2

Tbsp

Cajun Seasonings

1/2

cup

rice

Salt and pepper to taste

Side veggies or fruit
Instructions
In a large skillet, brown the meatballs in the oil.  Drain of any excess grease or oil.

In another large skillet, make the roux with the oil and the flour. Put about 1/4 cup oil into the skillet along with about 1/4 cup of flour. Put the heat on medium and stir the entire time. The roux will bubble and begin to darken in color after a few minutes. (You have to watch your roux so it doesn't burn. You'll want the roux to be a nice, chocolate color.) When it's done take it off of the heat.

When the meatballs are browned (and drained if you like), add enough water to cover the meatballs and then stir in the roux.

Let this meatballs and roux boil for at least 30 minutes, cover if needed.  While the meatballs are boiling, add in the chopped onion, chopped celery and chopped green peppers.  Stir in the Creole seasonings.

After the meatballs and roux have had time to hang out with the vegetables, add 1/2 cup of rice (plus about 1 cup of water, if lots of the water boiled off.)  Let cook for another 20 minutes, or until rice is tender. Season with salt and pepper, to taste.

Serve Cajun Meatball Stew with side of veggies or fruit.