This recipe is featured in the 21 Freezer Cooking Recipes from Costco Meal Plan #5.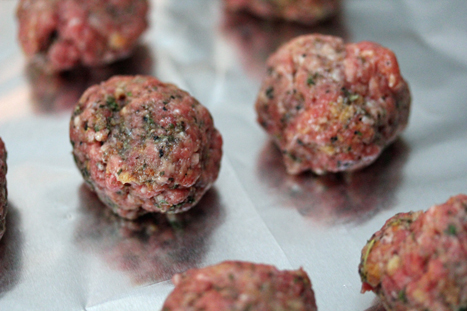 This recipe was originally posted in 2011!
A few weeks ago, I shared what I like to do when I get ground meat from the grocery store. (See Batch Cooking – The Ground Beef Edition!)Â This is part 2, if you will.
Last week, I purchased 2 packages of ground chuck and 2 packages of ground turkey. Seeing that most of my January meal plan is from the pantry and freezer, I knew that I wouldn't use up all of this meat for meals last week. I did make the Turkey Kasha Chili on Friday night, and while that was simmering on the stove, I set to work on preparing the rest of the packages of meat.
First up, I combined the 2 packages of ground beef into meatloaf/meatballs mixture. With about 2.4 lbs, I was able to make 1 meatloaf and 16 medium sized herbed meatballs. (Recipe below.) I put the meatloaf in the freezer. And also did a flash freeze of the meatballs. Once they were partially frozen, then I transferred them into a plastic freezer baggie.
And with the other package of ground turkey, I made some Turkey Meatloaf Bites, similar to these BBQ Mini Meatloaves! I baked them in my mini-muffin tin and then let them cool completely before adding to the freezer.
Now we've got a meatloaf, meatballs and some Turkey Meatloaf Bites in the freezer for next month!
One Step Ahead!
(If you've read my Breakfast and Lunch Cookbook, you know what that means!)
Easy and perfect for busy weeknights!
Ingredients
1.25

lb

ground chuck

2

eggs

1

cup

bread crumbs, homemade or store bought

2

Tbsp

Italian seasonings

1

tsp

salt

1/2

tsp

pepper

1

lb.

pasta noodles

3-4

cups

spaghetti sauce

Frozen veggies, as side dish.
Instructions
In a mixing bowl, combine the ground chuck, eggs, bread crumbs, Italian seasonings, salt and pepper. Form into 1"-ish size meatballs.

Brown on all sides, then add spaghetti sauce and let simmer for 15-20 minutes, or until meatballs have cooked through.

Serve Herbed Meatablls over pasta noodles with spaghetti saucesauce and frozen veggies.

(Alternative: Bake the meatballs at 350 for about 30 minutes, or until cooked through. Add sauce over the top before serving.

To Freeze: Flash freeze and then transfer to a plastic freezer baggie.