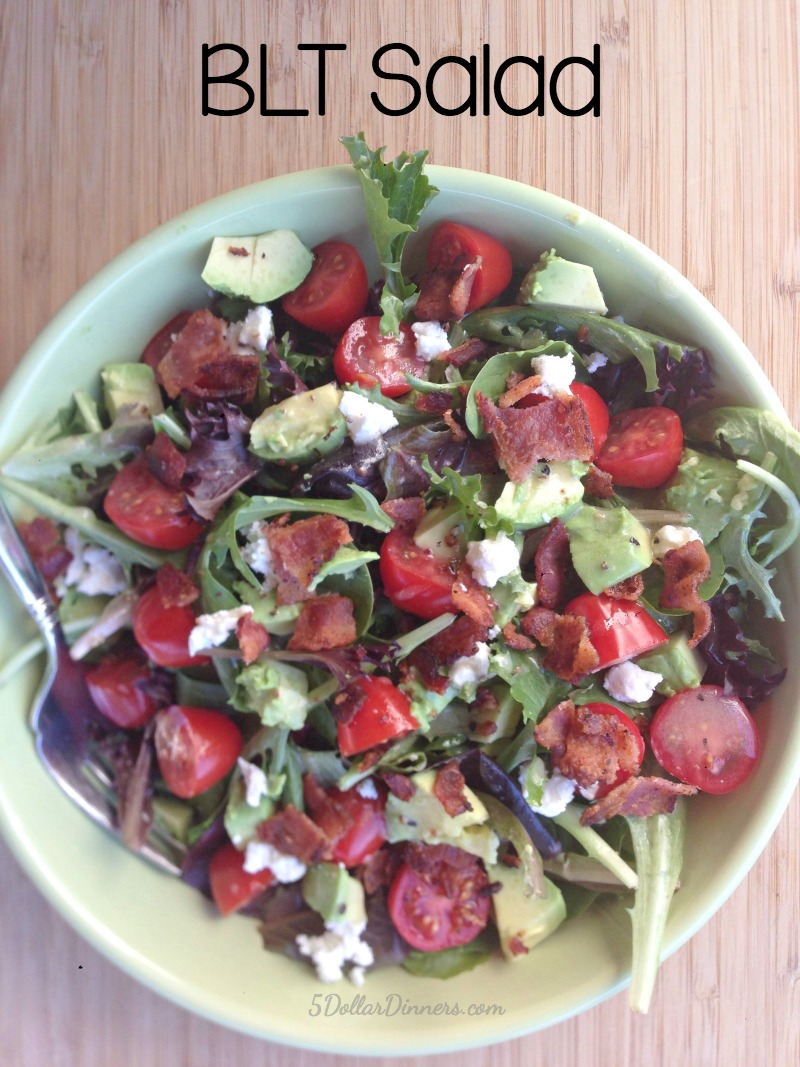 So. I'm a 'salad-for-lunch-atarian.'
I eat salads for lunch almost every day. 6.5 times a week. And the day that I don't have salad, I have bowl of black bean or vegetable soup. Really, just to keep from being burnt out on salads for lunch.
I usually throw 2 to 3 veggies on top, depending on what's in the fridge from the sales that week. I sometimes add protein on top – in the form of goat cheese or meat – and my recent obsession has been adding crumbled bacon with avocado. Like, it's all I want to eat every day.
But I can't make bacon everyday. Some days, I'll bake a few slices and then have them for the next day or two.
But when I do have bacon on my salad….oooo-eeeee YUM!
If you are a fellow 'saladforlunch-atarian,' I urge you to try this combination soon!
Bacon + tomatoes + avocados + cheese (I suggest goat or feta or blue!)
The best of the traditional sandwich, mixed up in a fresh salad!
Ingredients
4

slices

of bacon, cooked and crumbled(Try cooking bacon in the oven.)

10

oz

shell baby spinach-spring mix

1

cup

cherry or grape tomatoes, halved

2

avocados, seeded and diced

Crumbled cheese - goat, feta or blue

Vinaigrette -store bought or homemade
Instructions
Cook and crumble the bacon.

In a large bowl, combine the lettuce, tomatoes, avocado, cheese. Drizzle the vinaigrette over the top and serve.