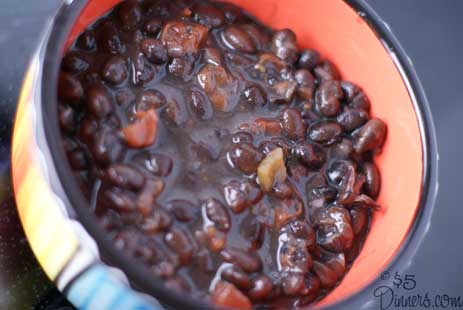 We had the pleasure of eating at Panera a few times in December and through the holidays with family and friends. I kept ordering their Black Bean Soup. Perhaps because it warmed my tummy. Perhaps because it went great with a salad.
But something was amiss. I loved the consistency, the warmth, but it lacked ZEST. I *big puffy heart* Panera. I do.
But I prefer a little zest in my black bean soup!
Since we are in the middle of the #pantry challenge, I thought I'd use up some of my free cans of Rotel diced tomatoes and green chilies…adding it to Panera's Black Bean Soup recipe that I found on Recipezaar.
Giving the soup just the kick I think it deserves!
Ingredients
2

cups

dried black beans, soaked ($.80)

1 onion, finely chopped ($.40)

2 garlic cloves, crushed ($.10)

1 tsp ground cumin ($.05)

1

Tbsp

lemon juice ($.10)

1/2 tsp salt

1 1/2 cups of homemade chicken stock (free) (or vegetable stock for a vegetarian meal)

1 10 oz. can of Rotel diced tomatoes and green chilies, undrained (free)

2

Tbsp

cornstarch ($.10)

Homemade rolls, about half a batch ($.48)

12 oz. bag of frozen peas ($.67)
Instructions
Soak black beans overnight in a bowl full of water. If you forget to soak, as I often do, then add the beans to boiling water, remove from heat and let soak for 2 hours. Once soaked, drain and rinse. More on cooking dried beans here.

Add the soaked and rinsed beans to large saucepan and cover with 2 inches of water. Add the chopped onion, crushed garlic, cumin, lemon juice, and salt in with the beans.

Bring to a boil, then reduce heat to medium and cover. Cook for about an hour.

After an hour, add the homemade chicken stock and the undrained can of Rotel diced tomatoes and green chilies. Let the soup simmer for another 30 minutes, or until the beans have softened.

Then add the cornstarch.
Little by little, there is some more space opening up in the freezers and pantry.