A Fun, Colorful Twist on Peanut Butter Blossom Cookies Using the Birthday Confetti Kisses!
When I saw these "birthday cake confetti" Kisses at the store, I instantly knew that I would make them for the $5 Dinners 14th Birthday Party!!!
It was an easy "oh, these would be great with a sugar cookie base," instead of a peanut butter cookie base like the traditional Blossom Cookies.
So in honor of the 14th birthday of the $5 Dinners website, I present to you Birthday Blossom Cookies!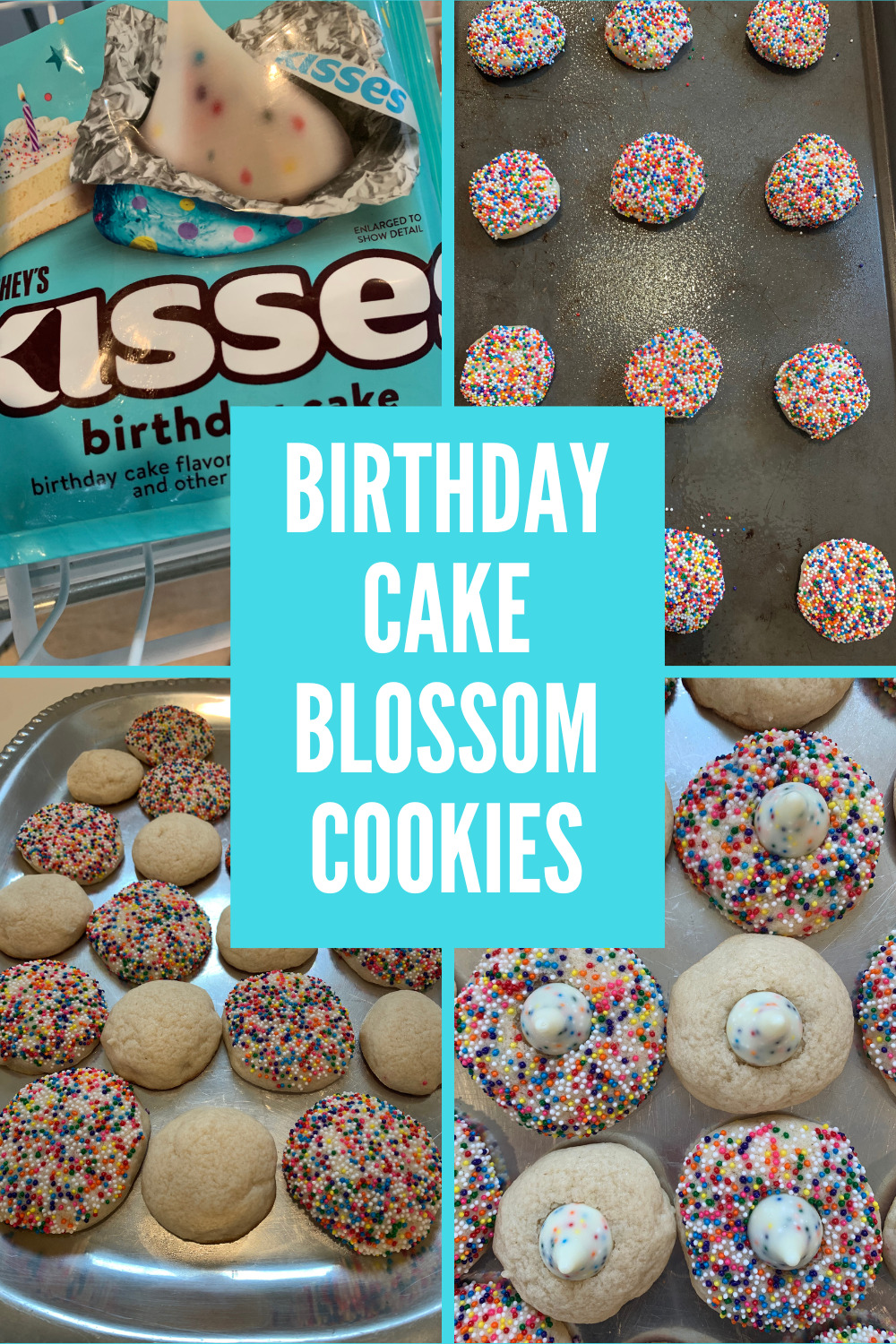 How to Make Birthday Cake Blossom Cookies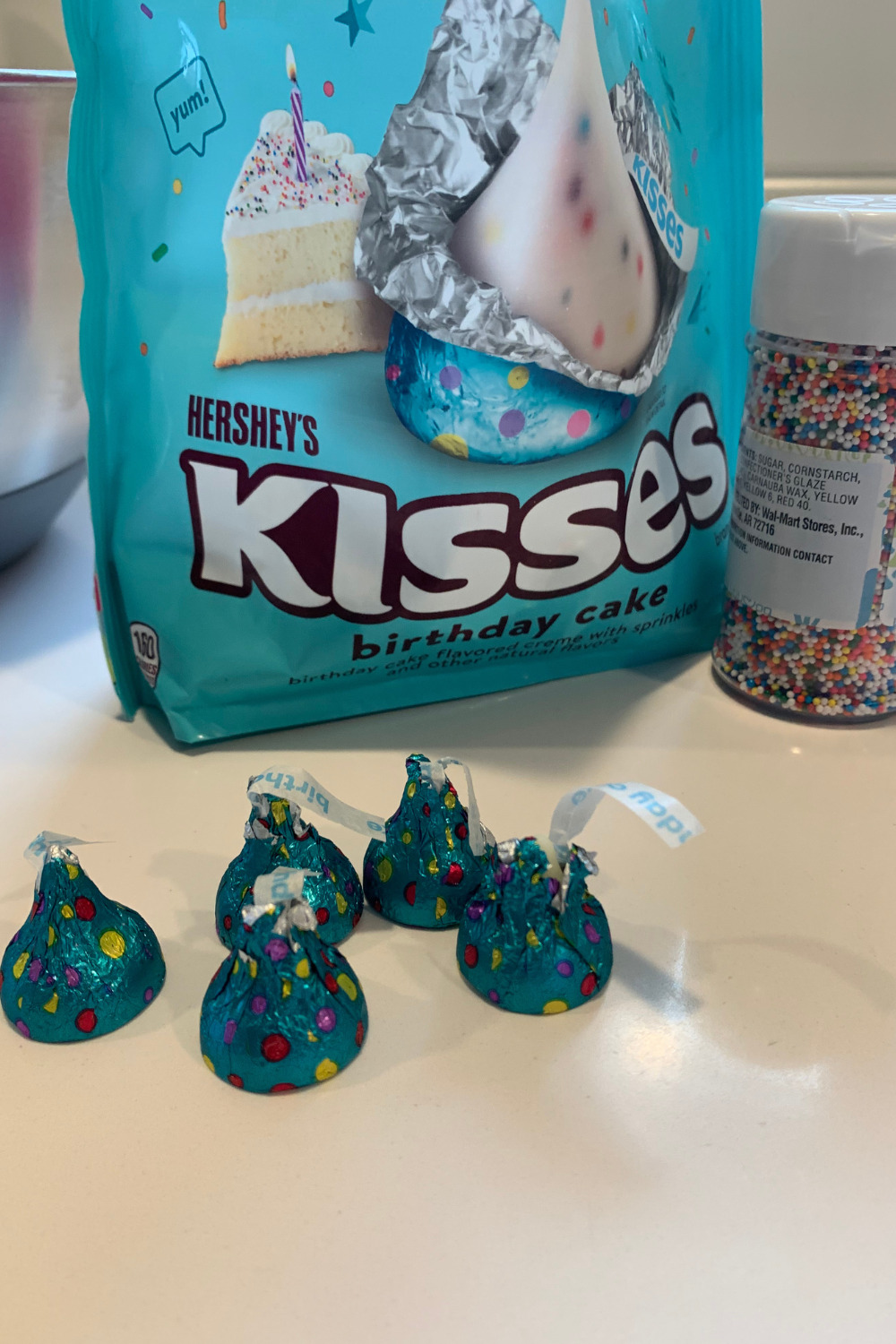 You probably have the basic baking ingredients to make these, but you will need the above to ingredients as they are the star of these cookies!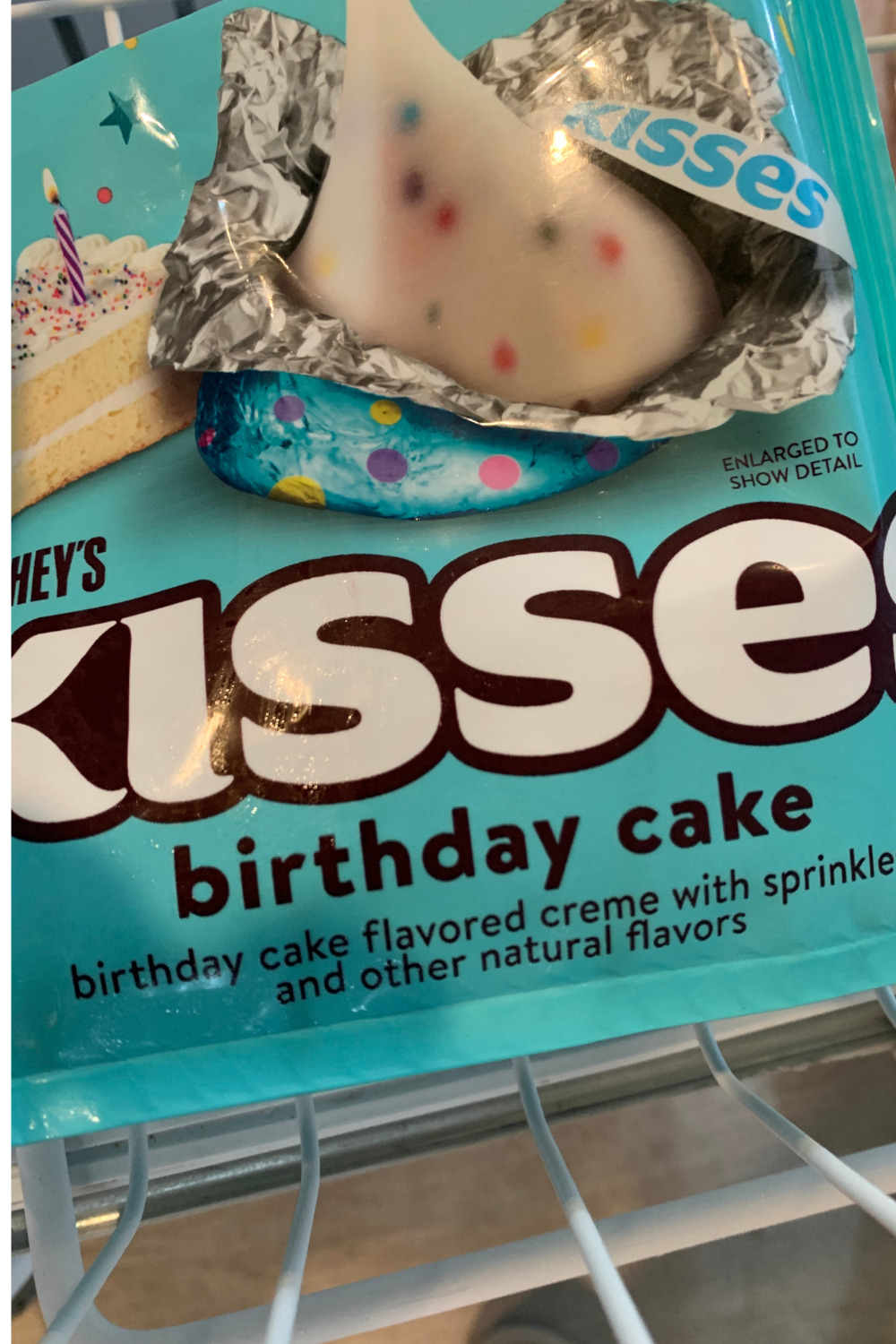 First, freeze the Kisses.
You'll need them to be nice and cold so when you go to unwrap them and press them into the warm cookies, they won't melt!
They might melt slightly even after freezing them, but freezing will help keep the white chocolate from completely melting.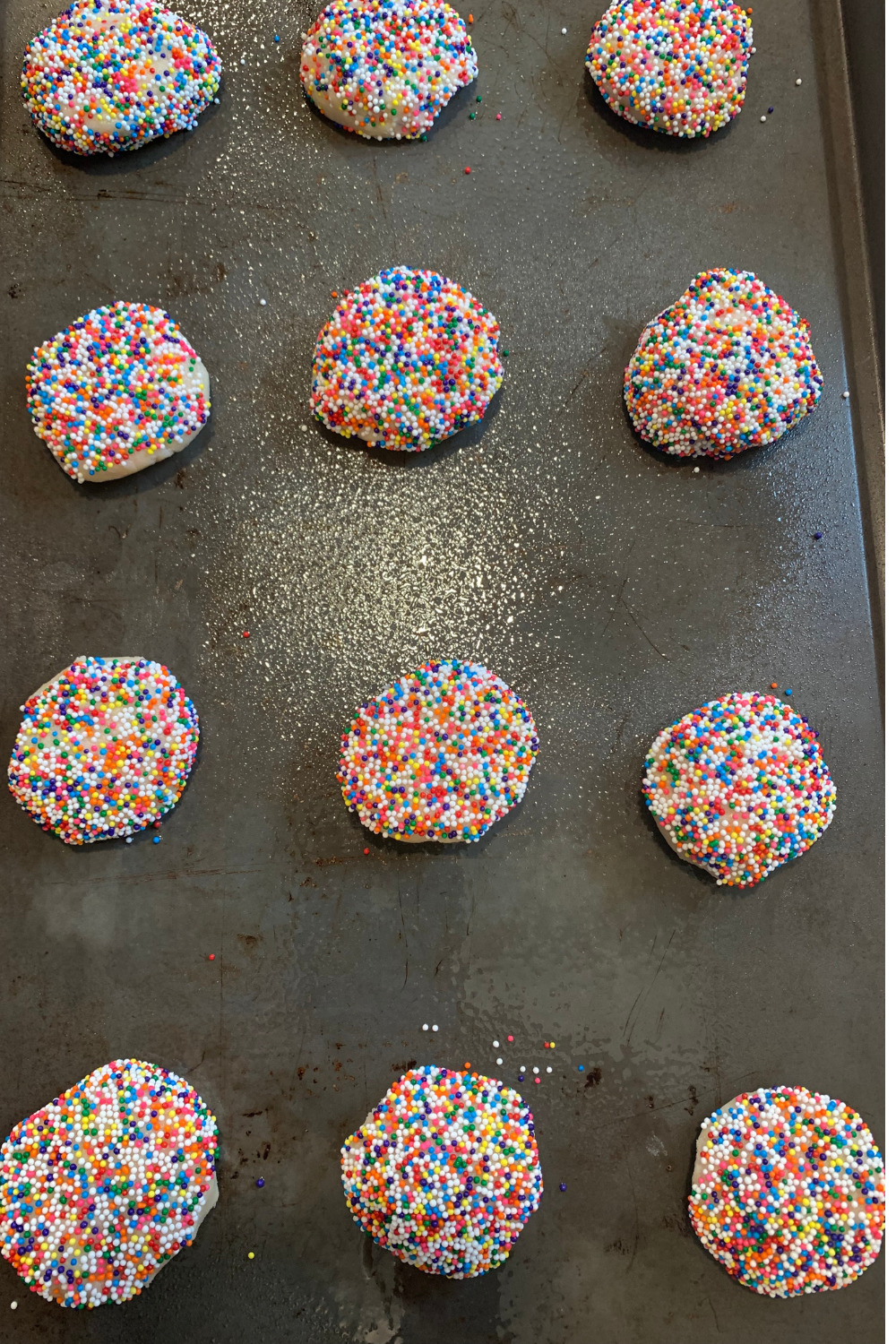 Roll all or half of the cookie dough balls in sprinkles – coating them well.
Bake.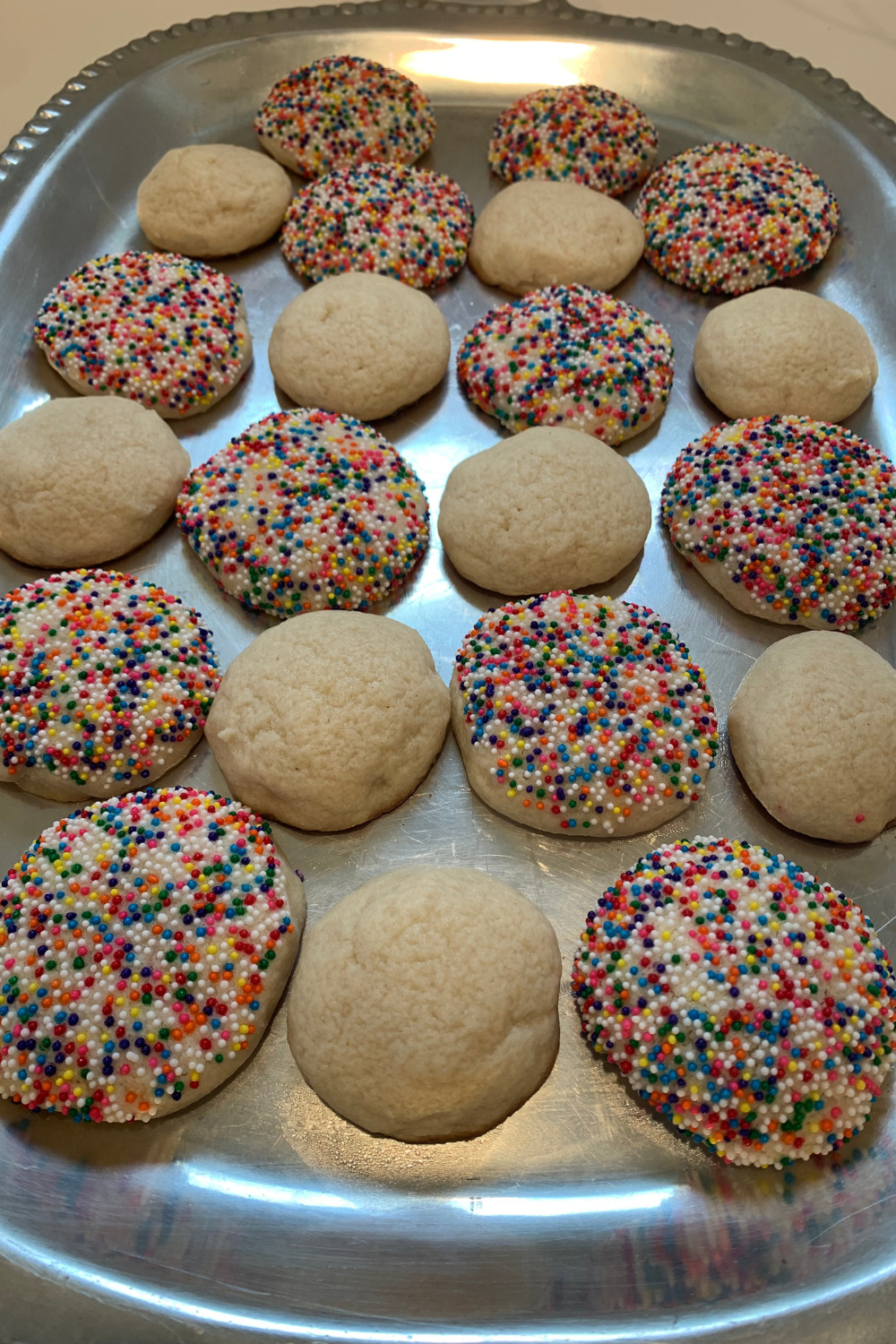 Let cool for a few minutes before pressing the frozen Kisses into each cookie.
Serve warm or chilled.
(I actually preferred them better after I chilled them!)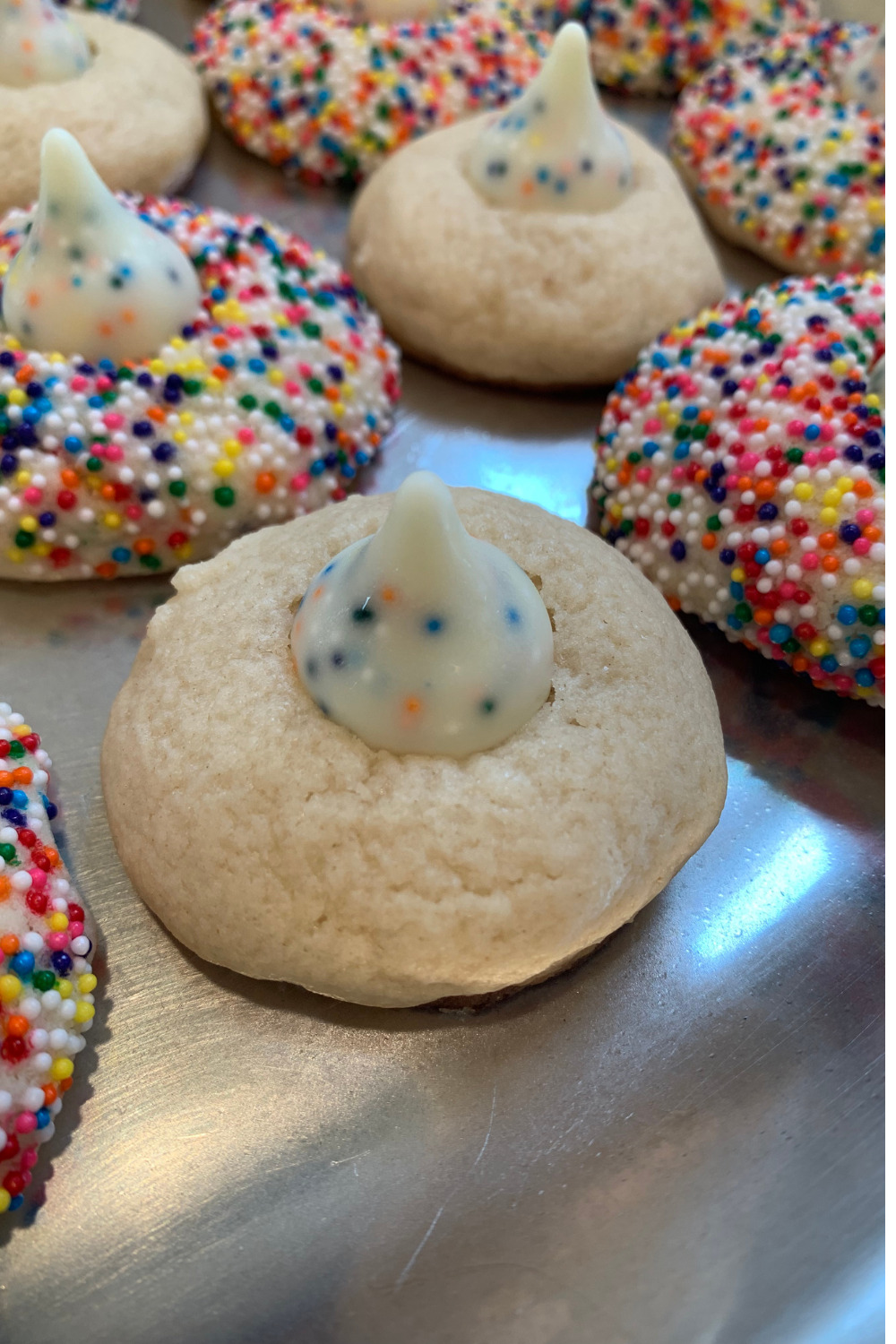 And with that, I want to share a cookie (or two!) with you to celebrate the 14th Birthday of $5 Dinners!
Whether you've been a friend since the beginning or you're a new bestie of mine, I want to say THANK YOU for your continued support and encouragement over the years.
xo
Erin
The sugar cookie base plus the birthday cake Kisses make for a most scrumptious cookie!
Ingredients
1/2

cup

butter

softened

1

cup

white sugar

1

large

egg

1

tsp

vanilla

2

Tbsp

heavy cream or whole milk

2

cups

all purpose flour

1/2

tsp

baking soda

1/2

tsp

salt

24

birthday cake white chocolate Kisses
Instructions
Place the bag of kisses into the freezer. This will keep them from melting when you place onto the warm cookies. White chocolate melts very quickly on a warm cookie!

Preheat the oven to 350 F. Line 2 baking sheets with parchment paper or silicone baking mat. If you don't have either of those, lightly spray with non-stick cooking spray.

In a mixing bowl or stand mixer, cream the butter and sugar. Then mix in the egg, vanilla, and heavy cream or whole milk.

Add the flour, baking soda and salt, and mix with the wet ingredients until cookie dough forms.

Using a spoon, scoop out about 1" size dough ball and roll until round in the palms of your hand. If desired, roll half or all of the cookie dough balls in colorful sprinkles. Place on prepared baking sheet, until all dough is ready to bake.

Bake in the preheated oven for 10 minutes, remove from heat and let cool for 5 minutes.

Press the frozen birthday cake white chocolate kisses into the middle of each cookie, then let sit until cool.

Serve Birthday Cake Blossom Cookies and enjoy!