This recipe is part of the latest 21 Gluten Free Meals from Costco Plan. The original recipe has been updated to include the ingredients from the Costco list, such as green pepper (pictured) for red pepper. The recipe is written as ONE skillet dinner. I would not freeze this recipe as is, but you could freeze it before adding the tortilla strips. Then reheat and add tortilla strips as directed. If you make this as a 'double' to eat half and freeze half, you will need to make it in a large saucepan or Dutch oven.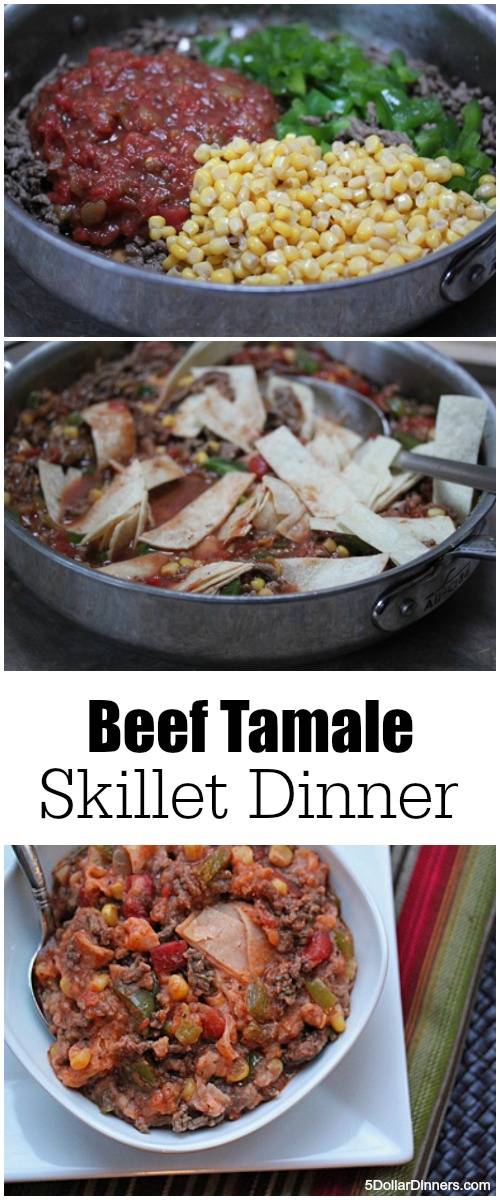 Last night I was rummaging through the freezer again, taking an inventory of what needs to be used and what needs to be re-stockpiled. I uncovered some corn tortillas and ground beef and recalled a recipe that Marissa sent a l.o.n.g. time ago under the "recipes" tab in my inbox. I dug it up and went looking for the rest of the ingredients…
(And in the process did a little jig as I opened the pantry door, as I'm quite thrilled with the fact that my long term memory is still working!)
Here's how it went down in the skillet…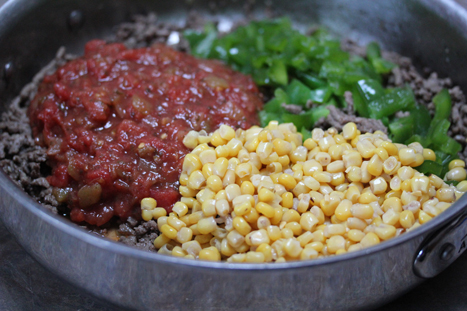 After adding the tomato sauce, corn and red/green peppers to the ground beef, I could tell that we were going to need some more liquid and sauce. While I didn't want mushy tortillas, I also didn't want dried out tortillas.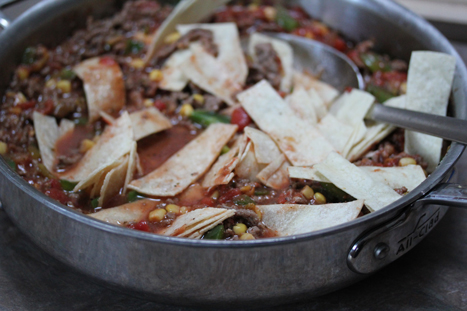 I added a can of tomato sauce plus about a can's worth of water, so that the tortillas would have something to soak up!
Stir, stir, stir.
Simmer, simmer, simmer.
But only for a few minutes.
I leave you with my variation of the recipe…
An easy skillet version of delicious tamales!
Ingredients
1

lb

ground beef

1

red pepper

seeded and diced

2

cups

frozen corn

15

oz

tomato sauce

2

Tbsp

homemade taco seasoning

10

corn tortillas

cut into short strips

Salt and pepper to taste

Sour cream, shredded cheese, optional

Frozen broccoli or green beans, as side dish
Instructions
Brown and drain the ground beef. Return to the skillet.

Add the diced red pepper, frozen corn, tomato sauce, taco seasoning and some salt and pepper to taste.

Stir the tortilla strips into the dish, until they are mostly covered with liquid. Cover and simmer over medium-low heat for no more than 8 minutes. OR maybe 10...depending on how your stove, your pot, the humidity...(no, not really...but you just have to watch and not let the tortillas get too mushy!)

Prepare the broccoli or green beans as directed.

Serve Beef Tamale Skillet Dinner with side of broccoli orgreen beans.