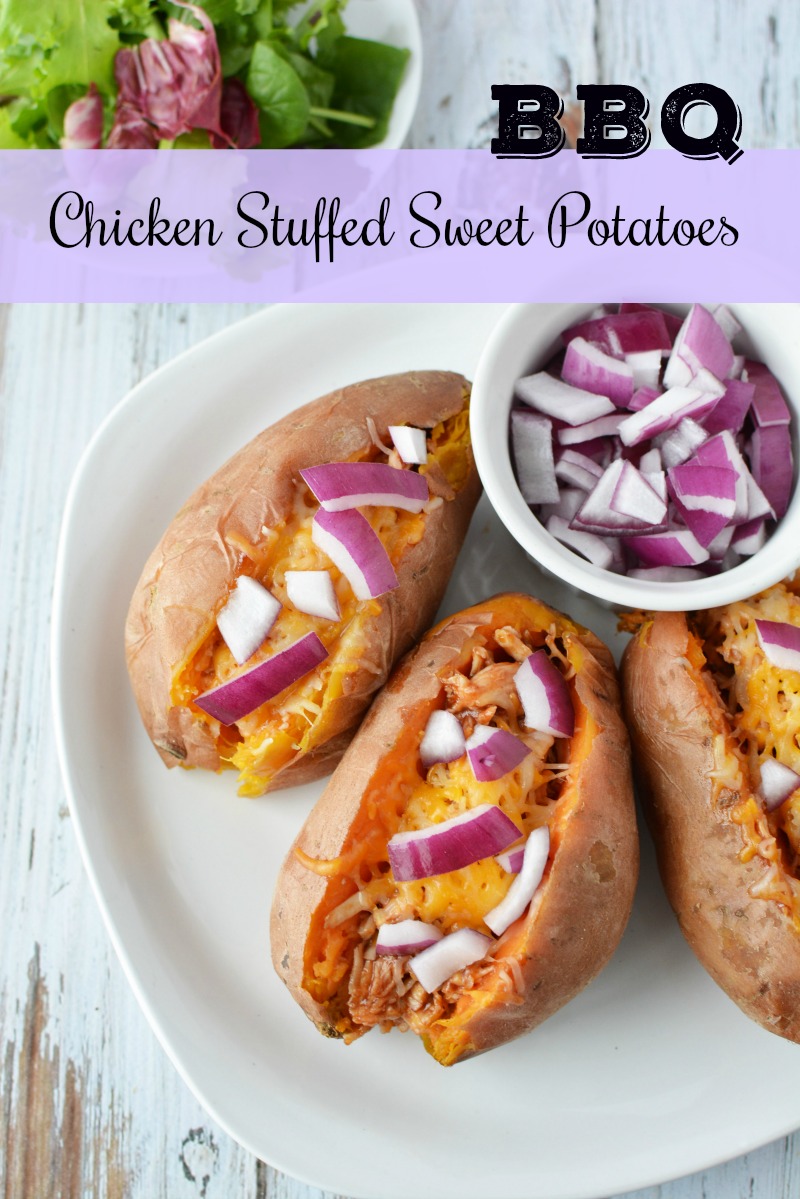 "OMIGOSH, these are amazing. I had no idea I'd love them! I'm in trouble!"
This is a note from my friend Kari. We were talking about these and she wasn't sure about the combo, then she tried them and emailed that to me.
I share this with you because it might not sound like these 2 should go together – I mean, they aren't peanut butter and jelly, or wine and cheese, or chocolate and (well?!?) chocolate?!
But this is a fantastic dinner! Start by baking the sweet potatoes, then simmer the chicken and BBQ sauce, then add to the sweet potatoes with 20-30 minutes left of bake time and let potatoes finish cooking!
SO DELICIOUS! Enjoy!
Ingredients
3

cups

shredded rotisserie chicken

1

cup

BBQ sauce

4

large

sweet potatoes

2

cups

shredded Colby Jack cheese

Red onion slices, as garnish

Side salad
Instructions
Preheat the oven to 425 F. Poke holes in the sweet potatoes and place on baking sheet and bake for 45 minutes.

In a skillet, toss the rotisserie chicken with the BBQ sauce and simmer over low heat for 10 minutes.

After 45 minutes, carefully slit open the sweet potatoes and spoon in the BBQ chicken. Top with a few pinchfuls of shredded cheese.

Continue baking for another 15 to 30 minutes, or until sweet potatoes are tender all the way through.

Prepare salad.

Serve BBQ Chicken Sweet Potatoes with red onion garnish and side salad.